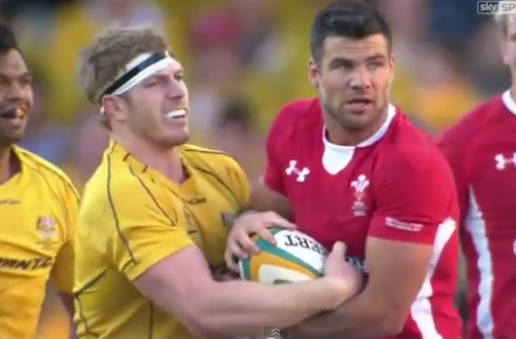 A clean sweep, three–nil, against the Six Nations Grand Slam champions — that can't be too bad, and indeed it isn't. A growing ability within this Wallabies team to win the tight ones, to grind out a win when needs must — that can't be too bad either. To gradually improve aspects of our play, week by week, month by month — that's OK also.
But year by year, year after year, now into our fifth year, that's getting to be way too long. How long can a project stay as a work in progress? Once upon a time, not all that long ago, a coach and his team were judged after 72 hours' preparation, that being the maximum assembly time allowed under IRB regulations prior to a Test match. Perhaps three days is too short, but 4½ years is definitely way too long.
First, the pluses.
[checklist]
Pocock is outstanding. In fact, he has played better with the captaincy. Great captains do that. His position as leader must be at the forefront of our way forward. Time (and opportunity) for Robbie to bite the bullet and make the change – for the foreseeable future. He's a certain selection, for starters, and there is not a whole host of them.
Genia is a great player and he is playing outstandingly well – but, dare I say it, clearance of the ball, straight from the ground, needs to be more prevalent in his play. Just watch Aaron Smith, for example, or many of the NZ scrum-halves of recent years. Not all, but many. Maybe the ball delivery from his forwards can be consistently cleaner, but much of the responsibility lies with Will.
Our scrum has improved, especially with Kepu's work on the tighthead side, but we still have our hearts in our mouths before every scrum in tight, end-of-match situations. Surely, Alexander cannot possibly stay in the squad. Let's work with Slipper and/or Palmer; we've at least got a chance of a result there. (Just by the way, Alexander's play in the loose is just too loose and non-contact, way too often, for my liking.)
Barnes has got much better and he's now good (not great, but good). Mind you, he's had a few chances and let's compare him with, say, Cruden or Barrett, who are both younger and less experienced. He's just not as good. He is kicking better, both for goal and out of hand, but he's missed touch from penalties in successive matches. Not good enough!
Our newer, younger players are coming through in our Super Rugby franchises and our depth — despite claims to the contrary from supposedly knowledgeable sources — is looking pretty good to me. Might take another year for us to be secure, but we are certainly going well in that department. Are we, however, in front of, or even level with, SA or NZ? I think not! Significantly, our performances in recent years in the Junior World Cup have been singularly uninspiring and eighth place this year is downright embarrassing. Liam Gill was, to me, the only bright light in the team and the young player (his name escapes me), singled out by Tim Horan a few weeks back as perhaps the best ever back to come through the Queensland schools system, was poor and ponderous.  (Surely it's way past time to change the coaching staff in this age group!)
AAC and Ioane are both playing well; not certain World XV choices, but well. If we compare them, however, with (Ben) Smith, Gear, Habana or Pietersen in last weekend's matches, we still have a way to go.
[/checklist]