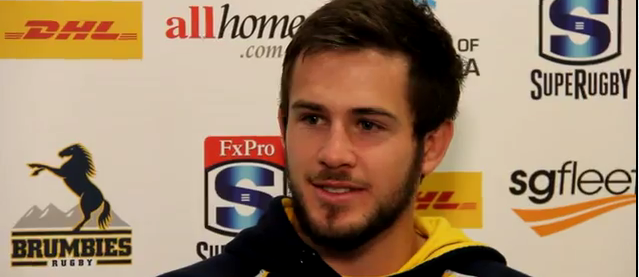 The weekend started brightly for Aussie fans, with the Brumbies playing well again and picking up a valuable bonus point win over the well-performed Hurricanes – and in Wellington. One of my mates pointed to the interesting fact that three top NZ sides have each "surrendered" to three Aussie tries in the second half in the last three weeks – Crusaders, Chiefs, Hurricanes to the Rebels, Reds, Brumbies. Wonder what Graham Henry will have to say about that!
The Brumbies had some ordinary moments – for example, silly penalty by Hooper, then soft try to Perenara – but were again very good; some may say "basic" but I often think that quality rugby looks "basic" because it's the simple things being done very well. They've had a few hick-ups with the vital fly-half spot this season, but yet again, their latest choice, Zack Holmes, came up trumps in all facets of his game, including goal-kicking. Importantly, in an after game chat, captain Ben Mowen expressed total confidence in him, saying that he may well have been their season starting choice but for an untimely injury.
The presence of Steve Larkham in the Brumbies coaching staff must surely be influential in the play of these three pivots used by them already this season. We've seen both Toomua and Lealiifano before, but never with this influence over their team. Larkham, along with a few other Aussie coaches, is certainly showing his quality. We can now begin to look ahead with growing confidence.
Of the "new" guys, Holmes, Tomane, Mogg, Fardy and Palmer impressed. A while back, I thought that Sam Carter showed great promise, but needed more time. Over the last couple of games, he has really come on and he may not be too far away. His ball-carries now are much more influential, he does his share of the defensive work, he has genuine pace and height and, in his try off Fardy's pass, he showed urgency and desire – both irreplaceable qualities – to "get amongst the action".
Moore and Mowen are in excellent form and Michael Hooper is a freak – yet another try to him from a "continue the drive, rip the ball and continue the forward run" action, which is listed in my BDRW Coaching Manual, first principle of Essential Level, Tackle Contest Options.
One weird thing about this game though was that the quality centres, Pat McCabe, Andrew Smith, Conrad Smith and Tim Bateman, hardly touched the ball in the eighty minutes.
Things were not quite so wonderful from Saturday onwards, but there some significant, encouraging signs. The Reds were not great against the Lions, but most teams would probably have the same thoughts in their review of their Lions match. On the plus side, Quade Cooper made his welcome return and looked right on track; within a few weeks he should be back to his freakish best. Genia continues his own return to form and was at the heart of most that was good about the Reds. Gill is a quality player without doubt and is probably the best "scavenger" of the Aussie 7's.
The Reds frontrow all contribute massively in both attack and defence – frequently not a quality of all Aussie frontrows. Horwill continues to be more influential, running closer to the tackle contest and gaining valuable yards, but I want still more from him. Harris remains steady but good; Ioane is not far away from his best – which is very good. Not a fantastic performance, but plenty of promise for the Wallabies. Next week's Reds v Brumbies should be a beauty!
The Tahs went down to the Stormers in Cape Town and more than a few teams can, and even more will, say that. But for "no intervention" by Craig Joubert when a second ball appeared on-field and distracted defender Brendan McKibbin, the Stormers MAY have had one less try. But for a spilled pass by Sekope Kepu five metres out, the Waratahs MAY have had one try more. I'm not suggesting that the Tahs should have won, but they could have won – and this was always going to be a very difficult game.
The Tahs scrum was very good again and this augers very well again for the Wallabies. (The Stormers lineout was equally good and this snuffed out a couple of late opportunities which the Tahs may otherwise developed.) Kepu is clearly our best tight-head scrummager and he carries the ball like the #8 he once was. If we can just get him off the ground with more urgency to get back into the action, he could become a world-class player. Benn Robinson played much better around the paddock; I had thought him off the pace so far this year.
Foley showed glimpses, AAC was always useful, Rob Horne gave us some hope (not before time), Dennis and Douglas are definite chances for squad selection in the near future. Elsom's workrate was fantastic; now we need his effectiveness – and his team's – to improve. At the 45 minute mark, the Tahs were still in the game, despite having made 92 tackles to the Stormers 31 – courtesy of a "let's kick the ball back to them every time we get it" strategy. The excellent team try, from counterattack via a quick throw-in, scored by Horne, hopefully has given them some alternatives.
The Force against the Rebels started with great pace and enterprise. Defence was a little ordinary at times, but some of the attack was real quality. In this period, Kurtley Beale was outstanding and played the fly-half role with much more maturity than in his earlier stint with the Waratahs. He simply ran the game and would certainly not be out of place in a Wallaby #10 shirt. Importantly, his goal-kicking percentages are right up there also.
Once again Cadeyrn Neville impressed hugely. Previously I have noted his work in tight – we badly need another Dan Vickerman – but now we can see his footwork and pace. Not bad at all! Cooper Vuna again showed that he can convert the smallest of chances; he may yet be very good. Mark Gerrard was once again a serious contributor and Julian Huxley had his best game for some time. For the hosts, Alfie Mafi showed his resentment at his bench selection. If he continues to play like this, the selectors' job will be much easier.
However, the quality of the game fell away in the second half and even Beale began to look ordinary, throwing some poor passes and then missing touch with a penalty. He did however kick the winning goal  from another "lottery" scrum penalty, courtesy of Marius Jonker. Whatever happened to home ground advantage?
The Wallaby team/squad is starting to come together – maybe we could get Robbie to start another four-year development process – but I can't find a world-class lock pairing. As I said above, we need a hard-nosed rhs lock, like Dan Vickerman – should be James Horwill, but he runs straight past too many tackle contests for my liking – and an athletic lhs lineout soarer, like John Eales. There are a few possible here, but they're all young. If we could have the James Horwill of a few years back, we could perhaps get there.
Maybe we could throw a few ideas around?