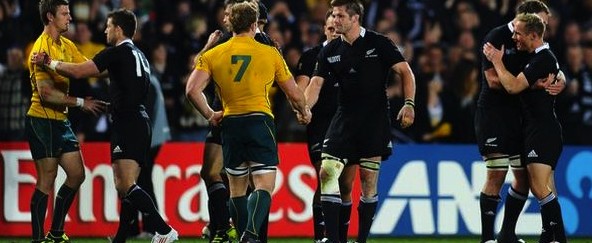 Australia's Wallabies bowed out of Rugby World Cup 2011 on Sunday night, beaten by a much better All Blacks team, and the whole New Zealand nation breathed a massive sigh of relief. They love their All Blacks side over here – openly and unabashedly – and the terror of another early exit had weighed heavily upon them.
Their team were well ready for the challenge and the Wallabies, undoubtedly weakened by their superhuman effort against South Africa the previous weekend, were not. We needed to be at our very best to be in with a shout, and perhaps we also needed them to be a little down on their very best, but neither circumstance prevailed. Alas, they played to their very best right across the park with Jerome Kaino a possible player of the tournament and Richie McCaw defying injury with a huge performance.
Things are not all doom and gloom, however! We have a number of serious deficiencies in our team and a victory here would merely have papered over the cracks. Now it remains glaringly obvious and we have to act. I have spoken frequently about the absence of various fundamentals that will always be essential to underpin the performances of our hugely talented players.
Up front, our scrum is still below the level required and programmes are urgently needed to develop players with the requisite technique and strength. I say 'programmes' because I do not want one centralised programme. This would give the responsibility to the ARU and I see no evidence whatsoever that they would be capable of that. I prefer the 'needs must' system, where clubs and provinces act because they must, for the quality performance of their teams. These groups after all remain close to their players throughout the entire season.
Equally important, I like the idea of the spread of different ideas that decentralised programmes deliver. We have many old props and hookers with the knowledge, the passion and the communication skills to do the jobs — Michael Foley, Andrew Blades, Andy Macintyre, Topo Rodriguez, Ewen Mackenzie, Tom Lawton, Phil Kearns… the names roll out. My guess would be that they are just waiting to be asked. Sometimes people ask why I am coaching a certain group. 'Because they asked me!' is my common reply.
Throughout this tournament, we have fiddled way too long with our tactical approach to the game. It's always easy in retrospect, that's for sure, but our attempts to hide Quade Cooper, while still wanting to use his massive talent, were clearly futile. How can we select a player at fly-half and use him there neither in defence nor in first-phase attack? Surely it would be much more advantageous, for both the individual and the team, to develop in him the fundamentals of the fly-half role.
My suspicion is that there is no one in the coaching team who has the knowledge or the ability to teach this — nor, indeed, to teach many other areas of deficiency. We looked a decidedly better team in the second half, when Quade was at first receiver! Had we worked harder in our preparations over the last few weeks/months/years to develop our ability to ask serious questions of the defence, we may even have cracked it in this period. As it was, no matter how hard these clearly tired bodies tried, we could not.
Accurate, urgent support play will give opportunity for quick ball at the tackle. Accurate, urgent realignment will give opportunity to use it efficiently and productively. These concepts are fundamental but, in our team, are rare in the extreme. We have good catch skills and reasonable pass skills, but our catch-and-pass skill level is juvenile — and maybe I'm even being unkind to our juveniles.
Good body-height and powerful leg-drive are traditional, well-known components of quality forward play. Surely a Cantabrian, even a fullback, would have this firmly implanted in his psyche! Clearly not; the old man-eating Canterbury forwards must be perplexed and disgusted. Players must be helped to understand the necessity of these concepts in developing the shape of our game, but once again, and as I have mentioned many times in recent years, I doubt the knowledge in our coaching staff to develop these vital skills.
The coaching team of Robbie Deans (an old fullback), Jim Williams (no.8), Patricio Noriega (prop) and David Nucifora (hooker) must surely be the weirdest, most imbalanced, coaching group in world rugby. The definition of the camel as 'a horse designed by a committee' comes to mind — and outside interference is a possibility. Whatever the reason, this must be changed and quality assistant coaches must be brought in.
Back some years, when David Nucifora's coaching contract was not renewed by the Brumbies — even after they won the Super 12 — some senior Brumbies told me that, despite early and consistent requests, he was either incapable or unwilling to deliver. This situation seems to me to exist across the entire Wallabies coaching team. If Deans is the right man for the job — and after four years our confidence is waning — then certainly his assistants are not!
The make-up of the squad is reasonable overall (indeed, there are some genuine world-class players) but there are also some glaring holes. As stated above, we need many props — and not ones like Sekope Kepu, who goes down injured every time someone breathes on him! Locks are not bad, with some quality coming through. Back-up scrum-halves are a real necessity. Burgess is leaving, but is a wasted talent anyway — back to my (lack of) coaching comments above. Phipps is not up to it!
Berrick Barnes is excellent and must play at fly-half for the Waratahs but additional depth at fly-half and centre — especially big, strong centres — are urgent needs. We, but not the current mob, can add some polish! None of this is new and surprising, but we are making no progress and changes are needed. Immediately!
One huge positive has come out of this campaign. Our spirit, our courage and determination are all massive. These are admirable and productive qualities and this team has shown an abundance of them. I have previously commented on our unsurpassed defensive effort in the winning quarter-final against South Africa. In the semi-final, despite New Zealand's clear superiority, we conceded only one try in the match, and only six points in the second half. Given that the referee pretty well refereed only one team throughout, this was a great effort and such team spirit gives us all great hope for the future.
I await positive, sensible, progressive changes to build on this hope!