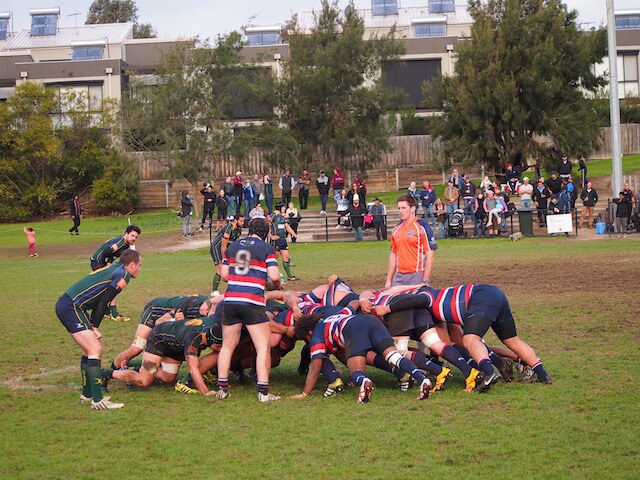 The Melbourne Unicorns defeat the Box Hill Broncos and advance to the Grand Final.
As predicted the Grand Final in the Dewar Shield will be against the two form sides; Harlequins and Melbourne.
In a display of strong on-field organisation, solid defence and deadly speed from the backs the Unicorns downed the Broncos 35-14.
The first half of match was one sided, with the Unicorns scoring four Tries to none. They didn't do it easy, playing one man down in the half. Aaron Kelly was punished early in the game by referee Oliver Kellett early on for a dangerous tackle.
Box Hill controlled the ball thanks to the numerical advantage, but Melbourne was holding on in defence. Israel Qalo was very dangerous at inside centre, but was unable to spin the ball wide and gain valuable field possession.
A lineout error in the Melbourne half, helped the Unicorns to launch an attacking raid. Cameron Ling beating a couple of defenders and found Mick Snowden, who scored the first Try in the corner.
Despite a lineout error from Melbourne, they soon scored their second Try. Ikapote Tupai was quick to gain possession of the overthrown ball and crossed the line, despite the efforts of the defenders.
Before the end of the half the Unicorns scored another two more Tries. winger Vasili Leota was quick to find space on the left, and number 8 Kelly redeemed himself from the yellow card pushing his scrum all the way over the line.
Half time score: Melbourne 20 – Box Hill 0
In the second half the Broncos found some fighting spirit, but this was not enough to overcome the deficit.
After a few minutes Saimoni Rokowaka scored under the posts and Filipe Vilitati converted his own try to reduce the gap to 13 points.
Melbourne got a try back almost straight back with Chris Ling scoring his first try.. Sam Vaevae converted for the first time to get back to a 20 points lead.
Box Hill kept coming back and scored a try with Vilitati, who also converted it, but lost all momentum due to a yellow card to a substitute player who was caught by Kellett tackling a player without the ball.
This was the final blow for the Broncos that were no more able to threat the Unicorns try line and finished conceding the sixth try in injury time.
Final score: Melbourne 35 – Box Hill 14
Scorecard
Melbourne
Tries: Snowden, Tupai, Leota, Kelly, Ling, tea
Conv.: Morete 0/3, Vaevae 1/3
Pen.: Vaevae 1/2
Box Hill
Tries: Rokowaka, Vilitati
Conv.: Vilitati 2/2