Would you like to know the findings of ARU report into what went wrong with the Wallabies' world cup campaign and what's being done to to fix it? I know I would, but we've been told not to expect any answers. In the absence of such rarified information, we're left reading the runes. But of late, getting 2 and 2 to add to four has been tougher than getting the NBN numbers to compute.
First off  – even before any such report was even commissioned we were told Robbie would be going nowhere, with a contract extension of two more years. No discussion.
Then, at least a month before the report was even due to read out, there was the boning of Wallaby Assistant coaches Jim Williams (line-outs and re-starts) and Peter Harding (strength and conditioning).
When the report (that we can't see) came we were told a key finding was that because 'Deans was often a "one-man band"' the ARU needed to bolster the Australian coaching staff – presumably so that he could ignore a fresh bunch of assistants.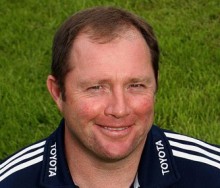 One of these new staff is Tony McGahan, fresh from Munster. Read how Tony described his new role with the Wallabies to an Irish newspaper:
"I was asked to consider the position and I certainly wouldn't have considered going back as a specialised unit coach, whether it be defence or attack, so it's a coaching co-ordinator's role.

"I'll run the whole training programme while the national side is in Test-match mode from June to December and also run the programme and the players back in their provinces from January through to June.

"So I'll be dealing with the totality of the strength and conditioning, the medical, the rugby side of things, strategy, the review, preview of the game itself and also the individuals.
He doesn't leave much out, does he? Tone's version of a "Coaching Co-ordinator" sounds a hell of a lot like a "Head Coach" to me, except apparently we've got one of those?
Make sense to you?
Woof.