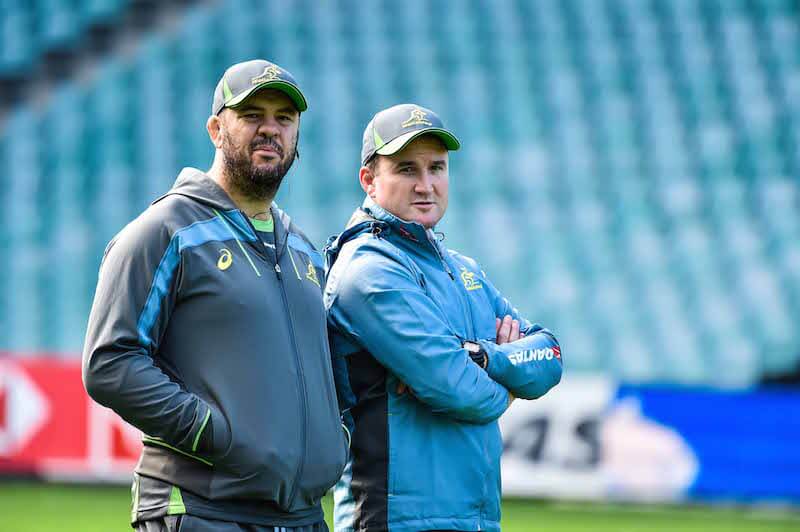 LONDON – Wallabies coach Michael Cheika was upbeat in post-match media commitments on Saturday night, praising England and rival coach Eddie Jones as well as his own side for enduring a year full of growing pains.
Claiming this 37-21 loss, Australia's second-largest margin of defeat against England of all time, was no more bitter a pill to swallow than any other loss this year, Cheika was instead reflective on the year that was.
"This year has been about teaching ourselves a few things, what it takes to try and win matches," he said. "We've played the top two teams seven times this year with a whole bunch of new debutants and new faces around and that's been going good, even if the results haven't been.
"We've made tough decisions around this season as opposed to starting [the post-World Cup rebuild] next season when the calendar isn't perhaps as packed.
"We knew there were 15 Tests this year against the top eight nations. We had a massive turnover in our squad, we've improved a lot as a team and have given some young lads good experience.
"I still believe it's the right decision and you have to take the pain when it comes."
2016 has certainly brought it's fair share of pain to Wallabies supporters, with a 40% winning record the worst of the modern era barring only Eddie Jones' dismal 2005 season (32%).
Seven losses against the record-breaking All Blacks (3) and an undefeated England side (4) were compounded by frustrating defeats in South Africa and in Ireland.
Though the lack of consistency is frustrating, the 2015 World Rugby coach of the year is looking at the bigger picture going forward.
"Seeing the improvements we've made, we're scoring tries that we wouldn't have scored last year," Cheika began. "There's a different approach to coaching our players around the skill base and that's going to take some time to hammer home.
"I feel I have a responsibility to develop talent and give them opportunities, and that's not just for [Rugby World Cup] 2019, it's for the future."
Rattling off the names of impressive debutants Reece Hodge, Dane Haylett-Petty, Samu Kerevi, Sefa Naivalu, Tom Robertson, Adam Coleman, Lopeti Timani and Nick Frisby, Cheika also said he expected to blood tourists Taniela Tupou, Izaia Perese, Andrew Kellaway and Jack Dempsey next year.
"We're making the investments we should have made in 2008-2009, getting a clear idea of how everyone needs to play with a certain skill level if you want to play this style of game.
"We're trying to play a certain style and I know we'll be criticised for losing but you have to wear that sometimes," Cheika said.
"You see what happens when you load up your attack and make one mistake, the other guys will kick the ball 40 metres down the field.
England's opportunistic scoring, including off a dropped ball, a quick tap, an intercept try and five penalty goals, provided 30 of the side's 37-points.
Praising England's tactics, Cheika said: "They believe very much in the style of game they play, a pressure, conservative style and they scored a lot of tries off errors when we loaded up on attack."
"They are very well coached and you don't win 14 in a row out of luck."
"The first half was good, but we needed to score more points and we had a lot of opportunities down there.
"We followed our game plan pretty well but we jut made errors and played nearly all of it in our own half [in the second half]," Cheika said. "We had opportunities to get out of pressure situations and to stop the momentum England created but we made mistakes in our own half and it cost us."
The players will break until January, when they re-join their Super Rugby teams before preparing for a home test series against Scotland, Fiji and Italy in June.