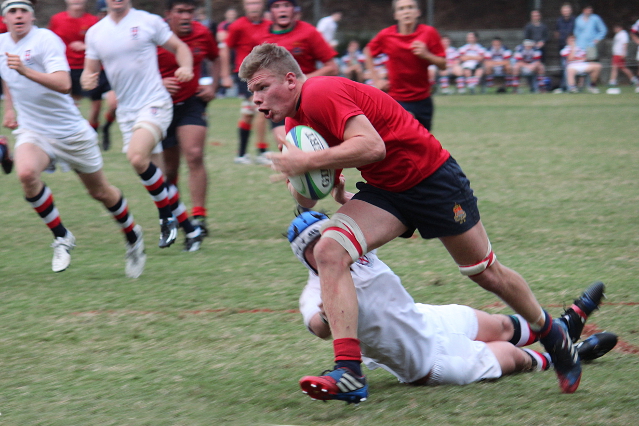 At the end of Round 2 three teams had won two games which meant that three teams had lost two.
Knox, Cranbrook and Trinity got their third victory, but the big game was at the bottom of Bellevue Hill.
Cranbrook 29 — Barker 7
 The Cranbrook School made an emphatic statement of their intent to be a force in the 2014 CAS competition when they followed up their first round win against St. Aloysius with a convincing victory over Barker College.
After an arm wrestle of a first half Cranbrook took control in the second and always looked like winners.
First half
Things didn't look so good for the home team at the beginning when captain Tom Mahony was carded for two infringements in the first three minutes of the game. But no damage was done and play went back and forth between the 22's.
After six minutes Cranbrook flyhalf Sam Renton missed his first penalty goal attempt but he didn't miss any more kicks, and he slotted one five minutes later to open the scoring.
At 22 minutes the powerful Cranbrook no. 8 Nick Makas broke away and Barker infringed at the breakdown and Renton made the score 6-0.
It was noticeable now that the visitors were having trouble trying to get into Cranbrook's half of the field.
The Brook wasn't doing anything too fancy: they were just coming off their line together quickly, making their tackles and not throwing miracle wide balls.
About five minutes before half-time Renton kicked his third goal, but after the restart Barker finally got into the Cranbrook half. They spurned a shot at goal when the defenders infringed, and kicked for touch.
They executed a nifty short lineout and nearly got over the line near the corner post, but Cranbrook reacted in time. When Barker took a tap kick soon after they were held up and the ref blew his whistle for oranges.
Cranbrook looked the better team but at 9-0 it was anybody's game.
Second half
Renton kicked yet another goal after the break, this time from wide out. 12-0 Cranbrook: the score was starting to mount.
Then came the best moment of the match. Cranbrook always wanted to play in Barker's half and they kicked the ball deep on one occasion. Barker kicked it back and it was fielded by Renton of Cranbrook in his own half. He threaded through Barker defenders like he was covered by snakes and spiders and scored under the posts.
The crowd went wild—and the easy conversion meant the score was 19 –0.
When Cranbrook LHP Tom Hill broke through on a good run, Barker infringed by holding on and got a yellow card for their trouble. The penalty goal made the score Sam Renton 22 – Barker 0.
About halfway through the second half Barker had a rare excursion into Cranbrook territory. They had always threatened with episodes of good rugby but Cranbrook were too early to the rucks and too strong when there.  And Barker were making more errors.
Under pressure for a change Cranbrook infringed and Hugh Summerhayes got a rest in the sin bin. A minute later no.8 Hamish Phipps got over the line for Barker, after a quick tap-and-go. Flyhalf Bruce Thompson converted to make the score a more respectable 22-7.
Cranbrook reacted from the restart; got their kick back and swarmed up the left-hand side of the field for Renton set up a try for winger Max Radoczy, with the help of a decoy runner.
When Renton converted the final score was 29-7.
The teams
Barker missed their two rep players 9. Kirkby and 10. Smerdon to guide them around the park but the big difference was that Cranbrook had the upper hand in the forwards, and more so as the game progressed.
Cranbrook were also beating Barker in the scrum shove: although they were penalised for doing it early once it gave them good results.
On paper it looks like Knox and Cranbrook are the two strongest teams but Cranbrook's Director of Rugby Mr. Luke Bower was not being carried away when he said:
It was an impressive performance of basic, well-executed rugby, but there is a long way to go.
The players
For Barker their captain and blindside flanker, Nick Burkett, had a storming game on attack and defence.
Flyhalf Sam Renton of Cranbrook was my man-of-the match if for nothing else but his splendid individual try—though he happened to score another 19 points as well,  for a total of 24. Come to think of it: he got an assist for the remaining five points also.
No.8 Nick Makas had another hard game, making some dominating runs and and crunching tackles.
 The Scoring
Cranbrook — 29
Tries: Sam Renton, Max Radoczy
Conversions: Renton (2)
Penalty goals: Renton (5)
Barker — 7
Try: Hamish Phipps
Conversion: Bruce Thompson
Other scores
2nd XV: Barker 28 —Cranbrook 5
16As: Barker 27 — Cranbrook 12
See below for Gallery of Cranbrook v Barker                              All Photos by Lee Grant

Click on right arrow for more match reports