Brisbane City arrived at Brookvale Oval yesterday determined to bounce back from only their second loss of the season last time out — a whipping.
The North Harbour Rays had a record of two losses followed by two wins and two draws. They needed another two-win sequence in the last two rounds to qualify for the finals.
That was the main interest of the local Rays' crowd, but they also wanted to have a good look at Wallaby flyhalf Quade Cooper on the comeback trail.  The wanted him him to play well to be ready for the Wallabies – but not too well, mind.
First half
Brisbane imposed themselves early with 10 Quade Cooper kicking for territory and handling several times before 15 Matt Feaunati scored within two minutes. As was to happen too many times during the match the Rays left themselves short when play was switched from one side to the other. Cooper converted to make the score 8-0 to Brisbane.
Some of the most interesting rugby was played in the next 20-odd minutes when there was no scoring.
Quade was being Quade and nearly put 9 Nick Frisby into score. The Rays were under the hammer, often in their own 22, but breaks by their best player this year, 8 Sam Ward, and rising star 12 Mali Hingano, gave hope down the other end.
Although the Rays had some promising moves there were too many passes at the man, which meant the balls were behind him when he got them.
Their attacks were stopped, and after Cooper kicked long for a Rays' 22 drop-out, it was the turn of the visitors. A Frisby inside pass was taken by the impressive Brisbane 7 Michael Gunn, who stepped a couple of defenders to score under the posts.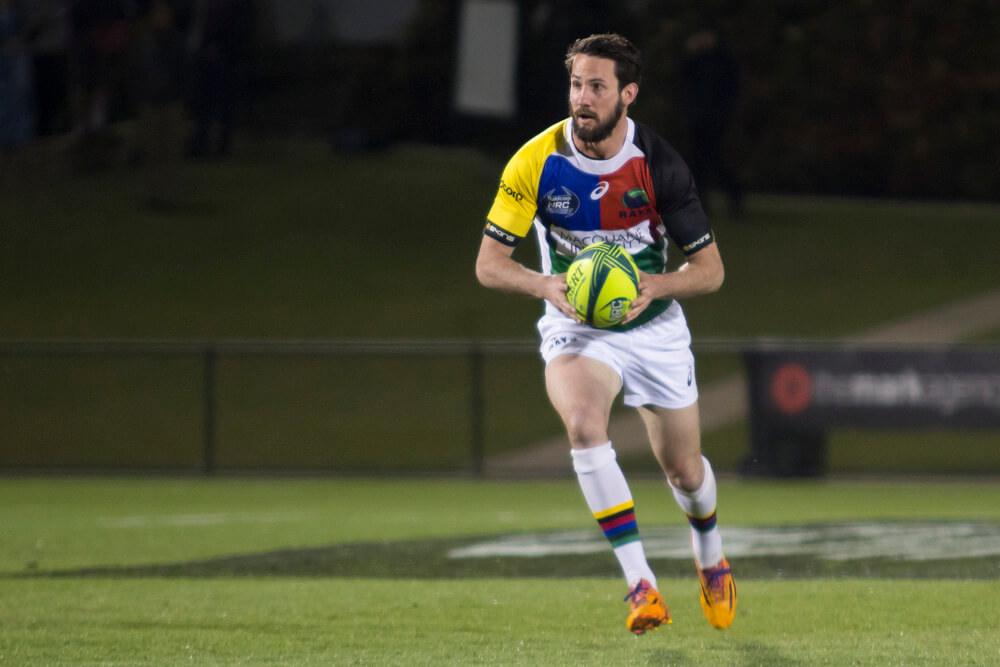 When Cooper converted Brisbane led 16-0 at 26 minutes.
Although Brisbane hadn't scored for some time they always seemed in control and looked the more professional side.
Gunn was nearly in again after the restart but he lost his balance. After the breakdown Frisby dished a nice pass to 6 Adam Korczyk who knocked opponents out of his way to score under the posts. He's a much tougher player compared to when we saw the younger, lighter version in Sydney a couple of years ago.
Brisbane were rampant at 24-0 and Gunn got his second try after charging down a clearing kick near the Rays' line. Eight minutes before the break Brisbane lead 32-0.
But the Rays got on the board at last after 14 Harry Jones ran up touch.  When the ball was switched inside, 6 Jack Dempsey put Ward into a gap and he scored; Jones converted.
15 Dave Feltscheer nearly scored again for the Rays before the break but dropped the ball over the line. At oranges the score was Brisbane City 32 – North Harbour Rays 8.
In cricketing terms Brisbane was building an innings but the Rays were trying to hit too many boundaries before getting their eye in. And on defence they were waiting on their back foot too much.
Second half
After the break there was a feast of tries when Brisbane scored six and the Rays three.
For this old rugby fan there was too much ice cream in the meal and not enough meat and potatoes but, whatever, the pace of the defence of the Rays could not stop the pace of the attack of Brisbane City.
To list them:
44 mins – 12 Samu Kerevi (Brisbane) – after they took a scrum option and the big fella powered over.
52 mins – 2 Andrew Ready (Brisbane) – from a maul drive.
56 mins – 5 Greg Peterson (Rays) – after a five-metre lineout plus pick and goes.
64 mins – reserve backrow Harry Bergelin (Rays) – maul drive.
67 mins – reserve centre Jack Mullins (Brisbane) – from tap kick.
68 mins – 12 Mali Hingano (Rays) – diagonal run after tap kick.
71 mins – 8 Curtis Browning (Brisbane) – lineout drive.
75 mins – reserve prop Phil Kite (Brisbane) – ball wide, intercept missed.
78 mins – 13 Toby White (Brisbane) – picked up dropped ball after risky pass by the Rays.
Brisbane scored ten tries to four and the final score was Brisbane City 77 – North Harbour Rays 26.  Quade Cooper kicked nine conversions and the tenth one hit a post — and his kicking from hand was influential too.
The Wrap-up
Brisbane held up the home team around the ruck and the Rays tried to go wide without earning the right to.  This meant that the Brisbane backs could hold the tackle line and shoot out of it to nail the Rays' ball runners.
Now and then the likes of Hingano and Ward were able to make breaks for the Rays but they often found themselves isolated when they went to ground.
The above two Rays were the best for the home team and add in Peterson who is coming into some bruising form.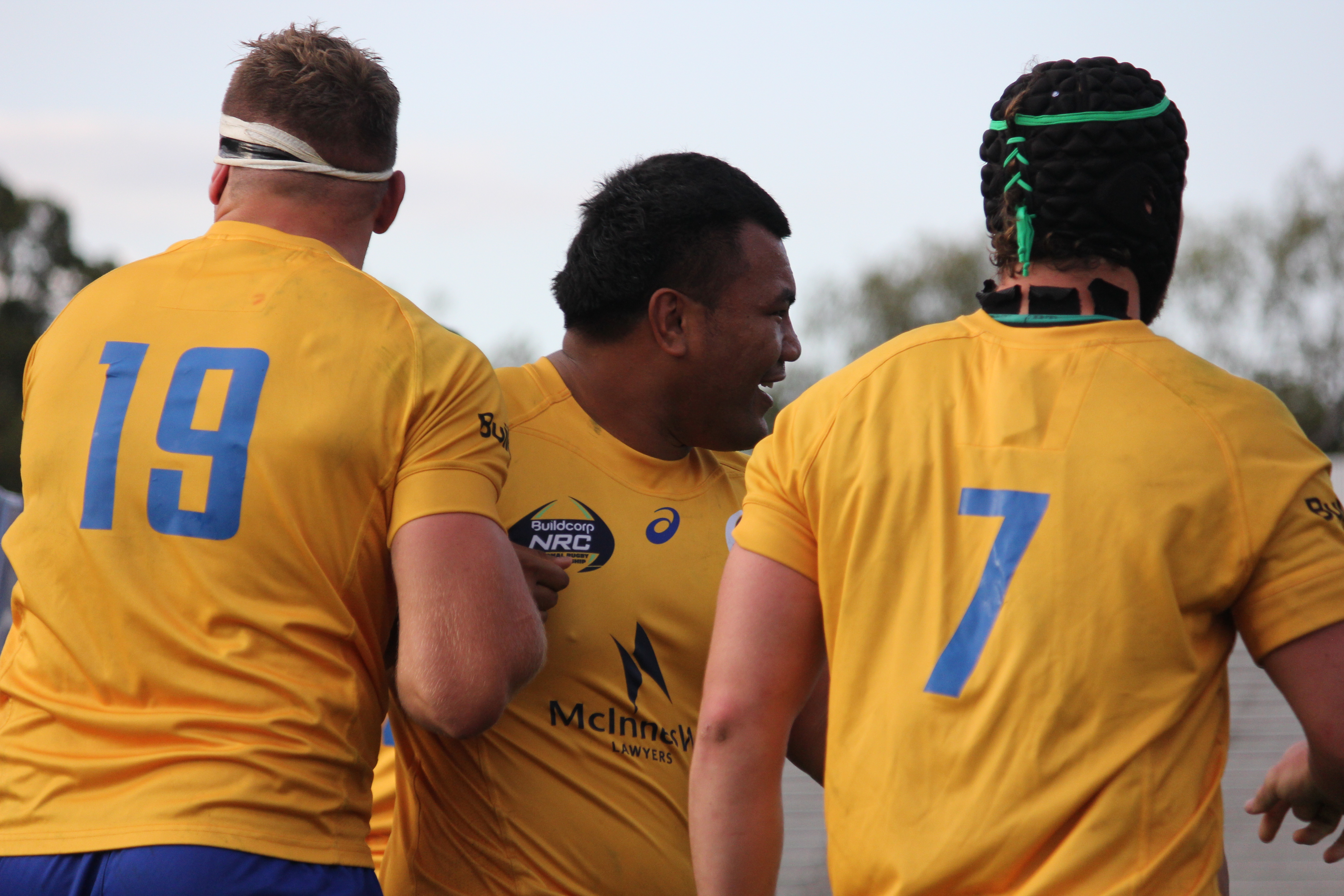 The Brisbane halves Frisby and Cooper operated well together and QC, the ringmaster, had Rays' players watching him too long.
Their forwards played the basics better and their hard men like McDuling, Ready and Browning had some dominant runs and tackles. 7. Michael Gunn had a terrific game and showed Sydney North Shore folks why he is so highly regarded in Queensland.
The performance of the Brisbane team was a good advertisement for their premiership competition and, not quite to the point, but the two Queensland teams look better than the Tornadoes and Aces of seven years ago.
---
The key moment
When over 100 points are scored in a game and one team wins by plenty, there can hardly be a game changer.
But when Quade Cooper jarred his knee and the trainers rushed on, seeing him get on his feet and jogging away was a key moment of interest.
The G&G Rugby MOTM
12 Samu Kerevi was lethal and 7 Michael Gunn was everywhere especially backing up runners and putting out fires.
But the Green and Gold Rugby man-of-the-match goes to Quade Cooper who made a brilliant comeback as a starting player, and lifted the spirits of many on a dark day for Aussie rugby.
 Players to watch
Of those not yet playing Super Rugby: tough Brisbane hooker Andrew Ready and skilful workhorse 7 Michael Gunn look promising.
For the Rays: 12 Mali Hingano was dangerous with ball in hand though needing to draw the man and pass, more. 8 Sam Ward had another tough game and 6 Jack Dempsey was a non-stop inspiration.

The scoring
Brisbane City 77 (M. Gunn 2, M. Feaunati, A. Korczyk, S. Kerevi, A. Ready, J. Mullins, C. Browning, P. Kite, T. White tries; Cooper 9 cons) def. North Harbour Rays 26 (S. Ward, G. Peterson, H. Bergelin, M. Hingano tries; H. Jones, H. Angus cons)
.