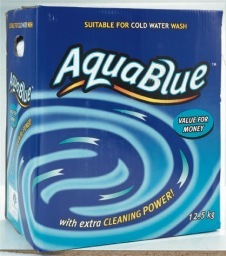 This week the Rebels head back over the dutch to duel the fourth-placed Blues at North Harbour Stadium in Auckland. At home last week they lost a 6-try-to-2 game to the Highlanders; the Blues were at home too and defeated the Waratahs 31–17, without even scoring in the second half.
The Rebels never looked in the game against the Highlanders. The worst match statistic showed that all six Clan tries were scored within 20 metres of touch on Cooper Vuna's wing. Two late tries to the locals improved the scoreline in an otherwise one-sided affair. By contrast, the Aucklanders found their feet early against the Tahs, with their first two tries scored by their starting props. Three tries later they looked home and hosed before the half-time whistle had sounded.
For this match-up both teams have made some big inclusions in their starting XVs. All Blacks Tony Woodcock, Ali Williams and Benson Stanley bring even more strength to the Blues, while a couple of experienced heads in former Wallabies Stirling Mortlock and Julian Huxley slot into a Rebels backline that changes almost as much as the Melbourne weather.
The Rebels haven't done much reshuffling this week, instead opting for straight swaps in the starting squad. Positions 1 to 11 are unchanged, giving Rodney Blake the chance to back up his performance last time out. Mortlock, who was a late scratching last week with an "old man" hip injury , will don the No. 12 jersey, sending Jimmy Hilgendorf to collect some splinters in his behind. Sitting next to Jimmy will be the new-to-Twitter Richard Kingi (@RichardKingi), who proved that no matter where in the back three he plays, he's equally lost; he's made way for Huxley in the 15 jersey.
The Blues have done a palindromic switch in the backs: Stanley and Luke McAlister swap the 21 and 12 jerseys, with Pat Lam opting to give McAlister a rest on the bench just one game after the bye. Up front, Woodcock has pushed Tevita Mailau, a try scorer last week, to the reserves bench, and will do battle with former All Black scrumming partner Greg Somerville. And Ali Williams returns to a starting lock position after a six-week layoff with a hamstring strain.
Williams's appearance opposite a Rebels pack that includes Gareth Delve prompts the question: what do Williams, Delve and GAGR's own Lance Free have in common? Answer: they are all fearless crimefighters and protectors of the innocent! Most will remember the YouTube clip showing Williams breaking up a fight in public; late last year Delve intervened in a nasty incident to save a woman from danger (as recounted in Podcast 15); and of course several weeks ago Lance Free sorted out a gang of youthful miscreants playing up on public transport. The streets are safer with heroes like these standing tall to protect us all.
Back to the match preview: both forward packs are strong, with experienced props at every corner. The Blues will have the advantage at the throw-ins as the Rebels are still missing their lineout boss, the perpetually injured Kevin "Giant" O'Neill. There will be a few big hits, and some big runs out of both sides, with no clear winner expected.
In the Blues' backline, Alby Mathewson has cemented his starting halfback spot and will pair again with Stephen Brett, who now has to deal with Luke McAlister eyeing off his jersey before the latter eventually departs for Toulouse. Hard runners Rokocoko and Payne are likely to cause some trouble amongst the Rebels defence in broken play, while Toeava has been playing superbly at fullback of late. The Melbournites' defence will be tested by their opponents' use of quick ball and hard direct running, tactics that have typically led to the Rebels leaking tries like my car leaks oil.
The Rebels have their own backline weapons, in the hard-hitting and rock solid defensive centre pair Mortlock and Gerrard, and the stable Phippriani halves combo. The outer part of that pairing may have a bit on his mind after snaring Jesinta Campbell (Google her, you won't be disappointed) last Saturday evening, and we have secured confirmation that any child from this union will be eligible for the Wallabies and/or the Miss Universe pageant. Vuna will need to step up his defensive efforts if the Rebels are to stop a bluewash.
With the Rebels' week-on, week-off theory thrown out the window, I'm thinking we're now looking at a scenario of two good weeks followed by two bad. And this is one of the bad weeks… against good competition… playing away. I can't see this ending prettily for the Rebels, though of course I hope otherwise. Blues by 22.
Teams:
Melbourne Rebels: 1 Rodney Blake, 2 Ged Robinson, 3 Greg Somerville, 4 Alister Campbell, 5 Hugh Pyle, 6 Jarrod Saffy, 7 Michael Lipman, 8 Gareth Delve (vc), 9 Nick Phipps, 10 Danny Cipriani, 11 Cooper Vuna, 12 Stirling Mortlock (c), 13 Mark Gerrard, 14 Lachlan Mitchell, 15 Julian Huxley. Reserves: 16 Heath Tessmann, 17 Laurie Weeks, 18 Hoani MacDonald, 19 Tim Davidson, 20 Richard Kingi, 21 James Hilgendorf, 22 Luke Rooney.
Auckland Blues: 15 Isaia Toeava, 14 Joe Rokocoko, 13 Jared Payne, 12 Benson Stanley, 11 Rene Ranger, 10 Stephen Brett, 9 Alby Mathewson, 8 Peter Saili, 7 Luke Braid, 6 Jerome Kaino, 5 Ali Williams, 4 Anthony Boric, 3 John Afoa, 2 Keven Mealamu (c), 1 Tony Woodcock. Reserves: 16 Tom McCartney, 17 Tevita Mailau, 18 Filo Paulo, 19 Chris Lowrey, 20 Toby Morland, 21 Luke McAlister, 22 Lachie Munro.