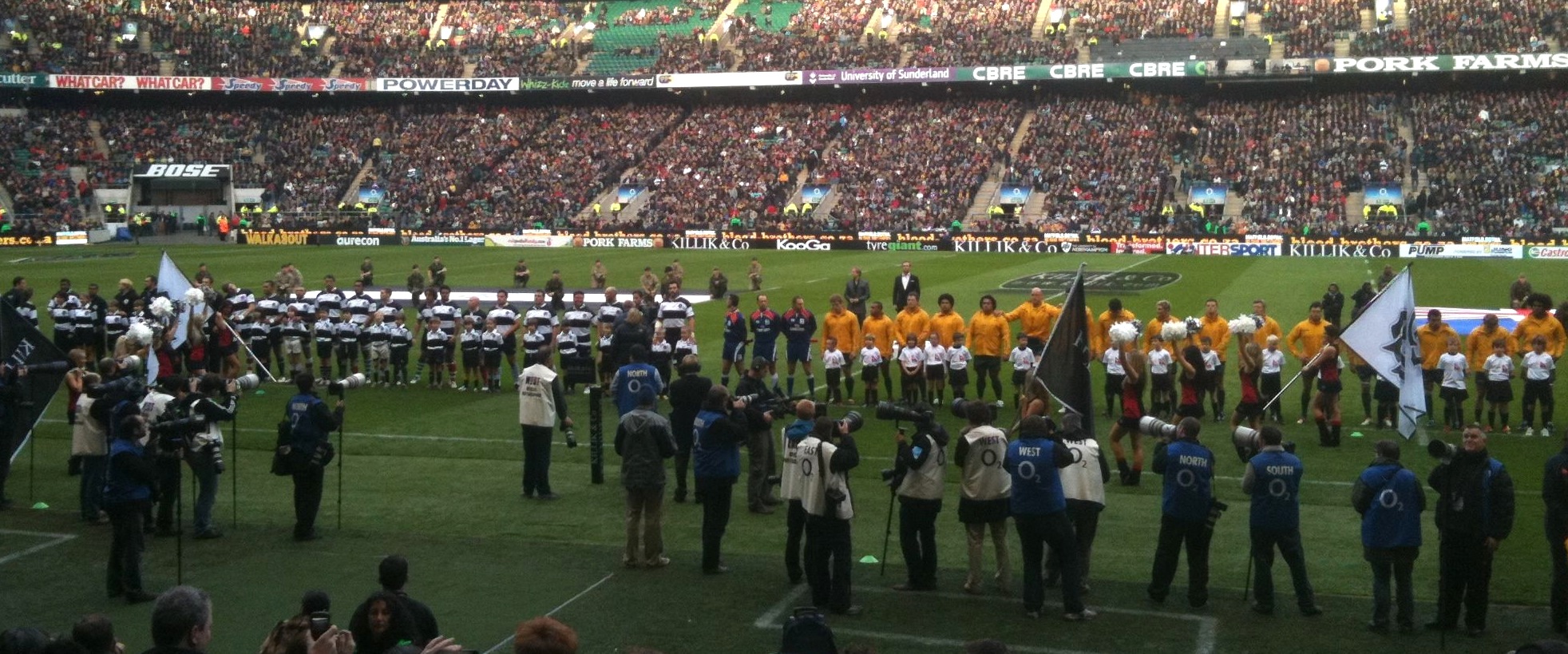 The Wallabies comprehensively trounced the Barbarians this morning 60-11 in an entertaining but one-sided contest.
Maybe contest isn't quite the word. After the point of no return had been met early in the second half the Wallabies threw caution to the wind, running amok from all points of the compass. Perhaps the Baa-Baas had spent the week at The Mangy Dog in Shepherd's Bush, such was their disorganisation?
There was an expectation that they'd make a contest of it and achieve three in a row against another Southern Hemisphere side (All Blacks 2009, Springboks 2010). But that didn't take into account the 'B' nature of those New Zealand and South African selections, and the fact that half of today's Baa-Baas outfit wouldn't have trained since the RWC.
The match took a little while to warm up with the first half punctuated by Wallaby ill-discipline (two yellow cards, although one was a try-saver)) and lost opportunities — at least three tries went begging due to poor finishing.
That was the bad news, the good news was that the Wallaby forwards gained the upper hand fairly early in the piece and essentially controlled the game from there. The piggies brought home the bacon with effective one-off the ruck running, pick and drives and even the occasional maul.  That front foot ball led to the eventual havoc out wide.
The Wallabies only try in the first half was a beauty to Digby Ioane and off a set move — crikey, haven't seen one of those for a while!
Diggers was loitering with intent in the second line about 22m out when a gap was created by a bit of centre subterfuge. Diggers stepped off his right and went through it, leaving Snorky Mortlock in his wake to score under the sticks.
Diggers scored another in the second half, pushing off four players in heavy traffic in the process. One of those was the leaguey Sam Tomkins who was a powder puff in defence (and completely out of his depth). I reckon if it was the other way round and Diggers turned out for Wigan next week he'd kill them!
The Wallabies racked up seven tries in total in the second half for an emphatic win. It's hard to judge where this actually sits. They really looked good in most aspects of play but the opposition hardly placed them under any serious pressure.
The Wallabies had the advantage of combinations and clearly, fitness. It was a loose game that very much suited our style of play with a raft of fleet footed backs. Our scrum was dominant although we were again penalised on a number of occasions for hinging and the like.
The restarts were excellent with Rob Simmons effective in the air. Likewise the lineout — maybe a couple of wonky throws, although one led to a surprise try by Rob Horne.
The James O'Connor at No 10 experiment? Yeah, it worked. That's because he's got fast feet, fast hands, a fast brain and all the skills of a five eighth (and played there often in his schoolboy days). The test will be when he fronts against a hardened international team that doesn't allow him time and space — certainly worth persevering.
He kicked 8 out of 9 by the way, and indeed dropped a goal in the first half. He did make a couple of errors but that's the nature of running rugby.
Berrick Barnes was the foil for Rabs at inside centre but a heavy collision with Simon Shaw led to his replacement by Ben Tapuai. I'm now hoping that we've seen the last of the Pat McCabe IC experiment.
Digby was unstoppable and world class. AAC was the official MOTM and rightly so. He just loves a bit of space, is strong in contact and with fend — against players who weren't 100% committed in defence he was mighty. Mention in dispatches to Lachie Turner who was lightening fast.
In the forwards, Nathan Sharpe and Rob Simmons played a complementary style of game with Sharpie again topping the carries. Scott Higginbotham's support play was first class and is suited to a looser style of match. Big Kev certainly made an impact off the bench scoring two meat pies in the process. David Pocock featured more on attack than we've probably seen from him before.
I thought Coach Deans used his bench very well today. He seemed to substitute guys at the right time (in some cases quite early) and everyone got a run, including Nick Phipps.
As for the Baa-Baas it was all about Victor. His final foray on a rugby pitch was lekker. He was one of the few totally committed players out there with Sylvain Marconnet and Mauro Bergamasco also having a dig. Danny Cipriani had a mixed match with defence again letting him down on occasions and a few passes going awry, although he's a danger on attack.
The Wallabies will be pleased with this win. They showed flair and commitment, and it certainly passes the test as a credible hit-up before next week's Welsh encounter.
(Berrick Barnes injury: X-ray has cleared him of any serious injury but still some concerns).