After sixteen rounds of this Super Rugby season, the Wallaby Captain and Blindside Flanker has played a total of 84 minutes – less than 7% of it. With Rocky Elsom unlikely to play any rugby before the Tri-Nations, it must surely be an understatement to say that the Wallabies blindside flanker position is far from closed.
This begs the question of who should his replacement be, if needed? Let's look through the various parameters important to a 6 to give some idea of the contenders.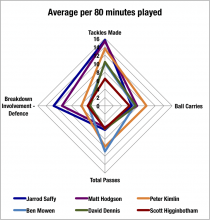 Tackling
A key facet for the Blindside flanker as he works in tandem with the seven is tackling. Here, two men stand out; Jarrod Saffy and Matt Hodgson as they make 16 and 15 tackles per game, at a 94% and 95% accuracy, respectively. This impressive tally has put the Rebels blindside at second in the overall Super 15 on numbers of tackles made with 180. Add to this his 5 tackle assists per game versus Hodgson's 3, and he just gets the edge in this area.
An outlier at the other end of the spectrum is Scott Higginbotham, who makes only 6 tackles per match on average.
The Breakdown
A decider of so many games, top blindsides are crucial players in pressuring the opposition at the tackle contest. Again it's Jarrod Saffy leading the way with his work-rate at defensive breakdowns, hitting 12 per game with Hodgson again just behind on 10. It's worth noting here that team playing styles will effect these numbers hugely – the Rebels have kicked away a lot of ball!
With regards to effectiveness at that defensive breakdown, two players stand out. Matt Hodgson at 6th in the overall S15 pilfer standings (with 6 pilfers) and Ben Mowen who has forced 12 turnovers at the tackle contest (0.9 per match), ahead of Higginbotham on 8 and Saffy on 7 (both 0.6 per match).
Attack
Two players stand out here, as they both get over the gain line around 75% of the time. But what's different about Ben Mowen and Scott Higginbotham is how they do it and the role they play in attack.
By the stats, Higginbotham is the more natural runner in wider channels. He breaks the line most out of all the candidates, 0.8 times per match. He's also killing the competition with 6 tries so far.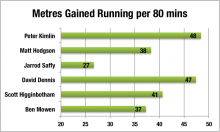 Mowen on the other hand, seems more integral to the promotion of the ball, handling the pill 16 times on average and topping the chart with 11 passes per match. He also seems to play a tighter running game, topping our pick and drive charts with 18.
If it's out and out metres you want though, Dave Dennis and Peter Kimlin lead the way on around 47 metres per game.
Lineout
The better line-outs in any competition have at least three if not four credible jumping options, making the blindside an important candidate. Of our contenders, two stick out in this regard. Ben Mowen is 5th in the whole super competition for line-out takes (53). Tenth in the competition is Scott Higgenbotham (42). None of our other candidates make the top 20.
The candidate
So who fits the bill? Of course the answer is "what kind of player are you looking for?"
But this article is a stats fest. So, if Rocky Elsom is the answer for Robbie Deans, who best emulates his game, stats-wise? Looking back at Rocky's Super Rugby in 2010, his key stats were:
Tackles per match: 11
Tackle accuracy: 93%
Counter-rucks hit per match: 4
Turn overs forced at the tackle per game: 0.2
Carries: 8
Metres per match: 55m
Line-breaks per match: 0.6
Gain line: 69%
Passes per game: 10
Tries in season: 3
Based on these, let's flag up those candidates who clang against any key measures.
What's outstanding is the number of metres Rocky's making a game (55m). From this perspective Jarrod Saffy would get a black mark as he has the lowest in our group (27m).
Tackles-wise, Rocky would middle in our candidates with 11 per match. At the bottom would be Scott Higgenbotham on 6 – another black mark.
Rocky does well in attack with his line-breaks (0.6) and interlinking (passing, 10 per match). Of our candidates left, Matt Hodgson from the Force has the fewest line-breaks (0.1) and fewest passes per game (5). Question mark.
Rocky would also middle in our group on reaching the gain line at 69%. At the bottom is Peter Kimlin with 53%, despite the metres he makes. Another name questioned.
This leaves us with 2 potentials: Ben Mowen and Dave Dennis. However, they too have their drawbacks in our Rocky clone-wars. While Dennis runs the metres (47) and scores the tries (3) like Rocky, he isn't the line-out option that Mowen is. Ben takes 4 line-outs per match versus Dave's 2.4. But then Ben is yet to score a try this year despite having almost 40% more minutes on the paddock.
So there it is – the stats tell us there's no-one quite like Rocky and throw us a few curve balls along the way, putting dents in one or two people's favourites. The question is, who would you choose?