St. Edmund's have established themselves as potential title contenders after a great display of running rugby defeating St. Patrick's 31-19.
[Other round 2 scores at the bottom]
Building upon their thrashing of St. Laurence's last week, Eddies are beginning to shrug off their dark horse tag by running in 5 tries against a formidable and much improved Pat's outfit who lost to Ashgrove by 42 points.
Both teams battled it out in the mid-field for the opening stages. The deadlock was broken when off a turnover, Pat's lock Bentley Brown kicked through for his winger, but it was covered by pint-sized Eddies fullback Clifton Setu, who was tackled in-goal.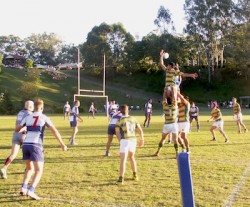 Off the 5 metre scrum, Pat's spread it through the backline to danger man and Australian schools rep Junior Fakaosilea who attracted 2 defenders, but was able to shovel it out to fullback Liam Roberts who capitalised on a 2 on 1 overlap out wide for the first points. The try was then converted by Christian Ramsay.
Sparking the Eddies attack was fullback Setu and after a penalty for a dangerous tackle on him they scored under the posts through fly-half Carter Auld off a decoy runner play.
Eddies continued to pile pressure on Pat's and got back in their attacking zone after a good run from lock Ryan McCully off an aimless kick, but he got isolated and the ball was turned over.
Pat's then fumbled it, and was it picked up by Setu who launched the counter attack, ending with a barnstorming run from 13 Rory Humphreys who popped it up metres from the tryline for a supporting Setu to dive over. Auld then added the conversion.
Despite this Pat's began to ask questions of the Eddies defence with repeated attacking phases and forced Eddies to kick when in their own half.
Strong defence kept Pat's from scoring and a big hit by Auld on the Pat's winger ended a promising scoring opportunity.
However, the Eddies line was eventually breached when off the lineout Pat's backs ran a slick backline play that saw Roberts punch through a gap from an inside ball off 13 Regan Glynn, to run 40 metres and score his second. Scores at half-time where SEC 12 –  SPC 12
At the resume of play Pat's compiled serious pressure on Eddies, but couldn't capitalise and a loose pass in Eddies' half proved costly when it popped up perfectly into Humprhies hands who then ran 60m for a try which was converted by Auld.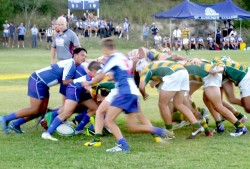 Despite some more hard running by Humphreys, Pat's later turned over the ball and exploited a 3 on 1 overlap out wide to put Glynn in space, running 40 metres and beating 2 defenders to score. Ramsay added the conversion to even the scores.
Eddies then reclaimed the lead, launching a backline play that looked to have been shut down by the bruising Pat's centres, but Humphreys was able to juggle and offload to Auld who passed to winger Shaye Lund who was speeding down the touchline to cross in the same corner.
The intensity of the game peaked in the last third of the second half with the ball going coast to coast numerous times through the hands.
The resilient Pat's continued to attack through centres Glynn and Fakaosileo and dogged work at the breakdown from 8 Jeremy Skelton and Brown among a solid pack saw them get back in the game.
However off a turn over from a lineout, Eddies where able to attack again and an inside ball from Humphreys put Setu through a hole and he was able to step and run around 3 players to score next to the posts. This was converted by Auld and the game was put out reach for Pat's in the last 5 minutes.
Final Score St. Edmund's 31 ( tries: Setu 2, Auld, Humphreys, Lund, cons: Auld 3), St. Patrick's (tries: Roberts 2, Glynn, cons: Ramsay 2)
Other Scores:
Iona 28 def Villanova 0
Ashgrove 61 def St. Laurence's 12
St. Peters  38 def  Padua 10