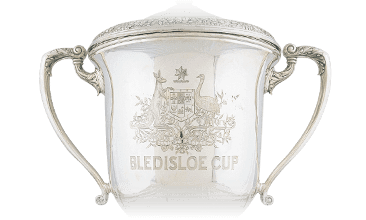 In the build-up to this week's Bledisloe Cup decider, Pfitzy and Sauly go head-to-head over the likely outcome, and the reasons why. Sit back and enjoy the ride, then gnash your teeth at the other point of view…
Pfitzy: Why They Won't
People reading this will call me a pessimist. I prefer the term Truthbringer-General, and once you start chewing on these perfectly cooked rinds of knowledge-bacon you'll see why.
The Wallabies had a great win on the weekend, finally putting The Blackness away with a muscly, niggly, beat-them-at-their-own game performance. Its the one we should have brought last year in a wet Sydney encounter but like the virgin groom, failed to close out the deal. We should celebrate this time as Rugby Championshippers, as defenders of our home turf in 2015. It is a great feeling.
But do any of you remember what happened the next game in 2014? In Auckland? At Eden-Frickin-Park? That's right, a walloping of massive proportions. So sit back, dear reader, while I weave you a tapestry of truth that will, no doubt, cause you much angst leading into this game. Remember though, I'm just trying to help (while hoping desperately that I'm wrong).
#5 Eden Freaking Park
Go have a look at the record books – they haven't lost there since 1994 against France – and outscore us by about 2-1 in our visits during the professional era. The place is a bloody fortress, one of the hardest away games for any team in world sport. And while some of you are thinking "but that means we're primed to break it!" let me tell you, you're wrong, because:
#4 All Blacks Are Hurting
I watched some of the Wallabies doing fan work after the game last week from my spot in The Gold Mine – and from the corner of my eye I saw the AB benchies and non-playing reserves out on the field, getting put through their paces by the trainer. I can only imagine the stony silence in the dressing room, and then the post-match review where some hard truths were told. They aren't happy, and why not? Given that:
#3 They never play like rubbish twice
For once, the All Blacks' cloak of invisibility wasn't restricted to the McCaw penalties referees miss, but to anything looking like effort from some of their star players. Read, Retallick, Carter, SBW, Aaron Smith, Conrad Smith – none of them looked like the unbeatable vintage of the last few years, and Hansen will have told them that. They are no doubt thinking about the one-percenters that they missed, and the Wallabies took; the inches at the breakdown, and the threat of Pocock and Hooper together, which means:
#2 Changes have been made
The inclusion of Nonu will wreak havoc in the midfield, and both Carter and Conrad Smith will benefit from it, similarly to the return of Whitelock over Romano in the second row. The move to include Vito at 6 over Kaino shows Hansen still has an eye on the RWC campaign later this year, and I'm honestly shocked they didn't bring Cane in.
Likewise, the Wallaby team selection reflects Cheika holding RWC auditions in the most hostile environment available to us, and guys like Cooper, Palu, Skelton, Douglas, and Speight will need to prove their worth, and they'll need to, because:
#1 History is against us
Haven't won in NZ since 2001 when the Kiwis couldn't win a lineout to save themselves. Haven't gone back-to-back in the same year since 2001 when a bloke called Eales was exiting stage left. Haven't won at Eden-Fricken-Park since 1986 when that promising halfback Nick Farr-Jones was going around.
Do I need to say more? Enjoy the beer now, before it turns to horse urine in your mouth. Unless you're drinking XXXX in which case you probably don't know the difference…
Sauly: Why we WILL win!
It is about time someone put those Kiwis in their places and that time is Saturday. Not only did the Wallabies win last weekend, but they won just like the All Blacks have won so many times, crushing their opponents win-celebrations in the dying minutes of the game. Here are 5 things why they will do it all over again on Saturday:
#5 Coaching
Long have punters said that Hansen is the worst All Blacks coach in a while, if not ever and if my memory serves right, no more than 10 months ago many beloved Gaggers also said that Cheika's dual coaching role would not end well. Some maintain that "it didn't for the Tahs", but honestly the Tahs still performed well enough to get into the finals for the second consecutive year, only to lose to the eventual champions.
Cheika has done a pretty impressive job in securing talent around him in Larkham, Ledesma and Grey. The scrum is better than in ages, attack has not been the sharpest ever, but it is shaping up to be really dangerous, and defense has not let us down this year. Also I love the mind games that Cheika plays with his selections and how he leaves them last minute. Wallabies 1-All Blacks 0. Which brings us to:
#4 Attitude
Cheika and co have built an atmosphere around the Wallabies where players seem to perform to their best. Just a quick look at James Horwill is enough said, but to go further, Nic "all is forgiven" White has gone from a lack of composure last year, to finishing off a win this year. There was a moment there toward the end of Saturday night where I thought "dammit he is going to kick it!" and then bang! He didn't. Just started yelling instructions to his forward pack and they obeyed. New Wallaby-attitude made him the hero of the nation.
#3 Pressure
I'm reluctant t0 jinx everyone else's RWC campaign by writing DC, McCaw and other aging All Blacks off; many have tried that before and failed miserably. But still therein lies reason number 3: pressure. Amid pressure of Eden Park, talk about hoodoo or whatever you want but the pressure is on the All Blacks, they haven't lost in their fortress in 21 years, but this season they have seemed to be vulnerable. They haven't convinced me once yet and last weekend they were totally outplayed by the Wallabies, which has to creep into their heads this week: "What if we lose at Eden Park?". These Wallabies are the ones to break that 21-years of misery of away teams.
#2 Wallabies Last Quarter
This is good sign looking at the World Cup, on that the Wallabies have outscored their opponents heavily in the last quarter of games. It suggests that the Wallabies are fitter than their counterparts. Even Hansen knows he can't push his team on the training paddock in a week to level the fitness with the Wallabies, so he may opt to select younger players with less experience and play straight into our hands, as surely the 1-cap Sopoaga won't handle the Eden Park expectation. By the time Cheika rolls out his "finishers" its too late. They will just shoot the tempo out of the roof and there is no-one to stop them, no-one.
#1 Basics
I have been telling people that the All Blacks are so good they are for 2 reasons: they have world class players around the park, and they execute rugby basics at a pace no one can match, or couldn't match until last Saturday. Cheika and co
has drilled this team so well, that all the sloppy handling what marked the Tahs this season, has not happened and that is when Cheikaball is dangerous. We have world class players but in the past something just has not clicked. Now its plain and simple, in attack, catch-pass-realign, in defense, tackle-get up-realign, easy as that and when you inject pace in to that, it is extremely hard to beat.
#Lastbutnotleast
So whats your pick? The Truthbringer general with his knowledge-bacon, or cold hard "facts" from Sauly about how we're gonna shove it up to 'em on Saturday?