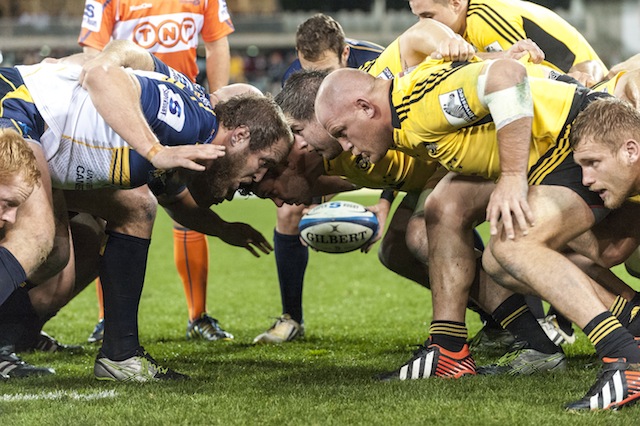 Nick Bishop is an elite level video analyst and coach who has worked with the 2001 Lions, 2005 Welsh Grand Slam winners and England squads. In this series exclusive to Green and Gold Rugby, he gives a unique insight into how the Lions will view the Wallabies.
---
There has been a long-time perception of the Wallabies scrum as its Achilles Heel here in the northern hemisphere, and Andrew Sheridan's performances for England against the likes of Al Baxter, Matt Dunning and Guy Shepherdson have tended to fan the flames.
Warren Gatland will probably be looking at the scrum as a platform from which to win penalties and therefore dominate territory in the coming Test series. While it might go against the grain for many Wallabies supporters, here's why I think Ben Alexander is Australia's best chance of countering this Lions threat.
Lions Selection
I think Gatland will go with Richard Hibbard and Adam Jones at tight-head, a club combination at the Ospreys who know each other's play well.
These two represent about 245kg of bulk and power, and whoever Robbie Deans picks on the left side will be at a considerable size disadvantage of around 10kg per man, especially in the absence of Tatafu Polota-Nau.
Getting it right at the hit
The Wallaby loose-head and hooker have to get across the gap quickly and win the hit, or things could turn ugly. If they don't, Hibbard and Jones will maximise their advantage in size by slanting outwards on to their opposite numbers with the power coming on through the right side:
http://youtu.be/LadbSRJvzzk?t=20m7s
Refereeing trends
Refereeing in the NH tends to reward the dominant scrum with a succession of penalties. In the Wales-Italy game above, Romain Poite also yellow-carded the Italy tight-head Martin Castrogiovanni for persistently popping out of the set piece, so that was a bonus for Wales.
Encouragingly for Australia, they don't have Poite until the final Test. In the first and second Tests Chris Pollock and Craig Joubert will be the referees, and they were on duty during the Australia-Wales series last summer. They will probably not reward the dominant scrum with penalties:
http://youtu.be/86l0yvT63zk?t=1h13m
(see as well the sequence starting at 1:33:50 in the above video)
Wallaby counter-measures
As the two examples from last summer's second Test illustrate, against a larger front-row the Wallabies need to create confusion in the referee's mind about what is going on in the scrum – the more resets and collapses, the better it is likely to be for them. In such a showpiece series, neither Joubert nor Pollock will want to be associated with a stop-start game keyed by penalties.
I think Robbie Deans should go with Ben Alexander at tight-head. Alexander is far more experienced than either Sekope Kepu or James Slipper, and he is much better at altering his body height and forcing the opposing loose-head to 'hinge' – see below:
http://youtu.be/G3XRRK77lBw?t=4m45s
He and Tatafu Polota-Nau also dominated the left side of the English scrum in the autumn game.
http://youtu.be/uWzZ5xU3-hI?t=27m30s
(see also 36:30 in the video above)
A front-row of Robinson-Moore-Alexander had a lot of success a few years ago, before Benn Robinson's knee injury knocked him out of the 2011 World Cup, and I think it will be Australia's best solution now. They have a proven synergy, and if Robinson is back near his best it will be a solid trio.
Slipper
I disagree that James Slipper is the best option at three. Although he is undoubtedly Australia's best all-round prop, I see him more as a loose-head. In the autumn there were doubts about his ability to handle the opposing one and two working in concert against the tight-head, as in the Test against France in November (video at bottom).
In addition, he won't be as street-smart as Alexander in handling the referee's perception of the set-piece, so I'd definitely go with Alexander starting with Slipper and Kepu on the bench
http://youtu.be/2y73iy9SU6A?t=1h18m31s