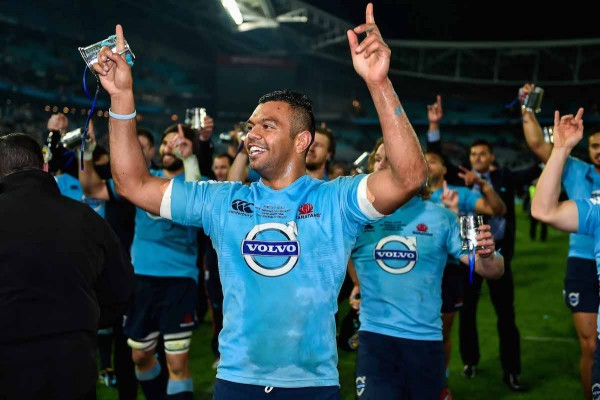 I have no idea if Bill Pulver is a republican or a royalist, but I reckon he'd feel a degree of affinity with old Queen Liz's year a couple of decades ago when she described it as an annus horribilis.
It's a shame really as it should have been a year to be celebrating. The Wallabies managed to win seven tests in a row, then the Waratahs won the Super Rugby title and you'd like to think even the inaugural NRC brought a smile to the face of someone at HQ.
However it seemed that any form of on-field success that provided authorities a moment to bask in was quickly undone by some form of off-field incident.
Kurtley Beale was at the forefront of such activity when he was axed by the Melbourne Rebels last year in a move to shore up their culture. It came after a series of incidents culminating in an attack on his own captain, Gareth Delve. It seemed to turn rosy for Beale as he found himself at the Tahs and playing a key role in their Super Rugby championship.  But not for long as allegations of verbal assault and sexists texts directed at an ARU official saw his career, again, at risk.
James O'Connor also had a contract torn up last year following his own drunken plane incident. Thanks to the professional nature of the game, O'Connor took the opportunity to see the sites of Europe, playing rugby in the UK and France, and will return to Australia next year to play for the Reds. A changed man? We will have to see.
Even having shed these two seeming trouble makers (and late night fast food eaters), the Wallabies found themselves in more trouble on last year's November tour. Six players were stood down from a test match, and another nine received a warning, for breaking curfew and hitting the town in Dublin in the lead up to a test match.
Whilst those in power at the ARU, from the coaches to the administration, would have been increasingly frustrated, it was the general public that perhaps suffered the most.
Include some allegations of 'player power' in the demise of popular coach Ewen McKenzie, players missing promotional opportunities, naivety in media conferences and it could be said that the wider Australian public have never felt more distant from the Wallaby players.
Seemingly gone are the days when the players were so relatable – that was probably back when they had to earn their crust outside of the game. The advent, and development, of professionalism has played a role in this perception that the modern player, broadly speaking, is somewhat isolated from the real world.
In other words, they live in a bit of a bubble.
And "Bubble Boys" just so happens to be the name of Michael Blucher's latest book delving into the lives and influences of the modern day professional sportsman in Australia. You may remember Michael from his previous book, "A Perfect Union", which was a biography of Wallaby greats, Jason Little and Tim Horan.
Whilst a through theme of that book was the relative innocence and celebration that was the career of those two country-raised rugby stars, Bubble Boy is a lot rawer. Darker even.
Having been around the sports industry for close to 25 years, Blucher is highly and uniquely qualified to provide this exploration of the perils and pitfalls at the professional tier of sport.
Whilst not excusing the off-field behaviours of our stars, the book goes some way to at least detailing the rarefied environment that our modern day sporting 'heroes' have to contend with.
This is a fascinating read, with plenty of jaw-dropping anecdotes of antics and incidents that have occurred across the Australian sporting landscape in recent years. But this is no tabloid newspaper serving up salacious gossip and innuendo.  It is a highly considered explanation of the external influences (and influencers) on these young athletes.
Given the 12-18 months Australian Rugby has been through, Bubble Boys could conceivably act as a type of Cliff Notes of the Wallaby off-field year. Read the book and you will not only shake your head at some of the stories told, but you will nod in understanding at the points of view expressed.
There are many informative chapters covering everything from pre-career to post-career. One deals specifically with the relationship between a player and his main stakeholders – the media, administrators, peers, sponsors, his manager, etc. It reads as an almost case study of the recent Kurtley Beale fiasco despite having been written well before.
Another of the aspects the book deals with is the role of the media. Blucher theorises that sports media 'jumped the shark' back in 2002 when the Wayne Carey story broke. When King Carey was found to be having an affair with his team mate's wife, it was pretty much when reporting on sport went from on the field to off. Now relate that to how the media handled the rumours around Ewen McKenzie and Di Patston and you'll see their endeavours in a whole new light.
Social media is another massive factor these days. As Bubble Boy suggests the challenge is not just how the players use it themselves, it is how the media are using it for their own stories. Again, go back to that Beale incident at the Rebels  when he decked his skipper, the first it came to light was when team mate Cooper Vuna tweeted about it.
I can proudly report that this site also gets a mention in the book as Blucher explains the challenges for modern media in their search for constant content. One poor journo stumbled across an article by one of G&GR legends Juan Cote. Juan's regular "Week in the life of" satires were somewhat of a feature on this site and this particular article was 'Quade Cooper' talking of his week not too long after his laptop incident. Whilst most picked up the tongue-in-cheek nature of the article, this journo picked up some of the 'quotes' within to use in his own piece and ran with them, failing to fact check. The internet is not always right people!
Overall, Bubble Boys covers so many aspects of a professional athlete's career and challenges I'd suggest it is a must read for any of G&GR's fans. We've always felt our readers are ones that take an extra level of interest in our beloved game. Whether it be through game analysis or the administrative structures. For me Bubble Boys provides the level of intimate analysis of the industry that is rarely seen but which the majority of our followers would appreciate.
"Bubble Boys – The increasingly complex world of our nation's sports stars" can be purchased here and I reckon would make a great Christmas present. Perhaps for Bill and the ARU Board?