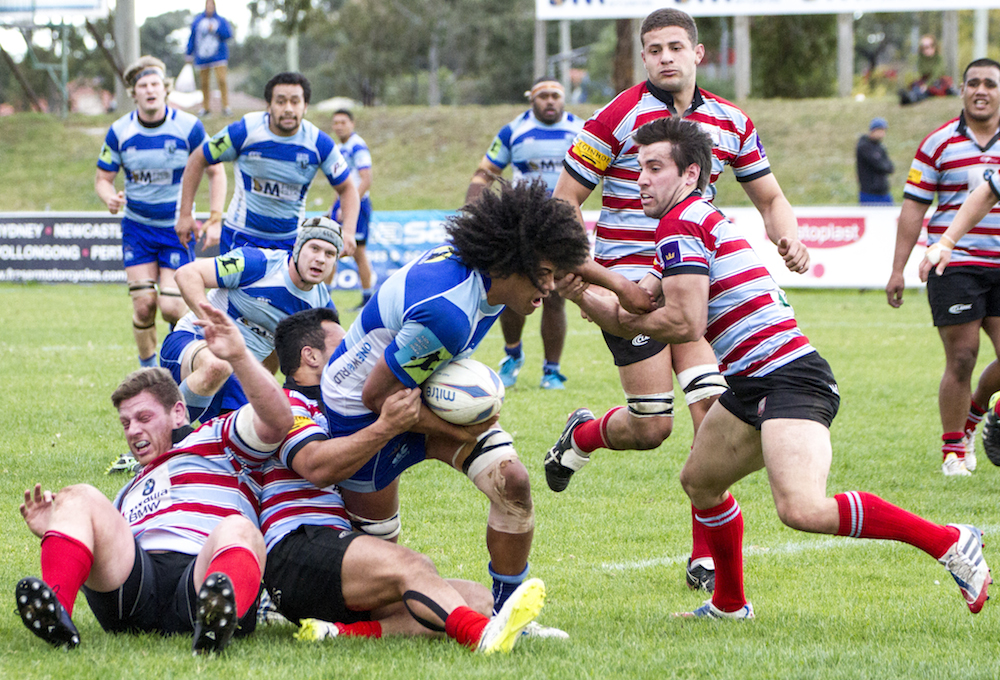 Sydney University has notched up its 10th win of the season with an emphatic win over West Harbour in yesterday's Magners Shute Shield. The Students were at their attacking best, with the 42-19 victory at University Oval reminding their rivals just how dangerous they can be.
By Ben Harrison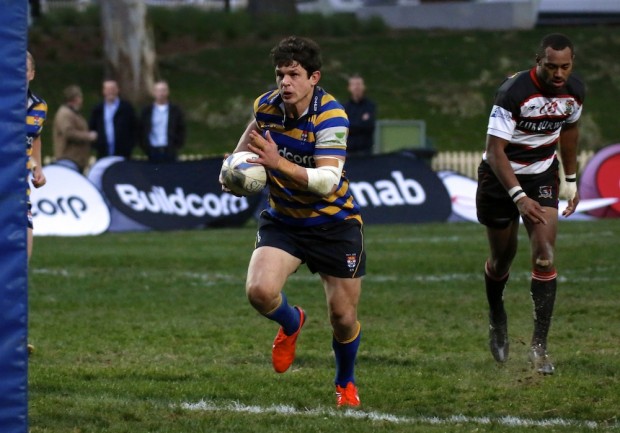 The win for fourth-placed Uni sees the gap between the top four and the rest of the pack widen.  Although the Manly Marlins suffered their first defeat of the season at the hands of Easts, they still retain a comfortable lead at the top of the table, despite wins yesterday for second- and third-placed Warringah and Eastwood.
One of those starting to make a name for himself in a new-look Students side is Henry Clunies-Ross. The winger bagged a double and was a constant threat. "We stuck to our structures really well today and did what the coach asked of us," said the youngster after the game.  "We knew Wests were going to bring it all day and I thought we handled them well."
Far from taking the praise, the humble speedster was quick to credit his team mates for his try-scoring efforts. "I'm very pleased to score a double but it's easy when you have so much quality talent around you. The forwards really got us going on the front foot so I just had to finish off their good work."
West Harbour's barnstorming backrower Matt Coles was one of the Pirates' shining lights, with the big bopper putting on a couple of strong tackles and threatening the line on a number of occasions.
 "It was a tough game for us, we held in the fight well for most of the game but again we couldn't go the distance of 80 minutes," Coles said.
"We seemed to score points but they would just answer straight back with a try of their own and we just can't allow teams to do that if we are going to be competitive."
Despite the loss there were a number of positives to take out of the match, with the Pirates showing their ability to manipulate the Students defence to good effect.  "Our game plan was to play direct and look for offloads, which worked to some extent. One on one missed tackles was what let us down today so that is something we will work on heavily for next weekend."
Another Students who excelled was young Jack Macklin. The rangey fullback was sublime for Uni, having a hand in a number of tries and in coping with tough conditions with the boot.  "The weather wasn't really much help today, it was almost like a blizzard which made kicking a nightmare," laughed Macklin afterwards.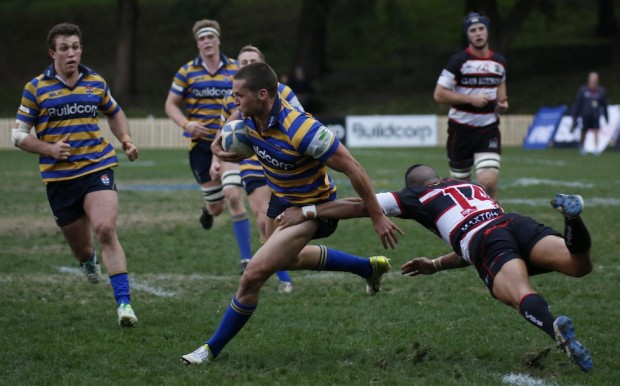 With Super Rugby recommencing this weekend, Macklin praised the help, leadership and confidence instilled in the squad by their representative contingent. "The Super Rugby boys coming in and out, some may see as it being hard to build combinations, but it has actually brought a lot of excitement into the squad. They have extended the good vibe and culture that exists in the club."
It was horror start for the Pirates, with young gun Usaia O'Sullivan being stretchered off in the first five minutes.  More bad news followed when Uni winger James Dargaville beat two defenders to score in the corner. Moments later, one of the real highlights of the match took place when former Waratah Tom Carter, known for his hard-running rather than his kicking ability, slotted a field goal from in front, off the back of a penalty advantage.
It didn't get much better for the Pirates when Henry Clunies-Ross chased a kick downfield to outpace his rivals and score under the posts.  Rory Sidey collected first points for the westeners after flanker Cohen Masson broke the Uni defensive line, laying on a perfectly timed pass for the try. A late turnover really hurt the Pirates, as Chris Ingate swooped on a loose ball to score for the Students next to the posts, right on half-time.
Taking a commanding 22-7 lead into the second half, the Students extended not long after, when Tom Carter bumped off a few defenders to score next to the posts.  Tito Mua, the giant Wests winger, got his side back on track when he showed just how dangerous he can be in open space, scoring a try off a Rory Sidey break. Shortly after Joel Brooks closed the gap further when he took an intercept to run 40 metres to score. But it was to no avail, as Dargaville picked up his second and Macklin added a further three points courtesy of a penalty goal, to take Students the 23-point win.
Sydney University 42 (Henry Clunies-Ross 2, James Dargaville 2, Tom Carter, Chris Ingate tries; Jack Macklin 3 cons, pen; Tom Carter drop goal) d West harbour 19 (Tito Mua, Rory Sidey, Joel Brooks tries; Sai Vakarau 2 cons) at University Oval.
Eastwood put on a clinic to secure an 18-point win over Randwick at Coogee Oval. The Woods proved too strong for the Galloping Greens, particularly out back, with all 30 points provided by the backline. The Batger boys were strong in their side's win however there were positives for Randwick, who put in a very spirited performance.
Eastwood 30 (John Grant, Tom Hill, Nick Batger tries; Ben Batger 3 cons, 2 pens; Tom Hill pen) d Randwick 12 (Tristan Goodbody, Andrew Kellaway tries; Andrew Deegan con) at Coogee Oval.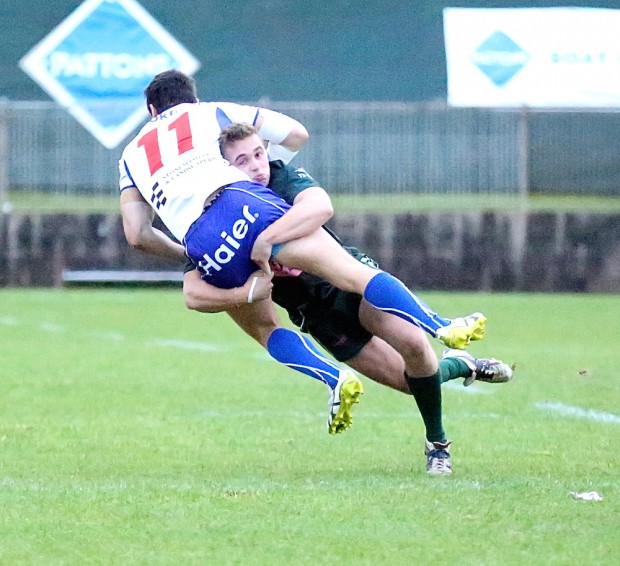 Woollahra Oval was the setting for the upset of the round, with home side the Beasties knocking off unbeaten competition favourites and leaders the Manly Marlins, despite being outscored by three tries to one. A last-second field goal to flyhalf Sam Windsor snapped the Marlins' 13-game winning streak, delivering their first loss of the year.  It's by far the best the Beasties have played all year but might come too late to lift them to a finals place: they sit in ninth, two wins outside the top six.
Eastern Suburbs 19 (Sam Windsor try; Warwick Percival con, 3 pens, Sam Windsor drop doal) d Manly 18 (Vaka Manu, Mark Swanepole, Dane Chisholm tries; Dane Chisholm pen) at Woollahra Oval.
The Rebels have put in a strong display against Parramatta at Merryland RSL to come out victors with a 10-point win in a tight tussle. The Two Blues asked plenty of questions of the Souths' defensive line, however the experience of returning NSW Waratah Ben Volavola that steered his side to a victory that lifts them from seventh to fifth, and back into finals contention.
Southern Districts 27 (Ben Connolly, Ed Falkingham, Luke Smart tries; Ben Volavola 3 cons, 2 pens) d Parramatta 17 (Tomu Mataika, Kaleb Rech tries; Tom Woods 2 cons, pen) at Merrylands RSL.
Gordon has defeated arch rivals Northern Suburbs in a comfortable victory at Chatswood Oval. Almost the reverse of the first round clash when Norths triumphed, the Highlanders' defence was almost impregnable, despite Norths playing with width and probing around the ruck and mauls. Despite some big Norths tackles, the Highlanders support play proved the difference, earning them their third win ov the campaign and giving North Harbour Rays coach Geoff Townsend plenty to think about when it comes to selection for the National Rugby Championship.
Gordon 44 (Johnno Broome, Jack Dempsey, Matt McDougall, Tom Mathews, Sione Ala, Xavier McCoy tries; Terry Preston con, Henry Carmichael 3 cons, 2 pens) d Northern Suburbs 7 (James Cunningham try; Corey Tulloch con) at Chatswood Oval.
The Rats have earned their third win in a row, knocking of the Emus at Nepean Rugby Park. The 12-point win will have impressed coach Haig Sare, and sees his side hold on to second place. One of the biggest improvers of the year, Penrith really took it to the Rats, almost making them pay on a number of occasions, and earning an impressive 11th bonus point: only leader Manly has bagged more (12).
Warringah 43 (Hamish Angus 2, Richard Southan, Boyd Killingworth, Brad Dixon, Sireli Tagicakibau, Dave Feltscheer tries; Hamish Angus 4 cons) d Penrith 31 (Mike Baysaat, KJ McKenzie, Josese Toganivalu Sese, Wise Tora, S Langi tries; Robbie Mate 3 cons) at Nepean Rugby Park.
Magners Shute Shield ladder (after 14 rounds)

  Team

P

W

D

L

F

A

Df

BP 4t

BP <7p

BP

Pts

Manly

14

13

0

1

552

233

319

11

1

12

64

Warringah

14

12

0

2

435

338

97

8

0

8

56

Eastwood

14

11

0

3

527

339

188

10

1

11

55

Sydney University

14

10

1

3

503

277

226

9

2

11

53

Southern Districts

14

7

0

7

371

389

-18

6

2

8

36

Randwick

14

6

1

7

316

337

-21

3

4

7

33

Parramatta

14

6

0

8

371

427

-56

8

1

9

33

West Harbour

14

5

0

9

402

420

-18

7

1

8

28

Eastern Suburbs

14

5

0

9

286

406

-120

4

2

6

26

Northern Suburbs

13

3

0

10

286

397

-111

4

3

7

19

Penrith

14

1

0

13

368

611

-243

9

2

11

15

Gordon

13

3

0

10

219

462

-243

1

0

1

13

 P=Played   W=Wins   D=Draws   L=Losses   F=Points For   A=Points Against   Df=Points Difference   BP 4t=Four Tries   BP <7p=Close Losses   BP=Total Bonus Points   Pts=Ladder Points