Well into the short GPS season, round six was the pundit's dream and the tipster's nightmare. Of the five barely separable sides at the top of the table, four played each other and Brisbane Grammar took on the under-performing (but doubtlessly dangerous) Churchie outfit away from home.
It was known that coming away from the weekend, teams' prospects would be clearer and that some would rise to the top. This was to be after some tough and bruising encounters.
The Southport School v. Toowoomba Grammar School
After an impressive home dismissal of then-competition leaders Ipswich Grammar at home the previous week, Toowoomba faced an arguably tougher assignment this week away from their home hunting ground. As for TSS, since a round one defeat, the men from the Gold Coast have notched up some impressive victories, including an assertive dismissal of Nudgee College. The stage was set.
A slow start saw a couple of scrums and penalties going both ways — a generally messy start. While Toowoomba have this season thrived on structure and a solid forward platform, TSS have been the opportunists of the competition. Many of their points have come from loose play.
It was this opportunism that brought about the match's opening try. Gaining the ball in general play and in their own half from a TGS error, TSS 15. Adam Gauder hoofed the ball downfield, finding touch two metres out from the TGS line — a good kick in itself. The chasing Toowoomba men began to lope back slowly for the lineout. Seeing the opportunity, TSS 3. Sam Clifton quickly gathered the ball and delivered a quick throw to 2. Jake Lyon, who strolled over untouched from five metres out.
Ten minutes later, TSS again found the line, with 12. Nili Fielea shrugging off TGS 10. Tom Kidston's tackle at close range. 12-0. Finally seeing the ball for an extended period of time in the shadows of half-time, Toowoomba were able to peg one back after some patient work, getting over the line after ten phases. Half-time, 12-7 to TSS.
TSS had certainly had the run of the first half; it seemed Toowoomba had barely touched the ball. Skilled at the breakdown, TSS had been able to control the tempo of the match well. That said, Toowoomba's defence had largely been sound — their attack had simply been largely non-existent.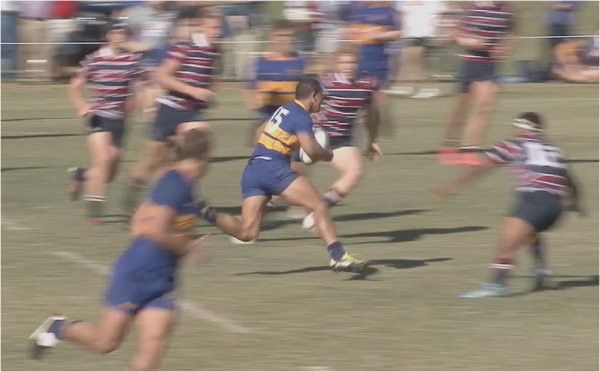 In the absence of regular flyhalf Mitch Third, the versatile 2nd XV outside centre Ed Gibson had slotted into 10 for TSS. It was a happy marriage for the most part, though a number of times, the TSS backline misfired with some off timing or lateral running. The latter issue was, however, mitigated by the dominant 12. Fielea, who was frequently able to use his bulk and strength to both straighten the TSS attack and simultaneously bend the TGS defence. Quick recycling created some opportunities, though TGS largely held up well.
The second stanza was little different. While Toowoomba Grammar were a little more expansive with their play, TSS held firm in defence and they were rewarded for their efforts with a solid try off a lineout maul in the 50th minute.
Minutes later and caught napping around the ruck base, TSS then conceded seven points to Toowoomba after the country boys shifted the ball well from a quick tap near the line.
TSS were again able to hit back, however, first with a simple catch-pass routine, sending 5. Evander Guttenbiel over in the corner. This was quickly followed by a meat pie to captain 13. Vincent Cooney soon after, with a well weighted pass off the back of an attacking scrum. 12. Fielea provided the decoy, attracting the attention of two TGS defenders. The score was to remain 29-14.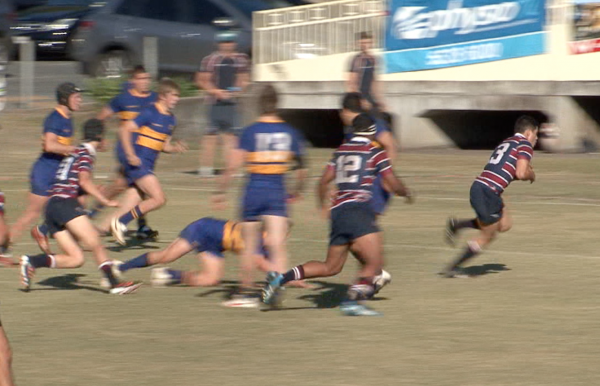 TSS this year have been excellent at finishing off the opportunities they've earned. A number of schools have featured hard working packs, but TSS is probably the only team to consistently make the most of the go-forward created. Their momentum toward the back end of the season is menacing.
In this match, 2. Lyon continued his busy work around the park and put in another strong performance (notwithstanding two lineout overthrows). 5. Guttenbiel worked hard all day, as did 7. Luke Papworth, while 9. Issak Fines-Leliewasa created some spark.
Toowoomba Grammar's 7. Stuart Bougoure put in his best match of the season and was in everything, and he was ably assisted up front by 1. Markus Vanzati — another strong performer. 3. James McColl also worked hard, and 4. Phil Potgieter continued to lead with his actions. Out back, 13. Drew Jordan did well to keep TSS 13. Cooney quiet.
Anglican Church Grammar School (Churchie) v. Brisbane Grammar School
In a tense and well fought battle on Churchie's Main Oval, Grammar were able to take the spoils 20-13.
BGS got things underway with two early penalties, and Churchie with one of their own, the match racing to 6-3 within the opening eight minutes. While Churchie's shot was relatively straight forward, Grammar 10. Sam Greene's first shot was only metres from touch near the half-way. The ball just fell over the crossbar, but the warning was ominous.
Another penalty was sent over not long after. 9-3 to BGS. Grammar were coming away with points every time they entered Churchie's half — any penalty seemed kickable.
Churchie had however come out to play, competing well up front, and their talented backs seemed willing to throw the ball around, with frequent offloads and generally great width to their game. Nor was the width premature — it is said that you must earn the right to go wide, and Churchie had certainly done this with good work up front. Nonetheless, excellent scrambling defence from Grammar repeatedly denied Churchie any real penetration.
What's more, Churchie seemed to preempt the Wallabies' Eden Park special that followed hours later — frequently balls were chipped or grubbered from hand with abandon. So too was support slow to arrive both in play (equalling desperate passes), and once the tackle had been made. Thus many promising movements came undone.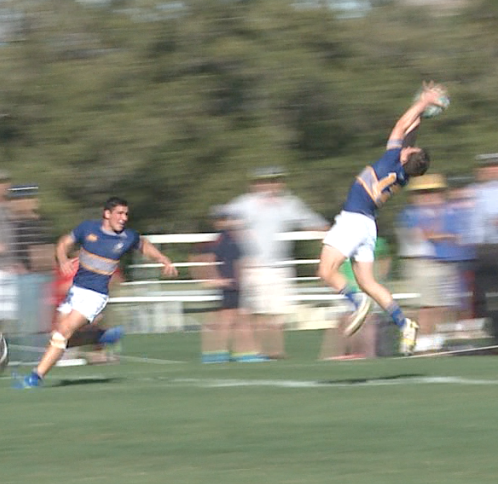 With another penalty later in the half, Grammar went to the break up 12-3. In the sin-bin for a shoulder charge, Greene was absent but 15. Hugo Starr-Thomas was steadying things well and doing the little things right. Their front row were getting stuck in, with Cornelson at the back also making his presence felt. Out back, Greene was kicking well but otherwise having a quiet game by his standards. 12. Lakehm Aiono was creating space around the inside channels.
For Churchie, 2. Joe Warriner was working hard around the park, though his lineouts were a problem. 7. Digger MacMillan was a real pest at the breakdown and both 11. Monty Ioane and 15. James Watson looked great with ball in hand (until, at least, they disposed of it…).
The opening period of the second half was all Churchie. With at least fifteen minutes of near-constant pressure on the BGS line, it seemed like something would have to give. An ambitious crossfield kick by 10. Eason out to the wing was slightly overcooked, and another try was barely missed when 14. Sam Hyne was knocked into the corner post a fraction of a second before the ball was planted.
The Grammar forwards were doing a lot of the defensive work and doing it well. After last week's poor showing against BBC (37 points conceded), it was clear work had been done on the training paddock.
After an early penalty took the scores to 12-6, Churchie were finally able to get over the line a full 25 minutes into the second half with a try to 15. James Watson. Attempting to charge down a clearing kick, Churchie 10. Eason had collected Greene, who stayed down injured. Counter attacking on the kick, Watson ran from halfway to score, in part aided by Greene's absence at the back (Greene defends at fullback). 13-12 to Churchie.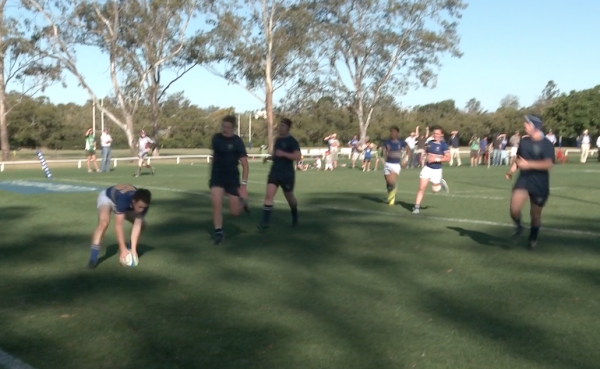 After Churchie's long and patient wait for their first try, Grammar did not have to wait long at all. Collecting the kick-off with an excellent aerial challenge, Grammar worked their way into the red zone with disciplined forward play. Cornelson celebrated early when the ball was planted on the five-metre line — but he wasn't too far wrong. A handful of phases later the try was scored and Grammar retook the lead 17-13.
Greene soon kicked another penalty, and the match wound down at 20-13 to Brisbane Grammar.
Despite a number of injuries, Churchie would have hoped for better than this — just one draw to their credit as at round six, sitting at the bottom of the table. With a series of big-name players still on the park, a lack of cohesiveness is showing the men in blue and grey to be a team of champions, but not a champion team.
Meanwhile, Grammar continue their strong form with another hard-earned victory. Importantly, they've shown mental strength and the ability to win all sorts of games — both high- and low-scoring, and both from in front and behind. Their match-up against TSS this weekend is mouth-watering.
Downlands College v. Brisbane Boys' College
In their competition bye round, BBC put up a 2nd XV against the Downlands College 1st XV side. The annual fixture between the schools is for The Piper's Cup, which pays tribute to three young men who lost their lives in a tragic road accident in 2009 in the week prior to the schools' fixture that year.
Before the match, a minute's silence was had, and a pin drop could certainly have been heard (video here).
As for the match itself, boy did the country boys mop up, the score ending up at 51-14. The first half had been a tighter affair with some breakouts of good skills the anomaly amongst some tough, grinding play.
In the second, however, things opened up. A number of the tries scored were brilliant — be sure not to skip ahead in the video.
Other Fixtures
In other fixtures from the weekend, Nudgee College were able to comfortably account for the fading IGS 40-21 at home, while State High were able to snare their first victory of the season, downing Gregory Terrace 24-14.