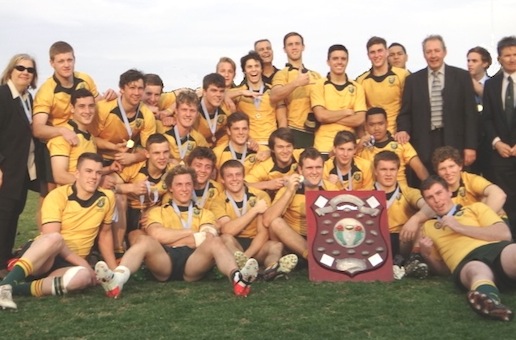 You Can't Keep a Class Act Down for Long — St Augustine's defeat Oakhill College in the 2012 Waratah Shield Final.
Forshaw Rugby Park: it maybe at the wrong end of Sydney for these two north-of-the-harbour schools, but busloads of student supporters from both schools created plenty of atmosphere. And there were two quality teams desperate to end their seasons on a high note — but maybe one team was more desperate than the other….
Score: St Augustines 27 – Oakhill 17
St Augustine's hit hard from the opening exchanges. In a massive lift in their intensity from the last time these two outfits met just over a month ago, the Auggies forwards drove through in their clean-outs and never took a backward step at the breakdown.
After just three minutes Oakhill looked shell-shocked when, from a scrum 30 meres out, the Auggies backs spun the ball and 13. Ibbotson took an outside break and cantered over for an easy looking try. The conversion attempt missed – 5 nil.
Then St Augustine's got their second after a lineout when Natoli (playing at 12, not 9) made good ground after looping and, falling in a tackle, passed to 11. Blake. The winger scored near the uprights and converted his try – 12-0.
Oakhill finally got into Auggies territory and decided to take points — Woodward (12) kicked a penalty – 12-3.
Auggies continued their forward momentum. The usual suspects 3. O'Connor, 5. Philip and 4. Lloyd made good metres and laid the platform for their backs. Natoli, playing more like a NZ 'second five' enjoyed the extra space and width and worked some smooth backline moves. Taylor had a strong run off one of these and looked to be through, but a great tackle from (13) Canning saved Oakhill's bacon.
Then the tide turned and Oakhill had their opponents on the back foot. After some good phase play winger Daniels made good ground; the forwards took over and lock Linaker dived over from close range. Woodward converted. Game on: 12 -10 Auggies.
After forcing a five-metre scrum Oakhill spun it wide to winger Casey who dived for the line but sensationally, Auggies' replacement centre, Vescio, knocked the ball out of his hands in the tackle. Oakhill got a penalty from the ensuing scrum and packed another one. Big bopper 12. Woodward acted as decoy and 10. Hoolahan head-faked his opponent and sliced through himself for the softest of tries. Woodward converted. 17-12 Oakhill just before half-time.
Then, not for the first time this year, Oakhill failed to secure the restart. Auggies worked to the right and their 7. Tier found the blindside unguarded and hared down a narrow corridor to score in the corner. The conversion missed and at oranges it was 17 all.
Second Half
From a scrum on their own 40-metre line, Oakhill 8. Goddard peeled off the back and fed 9. Gonzalez who made his first break of the game. He looked to have split the Auggies defence wide open but Auggies 15. Arnold took him into touch with a beautiful covering tackle. Three penalties later Auggies were in good field position and found Oakhill short of defenders. 7. Tier, lurking wide in the backline, put on a couple of stutter steps and scored. Another Auggies conversion missed – 22-17 Auggies.
Oakhill didn't use their possession well. Soon after Woodward got a turnover, a penalty got them downfield but they lost their lineout throw – for the third or fourth time. It was hard to put pressure on a team as good as Augustine's when they kept giving them the ball. Auggies made the most of that opportunity and eventually hooker Cook, lurking with intent, was rewarded for a strong game as he scored wide for an unconverted try, 27-17 Auggies.
St Augustine's controlled the rest of the game with good phase play and hard defence from their backs. Oakhill couldn't string their phases together and continued to be outmuscled. Woodward made a good midfield break but the play broke down soon after. The whistle eventually blew and signalled a well earned victory for a jubilant St Augustine's.
Conclusion
It's not that Oakhill weren't good – they were. The difference was St Augustine's were better, and scored five tries to two. Full credit to Coach Papahatzis and his players who worked Oakhill over and shut them down. Playing Natoli at 12 for was a masterstroke. He was missed by St Augustines in the semi but in the final he masterminded their attack and was everywhere in defence. Fullback Arnold had a strong custodian's game — good defence, good tactical kicking and timely injections into the line. Smart at 9 was sharp and every one of the forwards had a big day out. The two flankers (7) Tier and (6) Walker probably got the points for mine.
Oakhill were tireless but apart from the second half of the first half they were well and truly outplayed. Best were probably Linaker (4), Tuckwell (7) and Goddard (8) in the forwards and (10) Hoolahan and (12) Woodward in the backs.
As expected, the final produced a quality game from two impressive sides who set the standard in both the ISA competition and the Waratah Shield this year.
St Augustine's College – 27 [Tries: H. Tier (2), J. Ibbotson, H. Blake, M. Cook. Conversion: Blake]
Oakhill College – 17 [Tries: G. Linaker, N. Hoolahan. Conversions: D. Woodward (2). Penalty: Woodward.

Buchan Shield (Under 15s)
Congratulations to the lads from Illawarra Sports High School for coming back from 8-22 down at half-time and putting on three tries to win 25-22.