And just like that, all bets are off for the title of 2016 GPS Rugby Champions.
Green and Gold Rugby are pleased to bring you three of the weekend's four Queensland GPS First XV matches – and boy, were they incredible.
BBC hosted the undefeated Nudgee College and sent the butcher stripes packing with their first loss of the season. ChekMate revels in BBC's glory below.
Meanwhile, Ipswich Grammar School dished out an ambush of their own against the heavily favoured Brisbane State High School. Nic Darveniza covers that match below.
To round out our coverage, Unpaid Intern reviews the annual TSS-BGS smackdown.
Up the range, Toowoomba Grammar have earned their maiden win with a 20-10 showing against Churchie – and we're sure there's more where that came from as well.
Thank you to our photographers Holly Hope Photography and HJ Nelson Photography, and Green and Gold Rugby also thank DoubleTake Productions for allowing us use of their footage. Full match replays are available on DoubleTake's online store, located here: http://www.doubletakeproductions.com.au
Game of the Round: BBC 31 defeated NC 29
ChekMate
Not since 2004 has Brisbane Boys College seen success against St. Josephs Nudgee College; but on Saturday, the thirteenth day of August, Two Thousand and Sixteen, courtesy of some moments of brilliance from Mr. Len Ikitau and some great BBC forward replacements, BBC broke the shackles and outlasted a brave and highly resilient Nudgee College.
Miskin Oval put on a picture perfect day as both teams were greeted to a perfectly prepared pitch and boisterous support from both sides of the fence. Nudgee took the kick off and in the 49th second of play, saw a charged down kick, field position to Nudgee with the Nudgee skipper & flyhalf Augustus Rangihuna darting down the BBC short side and through some feeble BBC defence to score. Conversion successful and within 2 minutes, BBC found themselves down 7 points to nothing.
BBC were perhaps shell shocked and erratic as the next five or so minutes presented passages of consistent phase play, mixed with poor ruck security and handling errors. BBC then gained some momentum and quality field position, and it was BBC this time attacking the Nudgee short side as the ball got passed out to that man Ikitau again who drew the Nudgee defence to pass onto BBC winger Finn Mounsey to score out wide. Nine minutes into the game and score is 7-5 to Nudgee.
Time and time again BBC coughed and spluttered its way through the first half. Patches of solid phase play mixed with patches of poor ruck security or another unforced error. It must be said that BBC did not have a player going on ball at the Nudgee ruck and Nudgee were having a field day at the BBC ruck.
It's the 25th minute and Nudgee sees itself deep into BBC territory. Rangihuna from Nudgee controlling the game superbly kicking with pin point accuracy. Ruck momentum is getting faster and easier for Nudgee as the Blue and White forward pack gains ascendency over the BBC advantage line. Nudgee shoot the ball out on the BBC short side to the tall Nudgee winger Douglas – Denduck who goes aerial over the corner post to put the ball over the BBC tryline, only to be deemed out "in touch" by the Assistant Referee. A game changer.
Late into the first half and BBC attack the Nudgee openside back line area with Ikitau placing a grubber kick through and behind the Nudgee defence. Ikitau and Co sprinting to the ball that stopped beautifully in the Nudgee try zone but in one of the most confident displays of schoolboy rugby I have seen, that man Rangihuna simply collects the loose ball on the run, evades the oncoming BBC chase and skirts up the touchline before kicking Nudgee out of trouble. It was brilliant to watch.
Both teams went into half time with the score locked in at 7-5 to Nudgee. The Nudgee forward pack, perhaps at times erroneously compared and rated against Nudgee packs of past, certainly did not play as such. They got the points decision on all facets of the set piece in the first half and if for not some incredible and consistent scrambling defence from BBC, the half time score line could have easily gone higher to Nudgee's favour.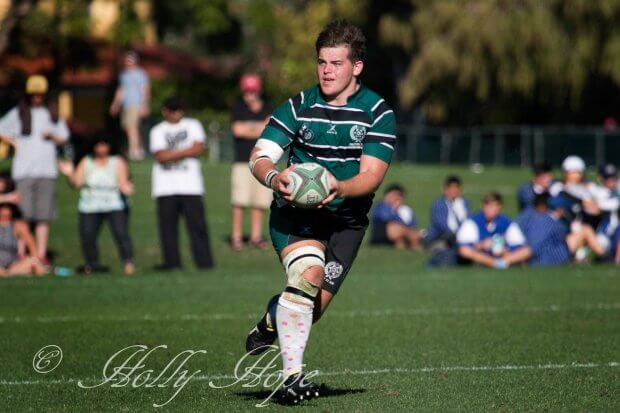 The second half saw Nudgee come out firing and once again BBC were under pressure from more missed tackles. Nudgee shot the ball out wide and the blue and white machine were supporting each other beautifully. The ball got shot out to BBC short side and Nudgee 12 Frankie Auakai off loads a pass that Sonny Bill Williams would have been proud of to the flying Nudgee winger Josh Preval who flies down the line untouched and drops the ball over the BBC line. Another game changer. Didn't matter as from the ensuing scrum, Nudgee grab a tight head scrum win, the ball is shot out to the Nudgee 13 in Semisi Tupou who bullocked his way over for a Nudgee try. This season the GPS competition has been blessed with quality outside centers and ensuing battles. This match was no different. Conversion successful 14 – 5 to Nudgee.
BBC were in trouble now as their forward play lacked enthusiasm and the back line attack was very lateral as a result. Conversely the Nudgee pack were really smoking now. The Nudgee half back introduced a new tactic to this game by bringing in his box kicks and BBC struggled to defend this new option that was being thrown at them. In the 7th minute Nudgee are winning another dominant scrum feed, the ball went to another bulldozing run from Tupou, fast ruck from Nudgee and quick ball eventually sees Rangihuna feed the flying Nudgee fullback in Ryan Shepherd go over untouched under the posts. Somehow Rangihuna misses the kick in front and the scores are now 19-5 to Nudgee.
This was when the BBC coaches made some changes and in the 12th minute, BBC replaced both starting props and brought on two monster replacements in Chris Yanopa and Paraka Nii.
The results were instantaneous.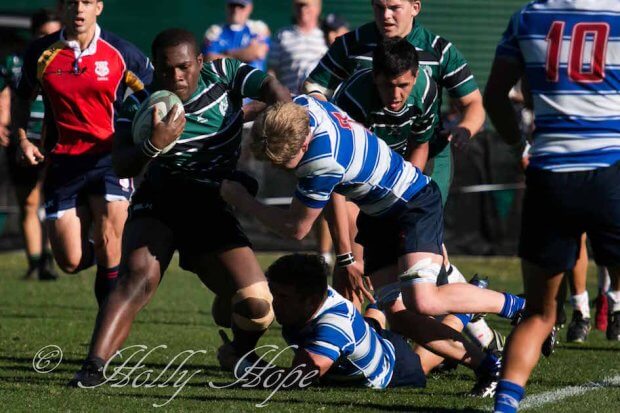 Nudgee, prior and justifiably confident with the forwards battle, were now having a great deal of difficulty of dealing with Yanopa's barn storming runs and Nii's lunatic ruck support play. Not only did the BBC forward pack lift, the entire team did. Running with purpose, gaining easy advantage line supremacy and backs running into open and disjointed space. It was astonishing as at the 14th minute BBC attacked with momentum and force seeing Ikatau who drew the Nudgee winger allowing BBC winger Finn Mounsey to step and score in close. Conversion successful. 19-12 to Nudgee.
The battle continued. At the 18th minute, a poor exit strategy from BBC saw a Nudgee lineout on the BBC 30m line. Nudgee won the lineout and with swift passing finding the enormous Nudgee 6 in Ethan Bullemor running through space and flailing BBC defence to score. Conversion good. 26-12 to Nudgee.
It was like Groundhog Day as this game was starting to reflect the TSS v BBC battle two weeks prior. 12 years since BBC last beat Nudgee. Nudgee just scored, plenty of running in them, up by 14 points …… BBC were gone surely…. The answer was swift as in the 21st minute it was BBC that threw in a quick lineout from a Nudgee kick and the ball shot wide….. to THAT man Ikitau, who swerved, stepped and simply dazzled as he ran over to score for BBC. Conversion was good. 26-19 to Nudgee.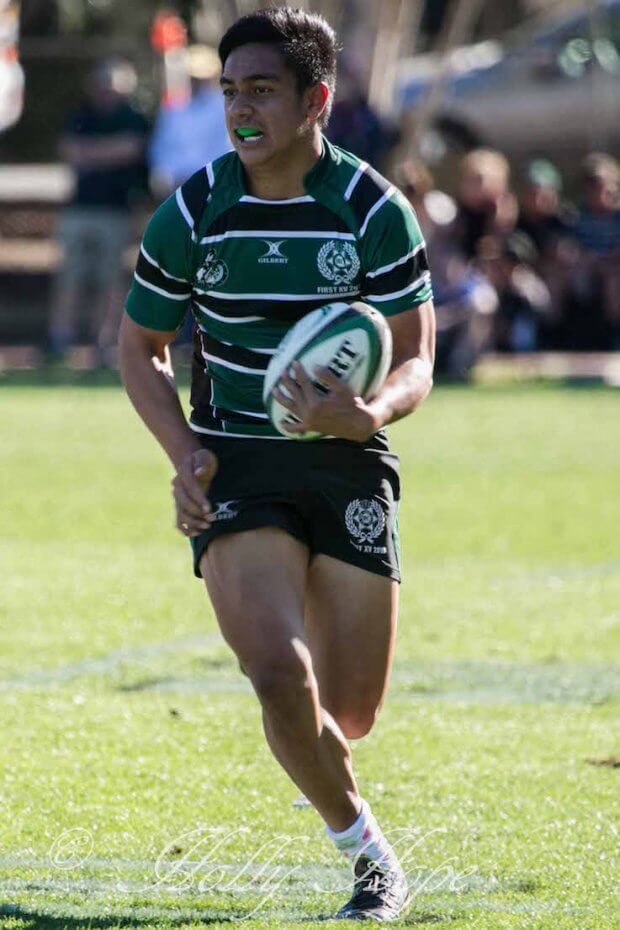 Nudgee launched raid after raid but the ball gets turned over by BBC replacement flanker Dom Walton and he makes a difference, as now BBC has a player hard on the ball consistently and that changed the way the ruck was treated by Nudgee and interpreted by the referee.
It's the 29th minute. BBC forwards get real basic and start bashing the Nudgee line with constant picking and driving, and THAT OTHER man, Chris Yanopa bashes through and scores. Kick is good. 26 ALL. We have a drawn game and 6 minutes of play remaining.
It's the 33rd minute and Nudgee launch a raid using Tupou as a swerving battering ram. He shifts off his right foot, slips and starts falling. BBC winger Mounsey at the same time of attempting a tackle mis-times as he connects with the head of the falling Nudgee player, at hip height, and the referee calls a penalty for a high tackle. Right call or wrong call… doesn't matter as Rangihuna steps and slots the penalty. 29-26 to Nudgee.
It's the TSS game again. 2 minutes to go. BBC had a sniff then taken away from them. It's the same old story. History to repeat itself once again. Wrong, as BBC take the kick off and the BBC flanker in Walton catches the ball from the kick off, run, swerves, creates carnage within the Nudgee defence. BBC now use patient and accurate next phase play options that ensures that the Nudgee defence is compressed and then THAT moment. The ball is shot wide exposing the compressed Nudgee defence and replacement winger Luke Peel will score a try that ensures he will never have to buy a beer in his life at future BBC Old Boy Days. Kick missed. Game over. BBC win 31-29.
Twelve years has come to rest.
Brisbane Boys College 31
Tries: Mounsey (2), Ikitau, Yanopa, Peel
Conv: Henry 3/5
St. Josephs Nudgee College 29
Tries: Rangihuna,Tupou, Shepherd, Bullemor
Conv: Rangihuna  3/4
Pen: Rangihuna  1/1
Summary:
Arguably Nudgee won the battle of the set piece in every form, Nudgee kicking game was more precise and targeted. Their forward pack really stood up. Their Captain really shone. BBC played poorly and nervous early with a high amount of unforced errors and defensive lapses. Scrums were pushed around. Lineouts overshot. But BBC have now found a way to win where before they wouldn't. BBC have insurmountable and fit depth to call on. Now they have this win. Now they have belief. Still lots to work on but BBC tracking on a steep learning curve and finding success.
Kudos to both student groups for the loud and boisterous atmosphere.
Players to note:
BBC:
Ikitau (again)
Henry (solid game all round as well as kicking for goal)
Yanopa (yes I know it takes more than one player but when this guy comes on, BBC just lift)
Nudgee:
Rangihuna (my player of the match from a losing side, fantastic skill execution and vision)
Tupou (imposing and strong match particularly in attack)
Bullemor (imposed his physical presence especially in the second half and was more than a handful)
Ipswich Grammar School 29 defeated Brisbane State High School 24
Nic Darveniza
Ipswich Grammar School have stunned the previously undefeated Brisbane State High School, 29-24, in an epic Round Five clash at Ipswich.
Ipswich coaches David Eagle and Tyrell Barker were the toast of GPS Rugby on Saturday evening as their charges tore up the script for 2016's First XV competition.
With just four rounds remaining, Ipswich's victory has breathed life into the Premiership ambitions of no less than five schools – all tied on one loss apiece.
IGS had their heavily favoured opposition on the ropes in the first half, but showed enormous character to hold out the fast-finishing State High in the second.
State High rallied to claw back a 26-5 deficit early in the second half with 19 unanswered points, setting up a nail-biting conclusion.
Camped inside their red zone as time expired, Ipswich held up a lunging pick-and-drive attempt to bring about full-time, completing what must be described as the upset of the season.
Queensland II fullback Callum Hicks opened the scoring for the home side, but State High were quick to hit back through their own representative backline stars.
Australian Barbarians winger Jordan Petaia drew three defenders with footwork before offloading for Australian Schoolboys fullback Murray Taulagi.
Taulagi stepped hard off his left to beat one, then another, but a sharp ankle-tap brought the speedster crashing back to Earth just one metre out.
Not held in the tackle, Taulagi regathered and dived over the line to score an unconverted try.
Ipswich answered with a sweeping backline move, scored by outside centre Coen van Dugteren on the left wing.
Van Dugteren was back on the scoresheet in the 28th minute, crossing this time on the right to secure a 19-5 lead at the break.
Ipswich Grammar hooker Kolio Petersen-Timu barrelled over the line from close range to christen the second half.
A successful conversion from flyhalf Cooper Whiteside carried Ipswich to a foreboding 26-5 lead with 25 minutes to play.
State High snapped into gear almost immediately.
Petaia and Taulagi combined on the right wing to peel off 40m, going another 30 together a few moments later.
Prop Moses Alo-Emile took the advantage, pick-and-driving over for a try.
Ipswich's Whiteside added a penalty goal from right in front, stretching scores out to 29-12 with 16 minutes remaining.
It took State High just four minutes to score again.
Centre Antonio Pouhila was gifted an untouched dash for the corner following a Taulagi flick pass, cutting the deficit to 10-pts following Isaac Crone's conversion.
Another Taulagi linebreak soon followed, and State High had all the momentum as they crossed the 22m.
A charging run from No.8 Patrick Tafa sucked in the defence, granting Pouhila the space to skip outside his man for a second try.
Crone couldn't convert the pressure conversion 15 out from the sideline, and with seven minutes to play, Ipswich's lead was cut to just five points.
Clever tactical kicking from Ipswich handed State High the ball back inside their own five metre line.
Taulagi and the forward pack got busy, working upfield to the 40 before Taulagi again sliced through the line.
Tackled at the 22, Ipswich supporters around the ground were fast running out of fingernails to chew.
Awarded a penalty for offside, State High pounded themselves upon the rock of Ipswich defence for two minutes before finally crossing the line.
A swarm of defenders ensured the ball was held up to the tune of delirious supporters, sent in to raptures by the full-time whistle.
Ipswich exploded with joy as State High slumped to the ground, devastated to have come so far but fall so short of victory.
Murray Taulagi was sublime throughout the second half, recording four linebreaks and inspiring his side to a stunning fightback. He is Green and Gold Rugby's Man of the Match, despite falling narrowly short of the result.
Ipswich Grammar School 29
Tries: Callum Hicks, Coen van Dugteren (2), Kolio Petersen-Timu
Cons: Cooper Whiteside (3/4)
Pens: Cooper Whiteside (1/1)
Brisbane State High School 24
Tries: Murray Taulagi, Moses Alo-Emile, Antonio Pouhila (2)
Cons: Isaac Crone  (2/4)
The Southport School 65 defeated Brisbane Grammar School 7
Unpaid Intern
Round 5 of Queensland GPS competition saw The Southport School travelling to Brisbane Grammar School's Northgate playing fields. BGS would be hoping to secure their first win against TSS since the 2012 Premiership winning team, featuring Sam Greene, won the match-up 26-23.  On the other hand, TSS would be hoping to continue their recent dominance over BGS, following their last-minute loss to Gregory Terrace the previous week.
BGS made a left-field line-up change, moving their Australian Schoolboy representative and Captain Fraser McReight from the back-row to the centres.  TSS were unchanged from the previous week.
First Half
TSS were on the attack immediately from the kick-off with Lolesio (12), Mavoa (8) and Kapea (13) all going close before Lolesio eventually scored with only 1 minute gone. Things did not improve for BGS with Butler (4) making a strong run down the wing from the kick-off, before Burns (11) finished with a try on the opposite wing.
Mavoa then palmed off McReight (12) from the kick off and that led to a impressive try to Butler (4). BGS then managed to get their hands on the ball for a few minutes, before giving away a penalty. From the ensuing line-out, the TSS hooker, Meyer, was pulled down just short of the line, before open-side flanker McElroy crashed over, and the score was 24-0 after 17 minutes.
BGS managed to work their way downfield, and fly-half Allen (10) went close to scoring in the corner, but BGS were penalized again, and were further punished when Kapea swooped on a loose pass, and ran 50 metres to score under the posts.
A few minutes later the BGS fans finally had a reason to cheer when McReight regathered a chip kick from Allen (10) and scored with a huge swan-dive under the posts. TSS then kicked a clearance out on the full, but BGS could not build any momentum, with loose ball from the line out resulting with the TSS half-back Stuart running 50 metres downfield and Burns (11) scoring his second try shortly after.
Things then went from bad to worse for BGS, with a player yellow carded from the kick-off for tackling the player in the air. This led to a frantic final few minutes of the first half, with neither team wanting to kick the ball out, but keep attacking. BGS almost came out on top with Allen (10) almost regathering a toed through kick, but in the end no team was able to score.
Half-time score: BGS 7 – TSS 36
Second Half
BGS started the second half strongly, although being a player down. Strong runs from the centres McReight (12) and Gilbert (13) were rewarded with a penalty to BGS, but an over-thrown line-out put paid to any chance of being the first to score in the second half. McReight was then driven backward in a huge tackle by his opposing captain Declan Day (1), and further strong defence, resulted in Kapea scoring another runaway try from a loose ball.
TSS then started to make some changes, but were the replacements were not to be outdone, with the fleet-footed replacement front-rower Dobbs (17) running 30 metres to score from a lost BGS line-out. In a carbon-copy of the first half yellow-card, another BGS player was yellow-carded for a clumsy tackle on the player in the air attempting to catch the restart. BGS were punished immediately with a try from the lineout to flanker Tonkin (6).
BGS full-back Hogan (15) then made a good break but undid the good work with an uneccessary flick pass, which went to ground, which indirectly resulted in TSS winger Dovey (14) scoring a 50 metre try to crash over in the last-ditch tackle of Hogan.
In the final few minutes Dobbs (17) went close to scoring agin, but was held up. From the 5 metre scrum, fly-half Parata managed to ground the ball for a try, despite the attention of 2 or 3 defenders.
Final score: BGS 7 – TSS 67
TSS 67 (Tries: Lolesio (12), Burns (11) x 2, Butler (4), McElroy (7) , Kapea (13) x2 , Dobbs (17), Tonkin (6), Dovey (14), Parata (10); Conv: Parata (10) x5, Nucifora (22) x1)  defeated BGS 7 (Tries: McReight (12); Conv: Allen (10))
Turning Point: 
The turning point was at the BGS mid-week selection meeting, with the Australian Schoolboy back-rower Fraser McReight selected in the centres, when his experience and talent was needed up-front.
Players
BGS: 
3 points –  Fly-half Zach Allen (10) tried his best to provide some spark. He went close to scoring himself a couple of times, and provided the chip kick for BGS's only try.
2 points – Outside centre Thomas Gilbert (13) ran strongly, given his limited opportunities.
1 point –  Blond Loose Head prop Max Esizelle was busy in both defence and attack
TSS:
3 points – Another strong performance from lock Jack Butler (4) was rewarded with a try. The TSS line-out was improved.
2 points – Winger Dan Burns (11) made the most of his opportunities, and went looking for work, scoring 2 tries
1 point – TSS's usual suspects (Day, Mavoa, McElroy, Blyth, Dowd etc) played well, but 1 point to Noah Lolesio (12) in his second game back from injury.