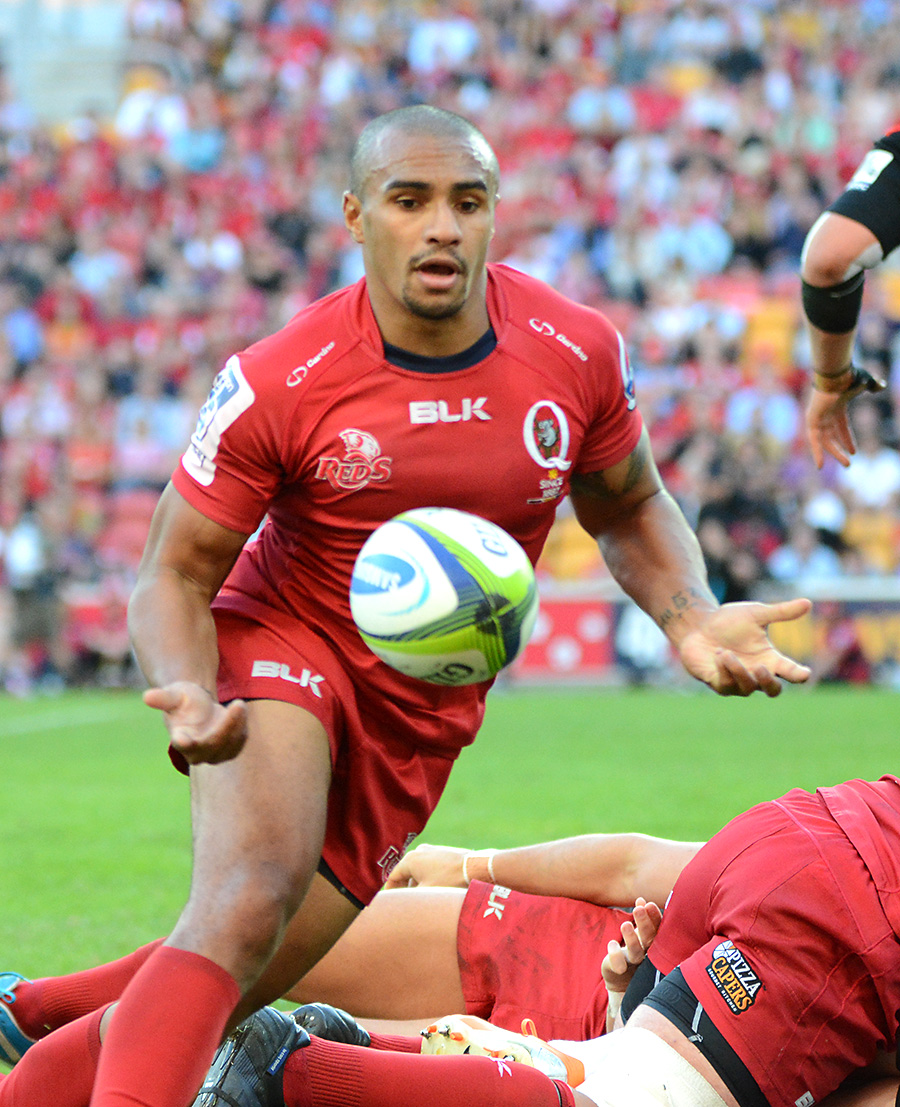 Both teams at the wrong end of the table looking to snap losing streaks meet at Suncorp this Saturday.
---
 Last Week
After starting really well and going into the sheds for oranges leading the Crusaders, the wheels fell totally off the bandwagon and the Reds shipped a hatful of tries to end up losing 29-57. It was a shocking 2nd half performance littered with amateur errors, tactical naivety and a lack of the required intensity. The Crusaders are a darn good side but the Reds just made easy for them to score soft tries.
The Rebels, while also on the wrong side of the ledger in the their last few outings, have by no means been outclassed. I was especially impressed with their forward's performance against the Canes last time out, where they shaded the Kiwi outfit at scrum time in a 15-25 loss. Like pervious weeks, a high penalty count made life a lot easier for the opposition to ease the pressure or take easy points. This will have been a major focus for them this week.

<p
---
The Game
You'd have to think that if the Reds lose their unbeaten record to the Rebels this weekend then it might be all over for Richard Graham. If I read the fixtures right, it's conceivable that they could finish the weekend dead set last, assuming they lose and the African sides below them get good wins. You'd have to hope that last week was the kick in the date that they needed to reminded just what playing at this level requires in terms of attitude and application.The whole whole performance was littered with errors, bad kicks, poor chases and turnovers. This week's video session wouldn't have been fun for any of them but they are lucky to have a home game straight off to put things right. As painful as some of the losses this year have been, that one against the Crusaders will have really stung and they've a chance to put it right.  Lose this one and it'll get really ugly.
The Rebels, on the other hand, will be smelling blood. Despite losing more than they'd like, they've given quality sides a few real scares and emerged with much credit, especially in turning over the Brumbies a few weeks back. They beaten every other Aussie side since they entered the competition but never the Reds. After the performance at scrum time, they'll be looking at the Reds pack, shorn of James Slipper and fancying their chances up front and if their backs can take advantage of a seemingly low-on-confidence Reds, they might score a few tries too.
---
The Teams
Beau Robinson gets his 50th Super cap on the flank. With as many injuries as they have, the Reds have fielded an unchanged team from last week. I can imagine Richard Graham said to the boys "you and I know you're better than that second half, so go out there and prove it".Meanwhile the Rebels bring in Toby Smith to the front row for  Cruze Ah-Nau. In the backline, world cup qualifier duty sees the Rebels Japanese players away so that means that Tom Kingston gets the right wing, with Telusa Veainu added to the bench. Also on the bench Steve Fualau is the reserve hooker and finally flyhalf/fullback Jack Debreczeni will win his first super cap if he gets on the paddock. 
---
Key Match Ups
When Scotty Higginbotham plays well, the Rebels play well. He's got to be right in Link's planning for the French series so shutting his game down will be key. Jack Schatz will have a busy afternoon.
---
Fearless Prediction
I'm going to go with the Reds. At home and smarting after last week's debacle, they should get back to winning ways, but I don't think they'll set the world on fire doing it so it'll be by less than 5.
---
The Teams
Reds 1 Ben Daley. 2 James Hanson  3 Greg Holmes,4 Rob Simmons 5 James Horwill, © 6 Curtis Browning 7 Beau Robinson, 8 Jake Schatz, 9 Will Genia, 10 Quade Cooper, 11 Jamie-Jerry Taulagi, 12 Anthony Fainga'a, 13 Ben Tapuai, 14 Dom Shipperley, 15 Mike Harris,Replacements: 16 Saia Fainga'a, 17 Albert Anae, 18 Jono Owen, 19 Ed O'Donoghue, 20 Dave McDuling, 21 Nick Frisby, 22 Ben Lucas, 23 Rod Davies.
Rebels 1. Toby Smith 2. Pat Leafa 3. Laurie Weeks 4. Cadeyrn Neville 5. Luke Jones 6. Colby Fainga'a 7. Scott Fuglistaller 8. Scott Higginbotham (C) 9. Luke Burgess 10. Bryce Hegarty 11. Tom English 12. Mitch Inman  13. Tamati Ellison 14. Tom Kingston 15. Jason Woodward  Replacements. 16. Steve Fualau 17. Cruze Ah-Nau 18. Paul Alo-Emilie 19. Hugh Pyle 20. Sean McMahon 21. Ben Meehan 22. Jack Debreczenr 23. Telusa VeainuDate: Saturday 17 May 
Venue: Suncorp Stadium, Brisbane 
Kick-off: 19.40 local (09.40 GMT)
Referee: Steve Walsh (Australia)
Assistant referees: Matt O'Brien (Australia), Damien Mitchelmore (Australia)
Television match official: Steve Leszczynski (Australia)