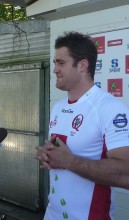 On Saturday at 2:40 pm the Reds play their first game against a team outside the Australian Conference. They come up against a Cheetahs side buoyed by their first-ever win on Australian soil.
Their win against the Waratahs was a lesson in sticking to your game plan. They attacked the Waratahs' ruck and set piece with vigour, played it tight and kicked for field position. Heinrich Brüssow's pilfering gave his side a ton of possession, while the rest of the forwards took every opportunity to smash their opponents off the ball.
The Waratah backs had no easier time with Berrick Barnes, their go-to playmaker, constantly targeted. He responded by dropping even deeper into the pocket and resorting to his kicking game far too often. This aligned with the Cheetahs' game plan perfectly and they lapped it up, completely smothering the Waratahs in attack and defence.
The Reds are coming off a 53–3 thumping of the Rebels. It's hard to know what the Reds can take out of that game. They had obviously worked on their attacking structure, trying to create space and time for chief play-maker Quade Cooper. But the Rebels fell away after the first 15 minutes so it's hard to know if these tactics were effective. Some of the Reds flair we got so used to watching last year definitely returned, tempered with a new maturity shown by Cooper's kicking in general play, which was nearly flawless.
For the Cheetahs, Corne Uys slots in for the injured Andries Strauss at inside centre. Uys is a hard-tackling, straight-running player who will fit into the expected game plan. Wilmaure Louw comes onto the left wing in place of Fabian Juries, and Frans Viljoen's injury gives Francois Uys a spot on the bench.
The Reds have named captain James Horwill back in the tight 5 in his return from injury, which probably makes lock Adam Wallace-Harrison the unluckiest player in Australian rugby this week. While Mike Harris's cameo last week put a question mark over what centre combination coach Ewen McKenzie would field this week, he has opted to persist with Taps, saying he was unlucky not to have the ball go his way, did nothing wrong, and so deserves another shot. Given the way the Cheetahs targeted the Waratahs' five-eighth last week, selecting Harris might have given the Reds a third play-maker and a second, very good kicking option — but it may also, if the reports are correct, have weakened the team's defensive structure. Inside centre Anthony Fainga'a made a welcome return to form last week, and that has probably contributed to the softly, softly approach taken with selection this week, especially on the eve of the African tour.
What can we expect from the teams in the Brisbane heat this Saturday? I don't think we are in for many surprises here. The heat and humidity will definitely slow the game down. The Cheetahs will play their smothering force-you-into-mistakes style and the Reds will try to make time for Cooper to work his magic at the gain line. Beau Robinson will face his sternest test since moving north trying to keep Brüssow in check; Brüssow will of course be running around like the Energizer bunny trying to steal everyone's ball. Horwill will be hoping to add the starch to help his forwards dominate the Cheetahs pack. And maybe Will Genia will hope all the attention Quade Cooper is getting will open up some room for him.
Reds team: 15. Ben Lucas, 14. Rod Davies, 13. Ben Tapuai, 12. Anthony Fainga'a, 11. Digby Ioane, 10. Quade Cooper, 9. Will Genia, 8. Leroy Houston, 7. Beau Robinson, 6. Scott Higginbotham, 5. James Horwill (c), 4. Rob Simmons, 3. James Slipper, 2. Saia Fainga'a, 1. Ben Daley. Reserves: 16. James Hanson, 17. Greg Holmes, 18. Adam Wallace-Harrison, 19. Radike Samo, 20. Jake Schatz, 21. Mike Harris, 22. Luke Morahan.
Cheetahs Team: 1. Coenie Oosthuizen, 2. Ryno Barnes, 3. WP Nel, 4. Martin Muller, 5. Wilhelm Steenkamp (c), 6. Heinrich Brüssow, 7. Phillip van der Walt, 8. Ashley Johnson, 9. Tewis de Bruyn, 10. Sias Ebersohn, 11. Wilmaure Louw, 12. Corne Uys, 13. Robert Ebersohn (vc), 14. Phillip Snyman, 15. Riaan Viljoen. Reserves: 16. Skipper Badenhorst, 17. Lourens Adriaanse, 18. Francois Uys, 19. Kabamba Floors, 20. Sarel Pretorius, 21. Naas Olivier, 22. Fabian Juries.
My fearless prediction: Reds by 12 (NB: I'm 128/164 in the Green and Gold Rugby tipping comp.)
Listen here to Reds' coach Ewen McKenzie fronting the media on the naming of the team:
[powerpress]
Related articles:
Reds v. Rebels Review (greenandgoldrugby.com)
Waratahs v. Cheetahs Review (greenandgoldrugby.com)