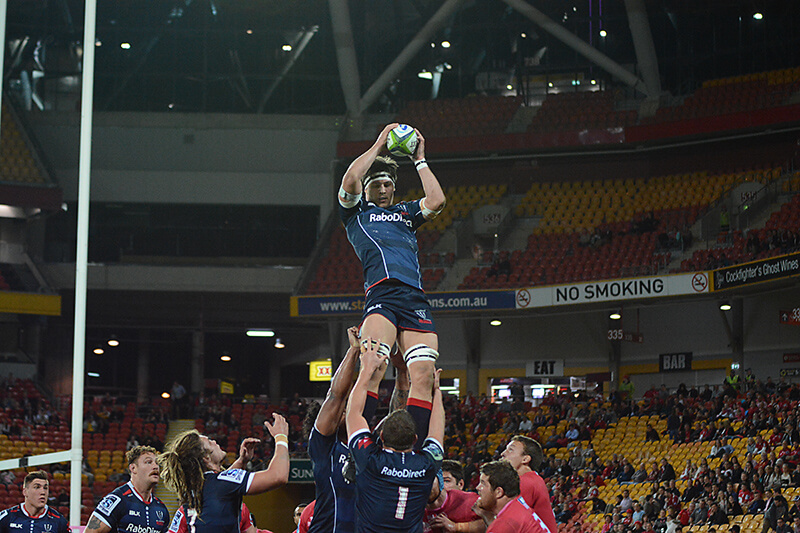 Can the Rebels make it win number two for the season?  Can the Reds win their first match for the season?
Round Three of Super Rugby continues on Saturday night when the Melbourne Rebels play host to the Queensland Reds.  Kickoff is at 7:30 Local time, or 6:30pm if you live in Queensland.
The Rebels are looking to get back to winning form as they return to AAMI park for the first time in 2016.
The Rebels have been on the road for the first two weeks of the season and return to Melbourne with one win and one loss. Last week they looked flat and struggled in the first half against a young Bulls team that placed the Rebels defence under consistent pressure. Once the match was all but over the Rebels finally found their grove, scoring four second half tries. It's been a long two week for the boys from Melbourne, who will be looking forward to playing at AAMI park.
The Rebels currently have a very impressive injury list that includes captain Nic Stirzaker, Mike Harris, Super Sefa, Colby Fainga'a and rookie Reece Hodge to name a few.
The Reds look to start the post Richard Graham era with their first win for 2016.
The Reds have not had to travel far, but there start to the season would be as mentally straining as the Rebels.  They have lost to both the Tahs and Force.
The poor start to the season has seen the long awaited departure of Richard Graham from the Reds.  The Club finally listened to the fans outcry's after two years of dismal results and took decisive action.
So how will the Reds look with the new intern coaches in charge?  I just hope the new set up can teach the Reds where the Try line is located as they have only managed to score one this season.
KEY MATCH UPS
NEVILLE v JONES
The Queensland Lock will be returning to Melbourne with a lot to prove.  It feels weird saying the Queensland player has a lot to prove coming to Melbourne, how things have changed.  Overlooked by Tony McGahan for the last two years, Neville is looking to find that form that once had him touted as a future Wallaby Lock.
The Rebels have stuck with Jones at Lock for the last few years and he will be looking to have a big game.   Luke has been fairly quiet this season, with reports he plans to use his French vacation to develop his game ahead of returning to compete for a place in the Wallabies 2019 RWC squad.
Both Locks have a lot to play for, I hope they both get some big carries and lets see who comes out on top.
MEEHAN v FRISBY
These two young former Australian Under 20's scrum halves have started this season in the lime light.  Frisby is finally out of the shadow cast by the departed Genia has made the position his own, whilst Meehan has steeped up to fill the shoes of the injured Rebels Captain Stirzaker.
Both have had a decent start to the season and will be looking to have a big impact in this Match.  Meehan scored two lovely meat pies last weekend and he is clearly growing in confidence.  I hope he just leaves his kicking game in the change rooms as last week it stunk like my Rugby bag on a Sunday morning.
TEAMS:
Melbourne Rebels
1. Toby Smith ***
2. James Hanson ***
3. Laurie Weeks ***
4. Luke Jones
5. Lopeti Timani
6. Jordy Reid
7. Sean McMahon ***
8. Adam Thomson ***
9. Ben Meehan ***
10. Jack Debreceni
11. Tom English
12. Mitch Inman
13. Tamati Ellison
14. Don Shipperley ***
15. Jonah Placid ***
16. Pat Leafa
17. Cruze Ah Nau
18. Jamie Hagen
19. Sam Jefferies ***
20. Steve Cummins
21. Mick Snowden
22. Dan Hawkins
23. Kotaro Matsushima
Queensland Reds
1. Sef Fa'agase *
2. Andrew Ready *
3. Greg Holmes
4. Cadeyrn Neville
5. Rob Simmons (C)
6. Hendrik Tui
7. Waita Setu *
8. Jake Schatz
9. Nick Frisby
10. Jake McIntyre
11. Eto Nabuli
12. Anthony Fainga'a
13. Samu Kerevi
14. Chris Feauai-Sautia
15. Karmichael Hunt
16. Matt Mafi **
17. Ben Daley
18. Sam Talakai
19. Ben Matwijow
20. Curtis Browning
21. Scott Gale
22. Sam Greene
23. Ayumu Goromaru

*Run on Debut
**Possible Super Rugby Debut
***Former Queensland Red or Queenslander
PREDICTION:
Both teams need to win here to get there season back on track, I would have the Rebels a long way ahead of the Reds except for the travel factor, so I am going to stick with a close one. The Rebels should still have enough depth to get the job done at home.
Rebels by 3 points. (From the current leader of GAGR SuperBru Competition)
DATE: Saturday 12th of March 2016
VENUE: AAMI Park, Melbourne
KICK OFF: 7:40pm (AEDT)
REFEREE: Paul Williams
ASSISTANT REFEREES: Graham Cooper & Ed Martin
TMO: Peter Marshall