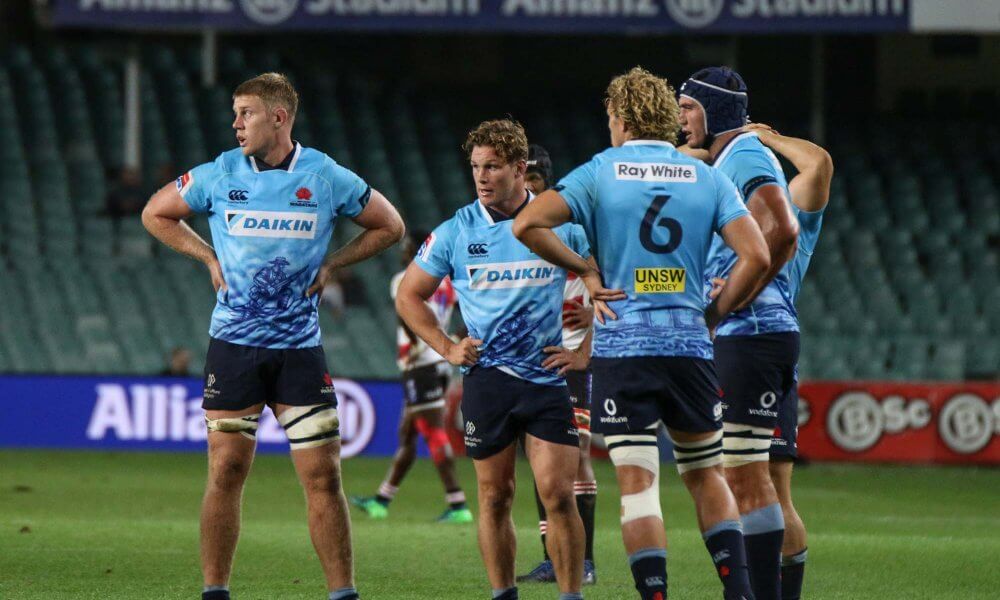 To despair, or to not despair?
That is the question
Are there any casual Waratahs fans left? You, you at the back, is your hand up or down? Right, well that makes two of you. But never mind, the true faithful will be watching come Saturday night with a morbid interest in just how long the Tahs can resist the might of the Crusaders. Yes, the true faithful, us few thousand, will settle into our favourite armchairs and mutter "this time, Tahs, this time" as referee Ben O'Keeffe blows his acme thunderer to start the carnage.
The Crusaders have quaked at the prospect of playing the Waratahs 24 times (memo to self: check the definition of quaked) and, somehow, just somehow, have managed to escape with a victory on 18 occasions. Can you believe this? Just goes to prove that there are lies, damned lies and statistics. I think this may form the basis of Waratahs coach Daryl Gibson pre-match psych-up. I can almost hear him now "right boys, just remember – no one predicted that the Blues could beat us last week, am I right?"
Why should I bother?
I can't believe you would ask me that. Are you serious? Man, this is the match all coaches dream of, the match where we "damn well redeem ourselves". I can smell the redemption from here and I can tell you, man it smells good. Some fools dream of money, fast cars and beautiful women but this fool dreams of beating the Crusaders. And I'm telling you, come Saturday night those Crusader supporters will be wishing they hadn't ventured out into the cold Autumn night in Addington. Yes, okay, okay, the Speights Ale House just up the road has some nice-ish libations available but I can attest that they do not stock Tooheys New. It's a slap in the face I tell you, an insult these brave Tahs lads will not let slide.
Key match ups

Tenacious Tahs Tighties v Cunning Crusader Crucifiers
A battle for the ages is unlikely but the Tahs forward pack will run all night. And they will have to as the clever Crusader forward pack is likely to view the relatively lightweight Tahs forwards as an avenue to easy metres. Expect to see the indomitable Michael Hooper tied up in knots at the bottom of rucks, or cleaned out from the vicinity of the ball (where vicinity is defined as within five metres) all night long.
Battle of the Backs
There is talent and guile in the big numbered jerseys for the Tahs and also significant brawn out wide so hopefully the tenacious Tahs tighties can win enough ball for Foley, Beale and Folau to show their footwork to best advantage. Crusader centre Tim Bateman may not be a big name but he is no Johnny-come-lately and won't be easily deceived.
The game plans
Waratahs coach Daryl Gibson hinted at the game plan for this week when interviewed for the NSW Rugby website after last week's shock loss to the Blues: "What we need to improve on is nailing our opportunities when we have the ball-in-hand at crucial times. We're trying to play some really positive rugby and at the moment, we are committing too many basic errors that are leading to turnovers."
So, deciphering the coach-speak: "We have to be better."
He's onto something.
Crusaders coach Scott Robertson will allow his team full rein to mix their tactics, with the forward pack choosing between close quarter hand to hand combat and wide pod work aimed at stretching the mobile Tahs before unleashing their intelligent backs. Expect to see Crusader fly-half Richie Mo'unga play orchestra conductor as he chooses the right moment to unleash the likes of Tamanivalu, Mataele and Bridge. The Tahs will need to be ever vigilant – every scrum, every lineout, every breakdown is viewed as an opportunity by the Crusaders.
Prediction
Crusaders to be too clinical in all four corners of the match, taking their opportunities and punishing any Tahs mistakes.
Crusaders by 20.
Match Details
Crusaders
1. Joe Moody
2. Codie Taylor
3. Michael Alaalatoa
4. Scott Barrett
5. Sam Whitelock
6. Pete Samu
7. Matt Todd
8. Jordan Taufua
9. Bryn Hall
10. Richie Mo'unga
11. Manasa Mataele
12. Tim Bateman
13. Jack Goodhue
14. Seta Tamanivalu
15. George Bridge
Reserves:
16. Andrew Makalio
17. Wyatt Crockett
18. Donald Brighouse
19. Mitchell Dunshea
20. Heiden Bedwell-Curtis
21. Mitch Drummond
22. Mitchell Hunt
23. Brayden Ennor
Waratahs
1. Tom Robertson
2. Damien Fitzpatrick
3. Sekope Kepu
4. Ned Hanigan
5. Rob Simmons
6. Will Miller
7. Michael Hooper (c)
8. Michael Wells
9. Nick Phipps
10. Bernard Foley
11. Taqele Naiyaravoro
12. Kurtley Beale
13. Curtis Rona
14. Cam Clark
15. Israel Folau
Reserves:
16. Hugh Roach
17. Harry Johnson-Holmes
18. Shambeckler Vui
19. Tom Staniforth
20. Jed Holloway
21. Jake Gordon
22. Lalakai Foketi
23. Bryce Hegarty
Match Details
Date: Saturday, 12 May 2018
Venue: AMI Stadium – Christchurch
Kick-off: 17:15 local, 15:15 AEST
Referee: Ben O'Keeffe
Assistant referees:Jamie Nutbrown, Paul Williams
TMO: Aaron Paterson