Kings and Scots won their respective round 3 matches and their round 4 clash, next Saturday at Bellevue Hill, will decide the premiership.
But both teams had to work hard to ensure they remain in contention for the title.
Scots only lead by three points with 10 minutes remaining, but came home strongly to defeat Newington 41 – 24 at Stanmore. Kings resisted a late Riverview revival to win 27 – 14 at Lane Cove. Joeys chalked up their first win for the season in a 10 try romp at Hunters Hill where they beat Shore 66 – 28.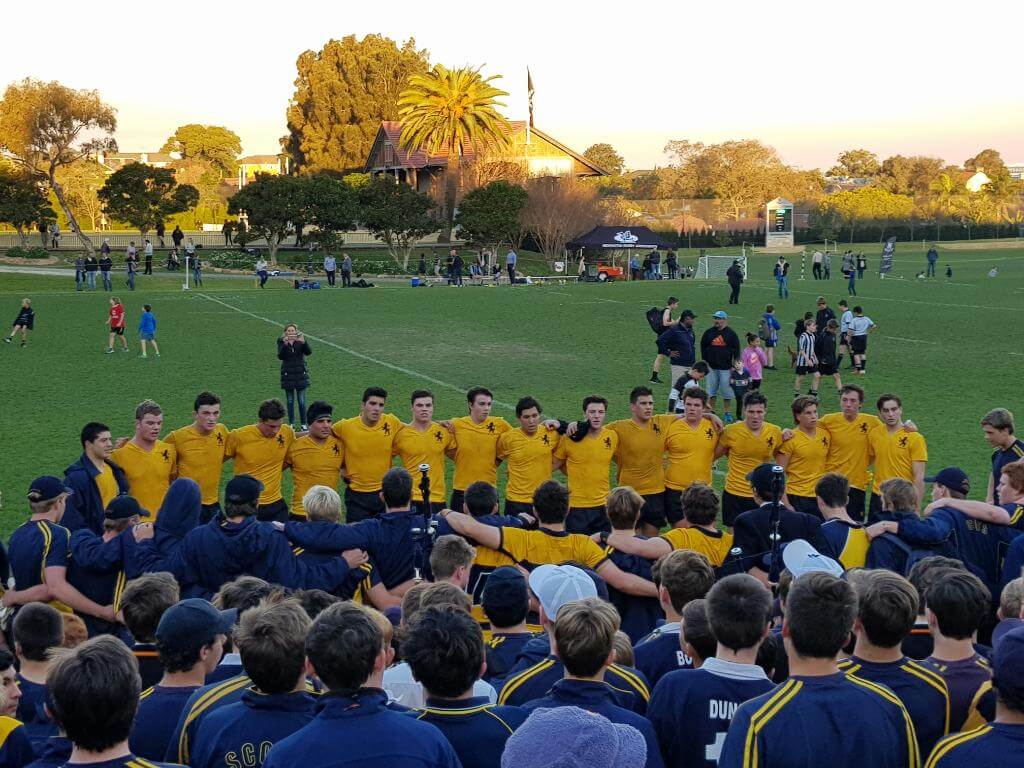 By "Crackerjack"
A grand, well-behaved crowd, the atmospherics of 'Back to Newington' day, and halcyon Winter weather, all combined as a secular advertisement for the game they play in Heaven.
Scots' Lion Rampant was expected to comfortably account for the Wyvern of Newington, but recent history has shown that Johnson Oval can rarely be described as "comfortable" for visiting teams. So Saturday's game proved.
First half
Testament to the even, defense-dominated start, Scots took a rare three-point penalty to open the scoring, and still it took 15 minutes for big Tom Yassmin (14) to break the Black & White wall out wide for a maximum counter.
New's right wing, Simi Afeaki (14), dramatically busted through the middle, recycled for skipper Rory Lynch (7) to be pulled down inches short, and phased again to LHP try-magnet, Angus Bell (1), dotting down in heavy cover (see video clip of try below – courtesy of "sidesteppa").
If Scots thought they could just turn up and collect two premiership points at Stanmore, at 10 – 5 to Scots after 25 minutes, they'd been well and truly disabused of that notion.


Thundering mid-field runs by New's 3/4 channel-men, Nathanael Endemann (12) and Raine Dellow (13), were being matched by bruising D from Scots' loosies.
Inside their own 22, Scots' scrum was back-peddled by the heavier Newington pack, and Lynch (7) harassed an errant pass from Scots; snapped up by Saul Lewis (10) to score. Lachlan Morgan (15) converted and after 30 minutes, New led 12 – 10.
In time-on H1, a long-range rolling maul set up Will Harris (8) under penalty advantage to stroll through New's edge defense to re-establish Scots' advantage.
Half-time score: Scots 17 – 12 Newington
Second half
A Scots penalty kick early on, but they paid for failing to secure the kick-off when Endemann (12), gifted with field position, provided another of his 'Dam Buster' solo runs to score. Scots 20 – 19.
Mid-half, Scots scored through some flailing-arms backline defense and Jakob Styles (12), re-established a two score margin (see video clip of try below – courtesy of "sidesteppa").
Just 15 minutes to go, and Newington's forwards, masters of the pick'n drive, had that man Bell (1) going in again in heavy traffic. Scots 27 – 24.


Scots are a superbly fit side, as the last 10 minutes showed, combining indefatigable D with both their tall-timber locks scoring.
First, Nelson Bours (5) taking an ever so sweetly-timed inside ball to ease Scots' supporters nerves, and Jeremy Williams's (4) in-your-face defense inside New's 22 forcing spillage, regathering and fending his way to the line.
Max Robson (11) continued his sublime form with the boot for Scots, kicking all five of his conversion attempts.
Full-time score: Scots 41 – 24 Newington
THE WRAP
A "danger game" for comp co-leaders. Scots' outlasted rather than 'bested' Newington's Black & White. Defensive walls dominated for large parts, so the 65-point game aggregate ended up a bit surprising. Scots maintained composure, took chances when presented, and scored an important away 'W'.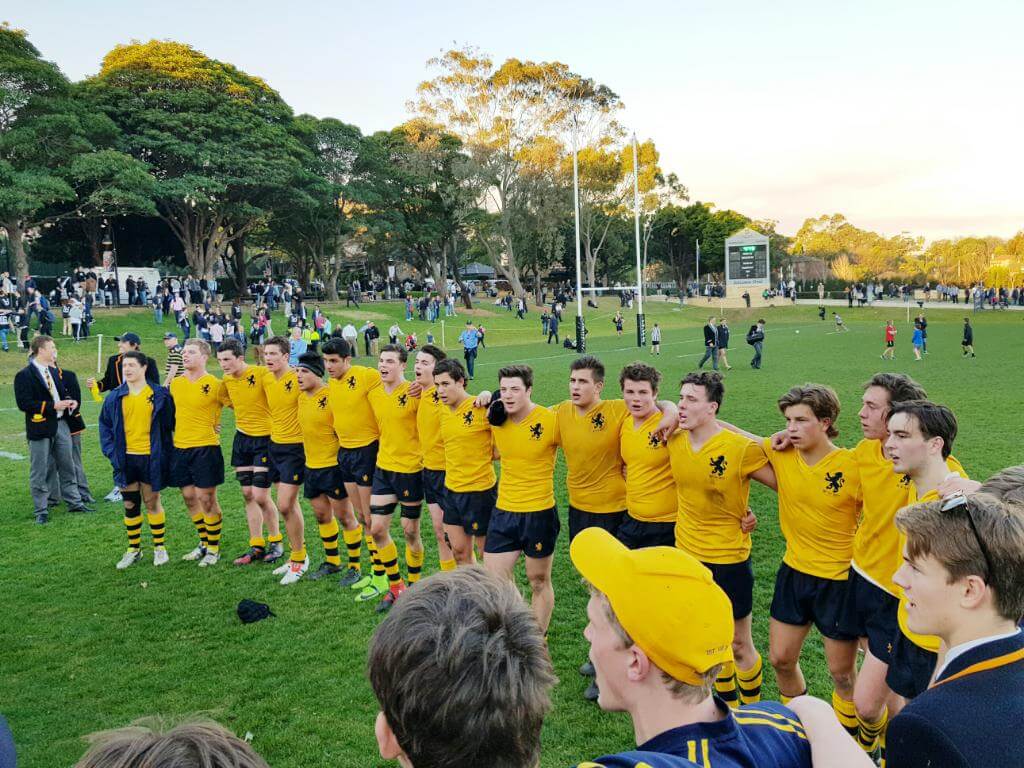 THE PLAYERS
Best for Scots: Will Harris (8) – monster game; always on deck. Jeremy Williams (4) – ubiquitous; a constant threat. Wilson Dulieu (9) – scrapped all day; a ninth forward defending Scots' line.
Best for Newington: Angus Bell (1) – outstanding all 'round game. Nathanael Endemann (12) – big, powerful handful; constantly asked questions of Scots' D. Rory Lynch (7) – tireless; led from front.
SCORING DETAILS
Scots 41 (Williams, Bours, Harris, Styles, Yassmin tries; Robson 5 con; Robson 2 pen) def. Newington 24 (Bell 2, Lewis, Enderman tries; Morgan 2 con)
FULL MATCH VIDEO
courtesy of "sidesteppa"
By "Armchair Selector"
What a stunning day for School boy Rugby. With blue skies and barely a whisper of wind, a large crowd was in attendance at Hunters Hill.
First half
Shore couldn't have hoped for a worse start. One minute in from the Joey's kick off, Joeys #4 Ben Houston hit a hole in the Shore defence, to score near the posts. #8 Jack Quinn converted. Joeys 7 Shore 0.
Six minutes later, Joeys were again on attack. Deft passing had Joeys #2 James Bourchier in space. Not needing his supporting players, he scored near the 15 metre line. Joeys 12 Shore 0.
Shore hit back five minutes later through their forwards. From the set piece, a succession of pick and drives was rewarded with #2 Ed Collard crossing the line. #10 Max Sinclair converted. Joeys 12 Shore 7.
Joeys #8 Jack Quinn was sent to the bin for a high tackle. A defensive lapse by Joeys, 10 metres from their own line, was pounced on by the Shore Captain Max Sinclair who crossed the line to the roar of the faithful, converting his own try. Shore now in the lead 14 to 12.


With a forward short, Joeys secured solid scrum ball 12 metres from the Shore line. Joeys #9 Dylan Dowling shaped to pass, however, backed himself crossing the line. In Quinn's absence #10 Vincent Creagh added the extras. Joeys 19 Shore 14.
Joeys were running straight lines and finding space. #15 Nick Chan deftly offloaded to #11 Liam Scolari with space and pace, passed wide to #13 Xavier Ryan who finished beautifully. Creagh adding the extras. Joeys 26 Shore 14.
Three minutes later, Joeys #14 speedster Joseph Kandalaft broke the Shore defensive line, offloading to #6 Julian Heaven in support who scored. Quinn having returned to the field converted. Joeys 33 Shore 14.
The final honours of the half went to Shore #1 Luke Edwards scoring from a pick and drive. Sinclair converted.
Half-time score: Joeys 33 Shore 21
Second half
The game was being played at a frenetic pace. 35 minutes and 54 points leaked. Defensive lapses by Shore and loose play at the ruck by Joeys was proving costly.
No one can doubt Shore's passion and willingness to contest. Their Achilles heel is their defence. Too many missed tackles has proven costly thus far this year, as it did today.
Numerous line breaks by the Joeys forwards were finished by the Joeys outside backs. #9 Dylan Dowling was first to score in the second stanza, followed by two in a row by #14 Joseph Kandalaft.



Joeys #13 Xavier Ryan was a willing recipient as well. With 3 of the tries converted by Quinn, the score had blown out to Joeys 59 Shore 21.
30 minutes into the half, Shore finally had ball in hand through their backs. Shore #14 James Cope scoring Shores fourth try of the day. Converted by Sinclair, Joeys 59 Shore 28.
Final honours went to Kandalaft who in open space scored his third try of the match. Quinn adding to his tally.
Full-time score: Joeys 66 – 28 Shore
THE PLAYERS
Best for Joeys: #2 James Bouchier; line breaks. #14 Joseph Kandalaft; running in space and finishing.
Best for Shore: #2 Ed Collard; work rate in defence. #10 Max Sinclair; leading by example.
SCORING DETAILS
Joeys 66 (Kandalaft 3, Ryan 2, Dowling 2, Houston, Bouchier, Heaven tries; Quinn 6, Creagh 2 con) def. Shore 28 (Collard, Sinclair, Edwards, Cope tries; Sinclair 4 con)
---
Unfortunately we don't have a report for this match. Based on some posts in the 2017 GPS forum:
The match was a genuine arm-wrestle.
Riverview played with real purpose and commitment after losing by a big margin the week prior.
Riverview were well and truely in the game at 14 to 20.
An intercept try to Kings secured the win.
Riverview's forwards had a very strong game.
Kings defence was oustanding, particularly in the last 10 minutes and proved the difference.
Best players for Riverview were Charlie Rorke and Angus Bell.
Best player for Kings was Ed Poolman.
Full-time score: Kings 27 – 14 Riverview
Below are some photos from the game, courtesy of "Juanbarn".