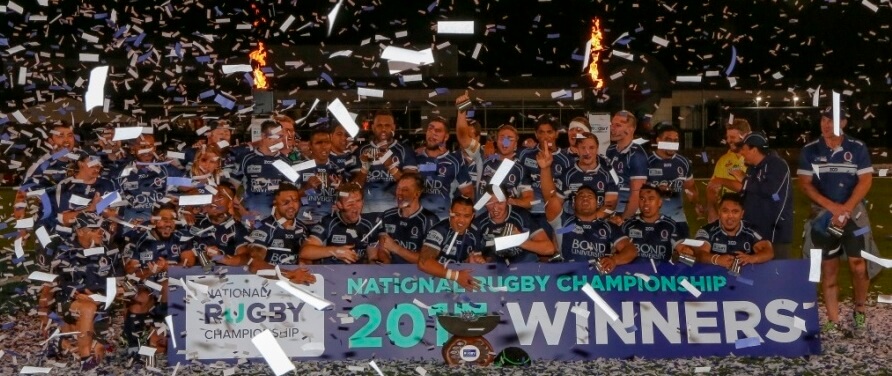 The draw for this year's National Rugby Championship (NRC) has been released and, as we enter the competition's fifth year, there have been a few tweaks on the previous year.
The Changes:
Sydney-Centric:
As previously announced, the NSWRU have cut the number of NSW based teams in the NRC down to just two. What it means is that none of the original Sydney NRC teams now exist as the Greater Sydney Rams (formerly known as the Western Sydney Rams) and the Sydney Rays (formerly known as the North Harbour Rays) have gone the way of the Sydney Rays.  The NSW Country Eagles remain but are now joined by a team to be known simply as Sydney as a throw back to the traditional Sydney representative team that used to take on touring teams way back in the amateur days.
While it is sad to see the disintegration of some of those team identities of years past, most particularly the Rams, it is heartening that there seems some greater support in NSW Rugby for the NRC this year. It would seem that the two NSW teams will be managed much the same as the two Queensland teams, who have won three of the four titles between them.  NSW Waratahs General Manager, Tim Rapp, has indicated that depth will be spread across the two teams, acknowledging the heritage of the players involved.
"We want to see our best players in all positions representing our teams, which will not only add to the competition for selection amongst players but also help the coaches play the strongest match 23 every week," Rapp said.
And in a real first, the Shute Shield twitter account has actually acknowledged the competition.
#BREAKING
The 2018 National Rugby Championship draw has been released! https://t.co/hh9JQly7mw

— Shute Shield (@theshuteshield) July 4, 2018
Stream-lined:
Cutting a NSW team hasn't meant there is growth elsewhere. As such NRC18 will feature a clean eight teams, down from the nine they had last year. In reality we revert back to the model of 2016 where there were no byes and a blink and you'll miss it seven week competition.  What it means is that there is no time for a slow start. In 2016 the Western Sydney Rams came together basically the first week of the competition and the combinations struggled to form for a couple of weeks. The form came a little to late for the Rams and they finished just outside of the finals.  A couple of extra weeks of preparation to ensure they got a running start to the NRC, could have been all they needed to secure their inaugural finals spot.
Rugby Australia have been extremely kind to the Sydney clubs this year to accommodate the threat of a similar start. With the Shute Shield Grand Final to be played on the same weekend as Round 1 of NRC18 (1 September), we have the slightly quirky situation of a Round three and a half.  Basically, Sydney will host NSW Country at Leichhardt Oval as Round 1 but the match won't be played until the Wednesday night (19 September) in between Rounds 3 and 4. It means Syndey's first four games are at home while NSW Country will play their first game of the season (Round 2) across on the West Coast, before coming back to their home state for their next three clashes.
Brand Force Returns:
While NSW Rugby have done away with the Rays and Rams, West Australian Rugby have ditch the Perth Spirit as well. But that was an understandable decision and one that will strengthen the brand of the Western Force hot on the heels of World Series Rugby. What it means is that the Force will be the best prepared team in the NRC when you consider their global recruiting strategy, their singular focus on this team (no Super Rugby disruption) and the seven 'pre-season trials' they would have played as part of World Series Rugby. There's no word yet on whether international players such as Jeremy Thrush, Henry Teafu, Peter Grant and the likes will play NRC or whether the focus will be on Australian eligible players.
One change from WSR will be the team returning to their normal NRC ground of UWA Sports Park.  Assuming attendance will again be free at these games, and on the back of some excellent WSR crowds, it will be interesting to see what sorts of crowds they pull.  While only hosting three games this regular season, they are three pretty damn good ones with the two NSW teams and the highly popular Fiji Drua all visiting. The Drua in particular, in the last round, should be able to draw a crowd considering the WSR encounter with Fiji a few weeks ago and given this Drua time is likely to be stronger than they were.
Given the Perth Spirit successfully challenged for the Horan-Little Shield in the last round of last year, we can expect the Western Force to be the current holders. Unless they put it up for grabs in the first round, away against Brisbane, it is likely to be played for in Round 2 against NSW Country.
Status Quo:
Fox Sports Support:
Fox Sports will again be right behind the competition this season broadcasting each and every match commercial free across their platforms.  Two games per week will be broadcast on TV, with the remaining two games available to stream LIVE via foxsports.com.au/live and the FOX SPORTS App. The quality of the broadcasts and streams have been excellent in recent years and while we would all love some more rugby on free-to-air, this broadcast is pretty damn accessible. There are always deals going around for subscriptions, so keep an eye out and grab it when you can.
Out and About:
NRC18 is again getting out amongst the people taking the game to new (or rarely used) venues whether they be regional or club grounds.  While the Force (UWA Sports Park) and the Canberra Vikings (Viking Park) remain solid, all other teams will take their matches on the road.  Even the Drua are shaking things up by hosting NSW Country at Ratu Cakobau (Nausori) for the first time, with their other two home games at Churchill Park, Lautoka which held games last year.  Queensland Country will do the right thing by their sponsors with a couple of games at Bond University, but will also take their first two home games up north where they will host the Rising at Mike Carney Park (Townsville) and then the Drua at the excellent BB Print Stadium (Mackay).  Meanwhile, for the first time in the competition's history Brisbane City will play no games at Ballymore as they hit the club compass hard with games at Norths (Force), Wests (QLD Country) and Easts (Vikings).
Melbourne Rising may need to reconsider their name as they will barely be seen in Melbourne. Their first 'home game' is in Round 4 when they host Brisbane in Adelaide at Bailey Reserve. It's not the first time the NRC has been to South Australia, with the Spirit taking one of their home games there back in 2014. The Rising will then host games in Geelong (v the Force) and Ballarat (v Sydney). The newly evolved Sydney team will play a couple of games at Leichhardt Oval and then one each at Concord Oval and Woollahra Oval. NSW Country will take their four home games to Mudgee, Armidale, Camden and Tamworth.
---
GAGR will again do our best to cover the NRC as thoroughly as possible. As the competition takes the game further afield, we will no doubt be challenged to get to every game. So if you are interested in helping us cover games (writing match reviews or taking photos) please get in touch and we can chat. For those who haven't engaged with the NRC previously we urge you to give it a shot. We reckon it's worth it.
Draw:
All times local
ROUND ONE
Saturday September 1
Fiji Drua vs Melbourne Rising, Nausori, Ratu Cakobau Park, 3pm
Canberra Vikings vs Queensland Country, Canberra, Viking Park, 5pm
Sunday September 2
Brisbane City v Western Force, Brisbane, Norths Rugby Club, 3pm
Wednesday September 19*
Sydney vs NSW Country, Sydney, Leichhardt Oval, 7pm
ROUND TWO
Saturday September 8
Fiji Drua vs Brisbane City, Lautoka, Churchill Park, 3pm
Sydney vs Canberra Vikings, Sydney, Concord Oval, 3pm
Sunday September 9
Queensland Country vs Melbourne Rising, Townsville, Mike Carney Park, 3pm
Western Force vs NSW Country Eagles, Perth, UWA Sports Park
ROUND THREE
Saturday September 15
Sydney vs Brisbane City, Sydney, Woollahra Oval, 3pm
NSW Country vs Melbourne Rising, Mudgee, Glen Willow Sports Stadium, 1pm
Queensland Country vs Fiji Drua, Mackay, BB Print Stadium, 1pm
Sunday September 16
Canberra Vikings vs Western Force, Canberra, Viking Park, 3pm
ROUND FOUR
Saturday September 22
Melbourne Rising vs Brisbane City, Adelaide, Bailey Reserve, 12.30pm
Queensland Country vs Western Force, Gold Coast, Bond University, 3pm
Sunday September 23
NSW Country Eagles vs Canberra Vikings, Armidale, UNE Bellevue Oval, 1pm
Sydney vs Fiji Drua, Sydney, Concord Oval, 3pm
ROUND FIVE
Saturday September 29
Fiji Drua vs NSW Country Eagles, Nausori, Ratu Cakobau Park, 3pm
Canberra Vikings vs Melbourne Rising, Canberra, Viking Park, 7pm
Sunday September 30
Brisbane City vs Queensland Country, Toowong, Wests Rugby Club, 3pm
Western Force vs Sydney, Perth, UWA Sports Park, 3pm
ROUND SIX
Saturday October 6
Fiji Drua vs Canberra Vikings, Lautoka, Churchill, 3pm
Queensland Country vs Sydney, Gold Coast, Bond University, 3pm
Sunday October 7
NSW Country Eagles vs Brisbane City, Camden, Camden Rugby Park, 3pm
Melbourne Rising vs Western Force, Geelong, GMHBA Stadium, 3pm
ROUND SEVEN
Saturday October 13
NSW Country vs Queensland Country, Tamworth, Scully Park, 3pm
Western Force vs Fiji Drua, Perth, UWA Sports Park, 2pm
Sunday October 14
Melbourne Rising vs Sydney, Ballarat, St Patrick's School, 1pm
Brisbane City vs Canberra Vikings, Coorparoo, Easts Rugby Club, 2pm
SEMI-FINALS
Saturday October 20
1st vs 4th
Sunday October 21
2nd vs 3rd
The final will be played on Saturday October 27.
Feature image photo credit to Brendan Hertel/QRU