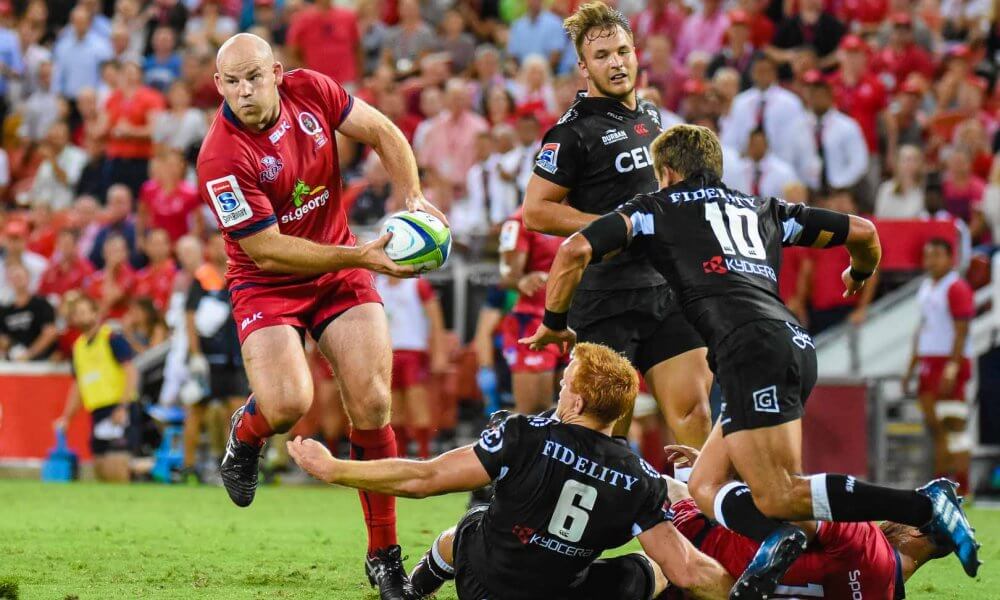 Queensland Reds hooker Stephen Moore announced overnight that, not only would this weekend's test against Scotland be is final game for Australia (assuming he is selected), but it would also be his final game of rugby full stop. His original decision to play on for the Reds in Super Rugby has been overturned and the impact is quite significant – for a couple of reasons.
First of all, it almost forced me to use this headline. Look, it's poor taste, potentially offensive, most definitely low brow, but still…I'm a little happy with it.
Secondly, and I guess more importantly, it means the Reds are now short a crucial third hooker spot in their squad which is set to be announced next week. More than just a third hooker spot, it means we are now down arguable our #1 hooker as the crass headline alludes to. With Andrew Ready and Alex Mafi already contracted, we have some coverage there already but with neither well nor truly putting their hand up to make the 2 jersey their own, a replacement for Moore becomes intriguing.
The need for a third hooker:
First and foremost, do we need a third hooker? Can we possibly just stick with Ready and Mafi and hope that we can get some coverage from the EPS?
The answer, I'd suggest, is yes we definitely need a third contracted hooker.  Preferably a Super ready one.
In season 2017, each Australian Super Rugby franchise relied on at least three hookers to fill the two match day hooker spots.
For the Reds each of the aforementioned players started at least one match at hooker and as back up hooker.
The Waratahs relied heavily on Tolu Latu, however when he became unavailable both Damien Fitzpatrick and Hugh Roach got significant game time.
The Brumbies were able to get through their season with only Josh Mann-Rea and Robbie Abel as starting options, while Saia Faingaa was called onto the bench on a handful of occasions.
The Rebels relied on three hookers to start through the season, with Pat Leafa, James Hanson and Siliva Siliva each receiving at least one start, while Jordan Uelese featured off the bench three times.
Finally the Force, as per the Tahs, got through the season relying on Heath Tessman and Tatafu Polota-Nau as starters but still used Anaru Rangi as an alternate bench option to get them through the season.
So yes, we're going to need a third hooker, we've just got to find a good'un.
Lost Chances:
The obvious one here is the incumbent Wallaby rake, Polota-Nau, who supposedly couldn't get a gig in Australia and has signed with the Leicester Tigers.
It's hard to really know whom Super Rugby team has signed at the moment as there seems a fair few gaps in a couple of the squads. As best I can tell the Tahs have Latu, Fitzpatrick and Roach all locked up for next year.
Similarly the Brumbies have Folau Faingaa joining the stable alongside Abel and Mann-Rea to likely complete their hooking stocks in their main squad. Meanwhile further south, there is a glut of options in Melbourne. With Hanson and Siliva already on the books, in the past week the Rebels have announced the signing of Uelese and Rangi to give them four quality hooking options in their playing squad.
So that leaves the Reds with, as far as we know, the only team short a hooker.
So what are the options?
Think Locally:
While Ready and Mafi were, usually, the first choice options for Brisbane City and Queensland Country in the NRC this year, it's worth looking at the other hooker options in each squad.
Alex Casey was a valuable, and underrated, contributor to the QLD Country championship this year. His impact from the bench was always significant and he started a started on four occasions, never skipping a beat.
Maile Ngauamo and Efi Maafu are other  considerations having each come through the QLD rugby pathway. Maafu, still only a teenager, played for both the Australian Under 20s this year and for QLD Country so, as a Brad Thorn protégé, seems a strong candidate. A darkhorse may be the young University of QLD hooker, Sean Farrell, who made one appearance from the bench for QLD Country this year and has some fans in high places. The EPS or Wider Training Squad spot may be where some of these options end up.
Looking West:
Despite Rangi becoming a Rebel and TPN becoming a Tiger, there are still hooking options in the West should those players be looking for Super Rugby options.
The standout candidate would be proud University of QLD rugby club alum Heath Tessman, who is a great club men and a person that would be a positive addition to any squad set up.  As Co-Captain of the Force this year, and sharing the starting jersey with Polota-Nau, he provides a mature and experienced option for a squad that will still have a lot of youth in it.
I am not sure what has happened to Harry Scoble this year, as he showed immense promise last year and if he is still out there aspiring for a professional career it may be worth a phone call by the Reds.  In saying that, the Perth Spirit showcased a fairly dynamic alternative in Sama Malolo. Malolo had the one start this season, but came off the bench on seven occasions and scored four tries in the process.
NRC:
With everyone else seemingly chock-full of hookers, it provides the Reds the chance to pick the best out of the rest of the NRC. For me the standout candidate is Brandon Paenga-Amosa of the NSW Coutry Eagles. After a cracking 2016 NRC for the Rams, Paenga-Amosa spent time with the Waratahs this year and has recently been sited down Melbourne way. However with the Rebels already four strong in the position, a more certain spot with the Reds may have some appeal.
Other considerations as players of promise from this year's NRC could be Connal McInerney (Eagles), Andrew Tuala (Rams) and Logan Ede (Spirit) however all were only really bit players who may not be 'insta-ready' for Super Rugby.
Thinking Outside the Square:
Ok, time for a couple of left field options.
The Rebels currently have four hookers and there remains a constant rumour that James Hanson wants out. He's currently in the UK on loan to Gloucester Rugby and by all reports enjoying it over there.  While rumours persist that the Rebels are looking to off-load halfback Nic Stirzaker and sign Michael Ruru, there seems a strong case for them to consider a release of Hanson as well. The question of course them becomes whether Hanson would want to come back to Queensland or whether he'd prefer to stay in the UK. If Super Rugby and Wallaby aspirations remain, then the opportunities may well be there for him back at Ballymore.
This one is based on yet another rumour, but one with perhaps a little more substance than those above. Towards the end of the NRC season this year reports began to pop up that Australian Super Rugby sides would be free to sign Drua players and have them sit outside the Salary Cap. If that is the case then the Reds could do a lot worse than sign Ratunaisa Naruma. Naruma was a force for the Drua in their charge to the finals this year. The former openside flanker is a bit of a pocket rocket around the field and is never far from the action, both in defense and attack. A strong islander presence at the Reds would ensure his transition would be relatively seamless and prove a strong attraction.
---
So the options are there for the Reds, and there's probably more I haven't considered. The position can't be undervalued whether it be as the actual third string hooker, or as the first choice. All will be revealed next week, it would seem, so let us know below what your preferred option would be.