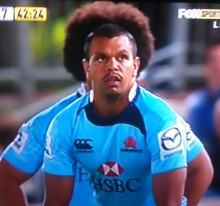 It's being widely reported that Kurtley Beale has agreed to terms with the Melbourne Rebels for 2012.
Identified for greatness by Mark Ella while still at St Joseph's College, Kurtley has been attending training sessions with the Waratahs since the age of 15. He made his state debut shortly after his 18th birthday in January 2007.
The 22-year-old is now in his fifth season with the Waratahs, having excelled at both flyhalf and fullback for the province. A high point of his Super Rugby career to date was the 2008 Super 14 final against the Crusaders. Gilbert was heavily involved at flyhalf, orchestrating the Waratahs' two tries and placing NSW in the lead, when injury struck and he was forced off the field — which allowed the Crusaders to fight back.
Kurtley made the Wallaby fullback position his own in 2010. A highlight of his year was slotting this memorable penalty after the full-time siren for the Wallabies' first win in Bloemfontein since 1933.