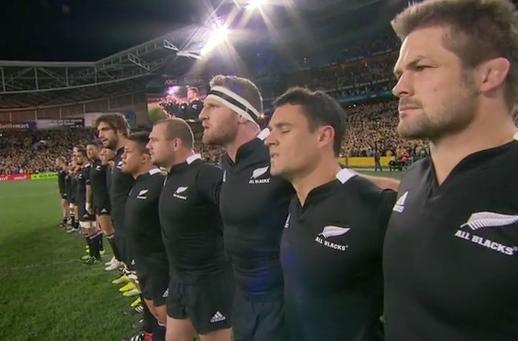 The Wallabies are the number two-ranked team in world rugby. This may well be so, but, on the evidence of last night's match against New Zealand, they are so far behind the world champions that I would be surprised if they can even see them.
It's not so much the results of these two Test matches that concern me, it's our performances – or should I say lack of performances – that have left me, and I'm sure thousands of other Wallabies fans, feeling totally gutted and searching vainly for a solution. The simple truth is that there is very little, if indeed anything at all, about our game that is up to world class.
Our attack is nonexistent. I think that we made only one line break in the entire game – if you can call Berrick Barnes's 53rd-minute dash for the line an actual break.
Why is this so, given that for a long period of time past, we were probably the masters of three-quarter play?
Genia takes an eternity to deliver the pass – lift, skip-step, wind-up. Compare his distribution with that of the novice, Aaron Smith, who at times merely lifts the ball with a flick of his wrists.
Barnes and Horne run across the pitch and set up the easy tackle for any accomplished defence. Even when we set the promising Sitaleki Timani a midfield crash role from the shortened lineout, Barnes ran across to give him the ball and immediately took away any potential advantage.
Now our forward pack, who this week at least showed some stomach for the contest at the tackle, are at a huge disadvantage. New Zealand subsequently demolished us in this vital facet of play.
Our support play has been dreadful for some years and remains so, even though I concede that our line of run and unnecessarily long passes make it difficult in the wide channels. Nevertheless, even in the close channels, we cannot remain accurate for more than a few phases. Our newfound pick-and-drive focus in the opening minutes lasted four phases – then a turnover – and then five phases – then a penalty. This is rubbish.
Following this changed approach – which, incidentally,  was canned after five minutes — our sole tactic to breach the defence became the chip or grubber. I thought that Phil Kearns was going to have apoplexy as he continued to question the wisdom of giving the ball back to the opposition – especially to Israel Dagg!
All successful activity on the rugby pitch is underpinned by accurate technique. Accurate technique in any given situation consists of a set of key principles. When a player can deliver on these key principles under the pressure of game situations, he can be described as possessing certain skills. Rugby practice sessions must instil these skills, over and over again, until they become an intrinsic part of a player's performance. This certainly is not happening with our Wallabies!
If we look at the application of such skills – e.g. catch-and-pass, straight running, support lines and positioning, body position in contact, tackle contest options, etc. – and consider that a player in possession of the ball has only three options – 'run' or 'pass' or 'kick' – we can begin to understand why our players kick so much. The absence of a few of the fundamentals make the 'run' option nearly impossible – we've already given the upper hand to the defence; next comes the 'pass' option, but the added disadvantage of 'no support' makes this impossible. So they are left with the 'kick' option!
They could, of course, take the tackle, but the absence of all of the above would be certain to weigh heavily on the subconscious of the ball-carrier. 'Take the tackle, with probably a turnover or a penalty, or try for the flukey grubber/chip and hope for the best.' The choices are not great!
The solution, as always, is to insist on the accurate application of quality technique in a succession of practices, with increasing game-like pressure – always believing that 'practice does not make perfect; only perfect practice makes perfect'. There is no quick fix for us in our present predicament; we must set the correct course and look to the long term. On the plus side, I have always found that accurate long-term solutions invariably provide some short-term benefit also.
Also on the plus side are the following:
As poor as we were, we held the world champs to only one try.
We also held them scoreless for 25 minutes in the first half and for the last 32 minutes of the game.
We are not short of ticker. For a few years now, and again yesterday, we defended against the odds for extended periods.
Sitaleki Timani and Michael Hooper have great futures.
Stephen Moore, Nathan Sharpe and Radike Samo continue to deliver. Am I wrong or does Samo deliver a heap more in 20 minutes than Scott Higginbotham does in 60, or even 80?
We played with 14 men for 10 minutes (and the yellow card was justified) — but Saint Richie can offend three times in the red zone with relative impunity.
We cannot continue to accept second best – or is it third best, or ….?