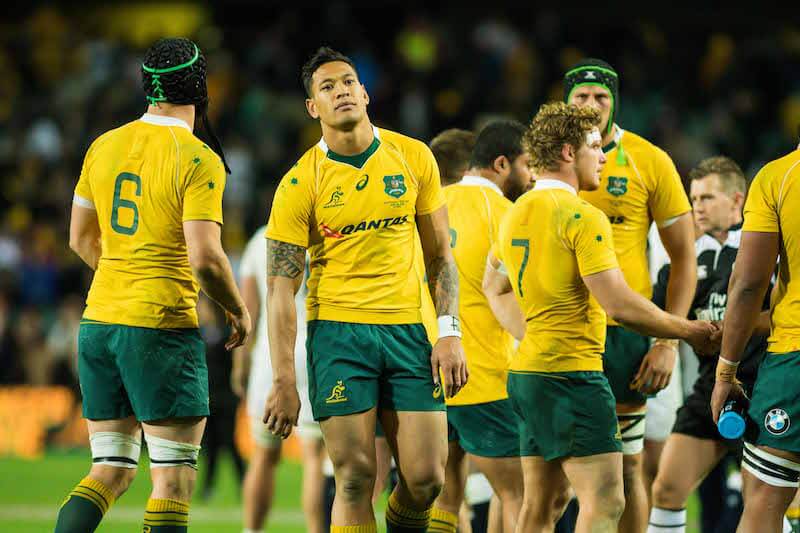 The general feeling about the state of Australian rugby is that New Zealand teams are playing out of their skins and Aussie teams aren't playing well at all (it's hard to say much about the South African teams because we don't see much of them). In terms of the coming Rugby Championship though, I'm not so sure all is lost.
We certainly do need to do a bit of work, but when you put the best Australian players together we can come up with a very competitive team. The addition of our European players helps and I don't see any reason why we can't at any time change the regulation of saying it has to be 60 tests – because that's a fair effort. I'm also not sure it would do us any harm to pick anyone outside of Australia. Why restrict ourselves?
If we look back on our form I would certainly agree that we haven't been consistently good across the season, where four of the New Zealand teams played better than we did. New Zealand teams aren't the only team in The Rugby Championship though.
Structure
The thing that concerns me though is how we've allowed poor technical performance to go unaltered with individual players. The fundamental qualities of good team play are support and realignment (in both attack and defence). I would say that in defence this hasn't been too bad, but in attack those two elements are poor.
Too many of our teams (in fact, all of them) have a team pattern which almost acts against quality attack support play. All of them run to largely pre-determined positions subsequent to any attack ending in a tackle. As a result we have large numbers of our forwards positioned a long way from the ball, which is just wrong.
Our prime support players should be our three back row forwards, our 9 and 10 and perhaps our hooker from line-outs. With this structure, we don't have them properly positioned because they've already made up their mind what their next role is, without exhausting the support play options available to them.
Then our new ball carriers from the second phase onwards tend to be tight forwards and unless they're close to the ball and ball carrier, we can't have a success at the next tackle contest and subsequently the next phase. I see us needing to re-evaluate the structure of our play and a need to reassess and work hard at 100% accurate technique as applicable to each position.
The next thing we need to be a lot better at is lines of running. We start with our 10s and 12s going across the pitch limiting the the ability of our outside backs to perform well. If Israel Folau can perform like he does with no space, imagine what he could do with some…..
We really do need to have a close look at our attacking alignment – we are consistently far too deep in attack. If we are to use second line plays – of which I'm not a fan at all – we must be much, much flatter. So that we can use either the first or second line in the play.
Even when we line up from an attacking scrum, our five-eighth is consistently 8m from our 8 when you only have to be 5. At five metres you've got at least a 14m gap to the opposition. This should be plenty in which to do something with the ball.
In one test against England, late in the game we had a wide left hand side blind, and we stationed Israel Folau and Luke Morahan on that left hand side. Israel Folau was first receiver on the left and he was 15 metres behind the number 8. Morahan was second receiver and he was 30 metres behind the number eight. What was going to become of that I'll never know. That was farcical.
Now we're not spending any more time in Super Rugby, we've got the opportunity to fix some of these technical short comings. They're not difficult things to fix. So we will be in much better shape going into the Rugby Championship than we were going into the series against the English.
Individuals
I'm not completely disheartened by the play of our three bottom teams (Rebels, Force and Reds). At times I've seen good things from them and the individuals within the teams. I'd like more consistency, but I've seen enough world class in the players and therefore the opportunity for coaches to help them do more with it.
Then I see individual positional technical fundamentals not being good enough by any stretch. For example, our number one scrum half is technically poor – which is seen in his pass. The best scrum half in Australia is an Argentinian – rather than be concerned about Australians overseas, I'd be concerned about overseas players here! Two out of the five teams use foreigners, placing us at a disadvantage.
After a slow start Michael Hooper has been fantastically good. He's a lot more effective at the breakdown and he's back to his normal outstanding work-rate. I don't know what the numbers ended up like, but he made very important tackles consistently. He's back to his workaholic best.
There are some other players that need to lift like he did. Stephen Moore and Scott Fardy  aren't at their previous levels.  Is it time to find another six and play Fardy in the second row – would he give away fewer penalties? Sio and Kuridrani aren't a patch on their previous forms.
Liam Gill's form and performances have been outstanding, but you can't have Hooper, Pocock and Gill in the team at the same time. Adam Coleman gave an indication that he can come through and he'd be worth staying with the squad and even getting some game time.
I would definitely put Lopeti Timani in the squad and see if we could get enough out of him in those sessions to see if we can turn  him into a world class 6. He can tackle and hit hard with genuine size and pace.
I thought that despite the fact he's only a small bloke, Matt Lucas has added something to the Tahs every time he's come onto the field. If we're not sure who the next 9 is then he's worth a look – getting to the tackle quickly and passing accurately all the time. He's willing to have a run and his line of run allows him to target the close defenders and exploit a hole. The team attack just looks better whenever he comes on the field.
Andrew Ready looks worth a go. He's got size, a willingness to take the initiative and has genuine pace. Reece Hodge has some qualities no-one else in Australia has; he can kick the ball a country mile, is big and has pace. I'm not close enough to know how much further he can go, but he's been in the squad and has impressed with everything he's done. He much be very close to the match day 23.
Dane Haylett-Petty has done enough to indicate he can continue to improve and make a serious contribution. I'd have to think that a bit more common sense than he's displayed recently wouldn't go astray though!