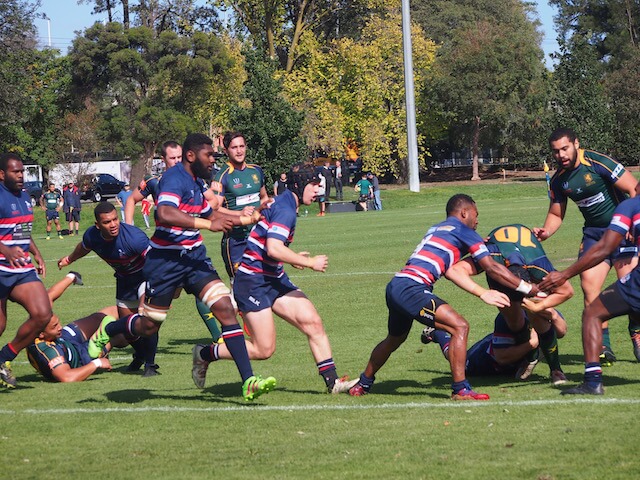 Round 10 of the Dewar Shield sees Box Hill face off against Melbourne, in another top four battle.
The fight for the second place will see the third placed Broncos host the Unicorns, second on the ladder, at RHL Sparks Reserve tomorrow.
Back in round two, the clash between the two teams delivered a nail-biting encounter, where the Unicorns held on to the Broncos comeback in the dying minutes of the game. Tomorrow, the two teams will square off once again at RHL Sparks Reserve. We are expecting another good match between the only two teams that may challenge Harlequins for the Dewar Shield title.
The Unicorns will enter it as slight favorites. The Broncos had a hard game against the competition leaders Harlequin last Saturday, and lost a couple of key players as a result of it. The Unicorns, victorious against Endeavour Hills, are almost at full strength.
Broncos denied a late try in the last minutes of the Round 2 match
First placed Harlequin will visit Moorabbin, who are currently fifth on the ladder, and hoping for a win to keep in contact of fourth placed Endeavour Hills. This could be a tricky for the reigning champions, which, after their convincing win against Box Hill, must keep up their concentration, and not take any game for granted.
The Eagles will have an easier task as the Rams, they'll host Melbourne University, who were defeated last week by the Rams.
The cellar dweller Pirates had the bye to regroup and try to score their first elusive win of the season. They will travel to Albert Park to face the in-form Power House.
Finally, Footscray will have the bye this week.
The games
Box Hill Broncos vs Melbourne Unicorns at RHL Sparks Reserve
Endeavour Hills  vs Melbourne University b at Frog Hollow Reserve
Moorabbin Rams  vs Harlequin  at Keys Road Reserve
Power House vs Southern Districts  at Albert Park
Footscray  Bye
The ladder