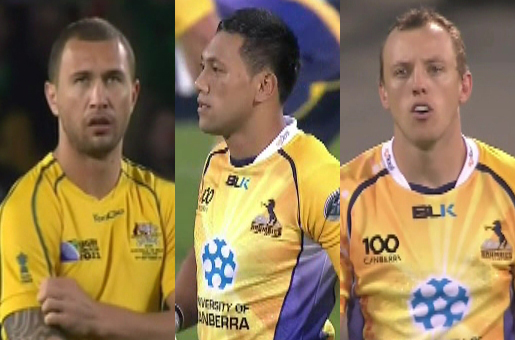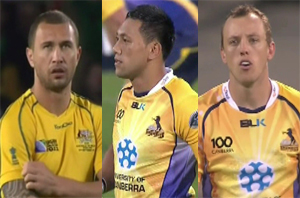 While I believe the Wallabies' best chance of defeating the Lions is to play attacking rugby, I also believe that Robbie Deans will use a more conservative game plan and that will shape his selection decisions.
I can't see Deans selecting Quade Cooper, Christian Lealiifano or Jesse Mogg to start the first Lions test and that's not because of form as I think they all deserve to be in the selection mix.
I think Deans will make selections based on five criteria in order of importance as follows:
Who best suits the game plan he intends to use;
Who can best counter the game plan he expects the Lions to play;
Who has the experience and past performances at international level;
Who forms the best combination with players around them;
Players in form in Super Rugby.
Cooper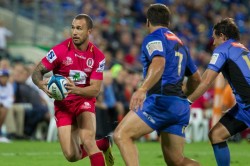 For me, selection criteria one and two are against Cooper at #10. Criteria three will be held against him by many, which I think will include Deans, and I don't even think Deans will make it to criteria four and five before deciding against Cooper.
While Cooper has shown he can play the tight game plan when required with the Reds, he plays best when he is directing a more open game plan, exactly the sort of game plan I think the Wallabies should be using. I think Deans will select a #10 who takes the ball directly to the line or distributes to a player outside him early so they can 'crash' the ball over the gain line.
Under this game plan Deans doesn't need Cooper's skill set in being able to get the ball into spaces that others can't or in creating holes for players to run into. This game plan also doesn't require the flat balls Cooper is so good with – instead it requires an early ball to allow the 'crash baller' to set themselves for the collision at the line.
Deans will also want to minimise mistakes and they are something that Cooper does make – it is the trade off for the opportunities he creates but not something Deans will accept.
Most of us expect the Lions to play a very direct game and based on the squad selected it's likely that there will be a big #12 in a red shirt running into the Wallabies #10 channel regularly. To counter that the Wallabies #10 will need to be a solid front line defender and while we have all seen that Cooper can defend, Deans hasn't seen him defending in the front line this year so doesn't know whether his improved defence with the Reds will translate into solid front line defence.
The reasons the Reds defend with Cooper out of the front line are not defence related, they are attack related – as an example the break he created for Rod Davies against the Blues last weekend would not have occurred if Cooper was not behind the line ready to launch a counter attack. However this strategic decision by the Reds will count against Cooper when Deans makes his selections.
I don't think that Cooper's combination with Genia, although brilliant, will be enough to overcome the other issues Deans will have with him. I expect James O'Connor to be the Wallabies #10 for the first test – when he runs he is direct and he distributes early to those outside him. He plays deeper than Cooper, which suits the 'crash ball' game plan and he doesn't crab across field like Kurtley Beale, which takes space and time away from those outside him. O'Connor has also shown he is a solid defender at international level.
Lealiifano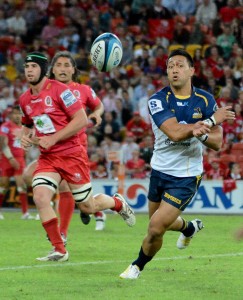 I believe that criteria one, two and three are against Lealiifano and criteria four doesn't help his cause. With no international experience, criteria three is an issue and without Matt Toomua at #10 for the Wallabies we don't know about his combinations.
Not many of us will be surprised if Robbie Deans goes with the game plan he used last year with a focus on the gain line. In attack this will involve using short lineouts with forwards in the midfield ready to truck the ball up on first phase and a #12 who can get the team going forward.
The player Deans will believe best fits that attacking game plan at #12 is Pat McCabe and I think Deans will also see him as the best under criteria two in defending against a very direct Lions #12. For me, Lealiifano offers far more in attack and there is nothing wrong with his defence but under criteria one, two and three McCabe will be the Wallabies starting #12.
Mogg
One of the other elements that Deans will rely on heavily with his game plan will be playing for field position. That will require players in the backline who are good, long kickers. Genia will be the #9 and kicks well, O'Connor at #10 kicks well enough whilst McCabe at #12 is not a kicking option – Adam Ashley-Cooper will be #13 and is not a great kicking option. That means that the Wallaby #15 must be a good kicker.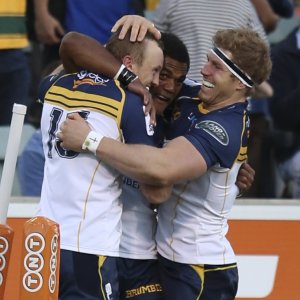 Jesse Mogg certainly meets the kicking criteria and his attack in 2013 has been outstanding. There have been questions raised over his defence but I haven't seen any real evidence of that this year. He is also solid under the high ball and meets criteria two with that attribute as I expect the Lions will employ a 'bomb squad' to test the Wallabies.
I expect Deans to pick one player to make their Wallaby debut in the first test – he will take the conservative route of selecting based on past international experience whenever the selection decision is close. I expect that Beale will be the Wallaby #15 based on his past deeds and the encouraging signs from the way he played for the Rebels against the Chiefs, particularly his combinations with O'Connor where he offers the option for the second play maker to come up in to the line. Beale can kick well and offers a good counter attacking game.
I expect Digby Ioane will wear #11 on his back, leaving the only player making his debut in #14 – Israel Folau.
I wrote this article before Folau starred in the Waratahs massacre of the Kings but the way he played in that match only served to confirm my view about his position in the Wallabies. He will play a big part in Deans' plans to counter the high ball threat from the Lions and is better than Mogg in that role under criteria two. I think it's very close under criteria one and Folau's big match experience playing international rugby league and State Of Origin gives him the edge under criteria three – even Jake White has questioned whether Mogg is ready for the Lions series.
I expect Mogg and Lealiifano will be in the 31 man Wallaby squad but not be in the 23 named for the first test – I suspect Berrick Barnes will be selected on the bench before they are. I expect that Cooper will miss out on the squad altogether.
If by chance I find myself sitting next to Deans on a plane within the next few weeks I'll let him know that I think Cooper, Lealiifano and Mogg should start and I hope I'm proven wrong with my prediction that they won't.