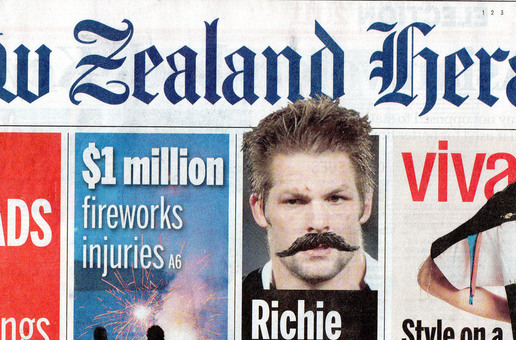 Latest News: All Black team named — Israel Dagg, Cory Jane, Conrad Smith, Ma'a Nonu, Hosea Gear, Daniel Carter, Aaron Smith, Kieran Read, Richie McCaw (c), Liam Messam, Sam Whitelock, Brodie Retallick, Charlie Faumuina, Keven Mealamu, Tony Woodcock reserves: Andrew Hore, Owen Franks, Luke Romano, Victor Vito, Piri Weepu, Aaron Cruden, Ben Smith.
If you were reading New Zealand's leading rag today you'd have seen the warning bells already ringing for the All Blacks in this week's Bledisloe Cup encounter — yes, the All Blacks.
The Suncorp Stadium clash this weekend is of course a foregone conclusion to the esteemed rugby writers of the NZ Herald. If you're interested, here's a few quotes about how they see the match going:
Not much hope for the Woeful Wallabies. Australian rugby is in a horrible mess. They'd have a hard time beating Canterbury [ITM Cup side].

This is not a Wallaby side that has the firepower out wide or collective clout in the forwards to even get close to the All Blacks.

The Wallabies have a dud bench. A super dud bench in fact.

It's impossible to hold much hope for the Wallabies. They'll get their beans — one giant serving of.

This game is alive but it's uncertain whether Australian rugby will be by the end of it.
It seems the All Blacks just have to turn up on Saturday and Bob's (or Shag's) your uncle, wiping the floor with these pesky no-names.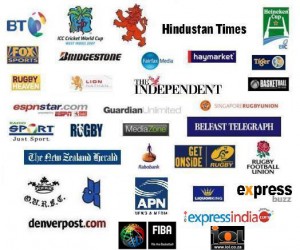 Apparently the ABs are only in town for a double celebration; their 17th consecutive world record equalling test victory and Keven Mealamu's 100th match.
I hope they plaster some of these insightful comments on the Wallabies dressing room wall in large font…
A few words of mine come to mind — arrogant, complacent and showing no respect for your opponent.
Apparently the mighty All Blacks are so far ahead of the world's 2nd ranked side that maybe the Wallabies shouldn't even bother assembling in BrisVegas.
Why don't we just have another Bledisloe Cup presentation ceremony at Suncorp? Surely they could rustle up a few of their sunshine seeking compatriots bludging living in Godzone…
Unfortunately, amongst all this arrogance there'll be genuine sadness surrounding the demise of AB coach Steve Hansen's father this week.
I'd imagine amongst the All Black camp a 'do it for Shag' sentiment will also play its part, and that's a genuine feeling to be respected.
On this side of the Tasman, we have a healthy regard for the quality of this All Black side.
There's a certain je ne sais quoi about them. A playing style that combines a brutal forward effort with the joie de vie of their backline — a seeming allowance to take risks, push the envelope and play with the confidence that comes with being on top of your game.
The fact that they have the skill levels and killer instinct to pull it off is obviously a bonus…
The danger for the All Blacks this weekend is to read and take cognisance of what clowns like Gregor Paul and his cohorts are writing.
I don't think this test will be regarded as a 'dead rubber' by the Wallaby team. I think they'll be trying to draw a line in the sand and build from that backs-to-the-wall win in Rosario.
Sure, the All Blacks are a cut above everyone else at the moment but any dropping of standards due to complacency or conceit needs to be severely punished.
From the first Bledisloe test against the All Blacks this year, there are six forwards in the starting lineup but only one back (AAC).


Most have succumbed to injury (Genia, Cooper, Barnes, Horne and Ioane). Now that's probably what you'd call a crisis?
Injuries have robbed us of a significant group of senior players but sometimes, just sometimes, the callowness of youth provides an energy that's infectious for all.
There are obvious question marks about the fitness of a few returning Wallaby players.
Cliffy Palu's direct running game is one we've missed but he isn't match fit and it remains to be seen how long he lasts, and how effective he'll be.
It was a good idea to leave Ben Tapuwe'e (or whatever he's called this week) at outside centre. I see him as our next long term answer in that position, so maintaining the combination with McCabe is important.
Ioane is a loss but the experience of AAC provides a balance and makes sense with the dearth of fit wingers, including the underdone Drew Mitchell.
Higgers is rewarded with an excellent performance in Argentina and Robinson's superior scrummaging game got him over the line.
The All Black side has yet to be named but I'd imagine they'll include all their big guns for this world record equalling tilt. It is still a Bledisloe Cup clash at the least.
We're going to need more than character and heart to defeat a team of this ilk. I don't think we'll be able to match their skill level but I'd be satisfied with a fired up Wallabies giving the All Blacks no quarter.
A win would be an upset. Let's hope the ABs believe their own press?