In such a short competition (only eight competition rounds), teams can hardly afford to let their concentration slip for one weekend. They who seek the premiership can be virtually buried by the settling of dust on the second weekend; those seeking a season of rebuilding may have soaring hopes or be resigned to another year as an also-ran by that same stage.
Such are the scenarios being lived by various teams after the weekend's fixtures.
Anglican Church Grammar School (Churchie) v. Nudgee College
In the heavyweight clash of the weekend, Churchie, licking their wounds from a stinging defeat at the hands of Toowoomba Grammar, sought to unseat title hopefuls Nudgee College, themselves having been rusty in round one. For Churchie it was make-or-break, and for Nudgee, an early loss could be critical. 2,000-plus loyalists ringed the field at kick-off.
The start was far from ideal for Churchie, losing their starting 12. Nigel Tanuvasa in the third minute. Destabilising at the best of times, to lose your man who is marking the competition's best player — that would be Australia A Schoolboys captain and Nudgee College 12. Jack Tuttle — meant things couldn't be much worse.
While Tuttle doesn't need others' accommodation to show his class, the injury certainly opened the door a little wider for him. In the eighth minute and off a poor Churchie lineout throw on the Nudgee 10-metre line, he pounced, seizing upon the narrowest of holes opened by Churchie's replacement, number 22. Angus McClanachan. A great offload later and with a strong carry over the line by their fullback, Nudgee were on the scoreboard. 5-0.
Seven minutes later and after repeated phases in the forwards and hammering the Churchie line, Nudgee spread the pill wide and made the most of a simple numbers overlap. 12-0. It was just a further six minutes before Nudgee again found space out wide, this time off a well-worked set move. Barely a quarter of the way through the match, Nudgee College led 19-0.
As may be apparent, the opening 25 minutes was a masterclass of schoolboy rugby from Nudgee. Their forwards set a fantastic platform, hitting every ruck without delay and with great effectiveness allowing quick ball to their own backs and stifling Churchie's attempts to gain any sort of momentum; Churchie had had barely any ball. Nudgee 10. Paddy James controlled play well and his combination with Tuttle saw their pack's dominance be capitalised upon.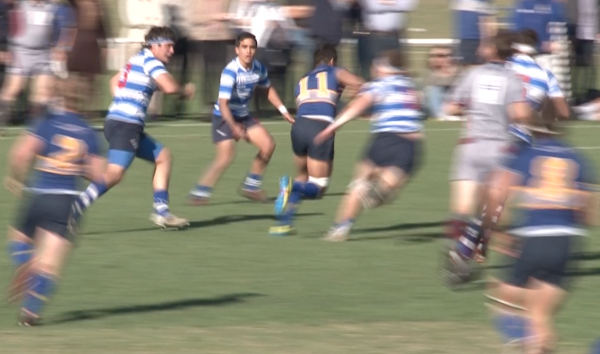 Things looked bleak for Churchie at this early stage, but they soon began to slowly work their way back into the match as played on the pitch (though importantly, were not able to convert this improvement into points…). There were two distinct and interrelated shifts.
First, whereas Nudgee had been committing serious numbers to the breakdown while in defence, they began to minimise their commitment – often choosing not to commit at all. They preferred to stand off and wait for Churchie's forward runners — the major means by which Churchie had made any metres to this point in the match. With the consequential faster recycling, Churchie's skilled backs sought the ball more often and were more daring with it, making some incisive runs and generally looking far more dangerous than at any earlier point in the match.
With their talent, Nudgee were able to absorb this attack, but without their dominant forward platform could not exert the same pressure they had done early in the match. Scores went unchanged for the final 15 minutes of the half and thus remained 19-0 at half time.
The second half opened with much the same to-and-fro as the end of the first. Both sides competed well and recycled relatively quickly at the breakdown. In the seventh minute Churchie failed to properly spread their defence after a clearing kick; the Nudgee counter-attack was quick and effective down the left wing. 26-0.
Minutes later, Churchie hit back after some patient build up work and were finally on the board with a cunning dive directly over the top of the ruck to score. 26-5.
Again after a frenetic opening, the half settled into an arm wrestle. Nudgee had a distinct territory advantage, though with some solid defence and grass-cutter tackles, Churchie were able to prevent any breach of their line. Just when it seemed the match would grind out with no change in score, Churchie made their first major foray into Nudgee's 22 in at least, well, 22-odd minutes. With a very quick tap off a half-arm penalty, Churchie were able to get over the line in the shadows of full time. 26-10
Nudgee College played periods of excellent football and did enough for the win, thoroughly deserving their victory. Fouled by injuries to their 12, and later in the first half to their 15, Churchie lacked cohesiveness in places and were unable to build pressure over sustained periods, despite many brief flashes of skill.
Title hopefuls Churchie will be left ruing missed opportunities, their title ambitions almost certainly gone after a mere two weekends' play. Meanwhile, the Nudgee juggernaut rolls on.
Brisbane State High School v. Brisbane Boys' College
In a dominant display, BBC were able to overpower State High 46-15.
With strong, gusting winds coming from over their left shoulder, State High came out to play a territory-based game plan. The opening 20 minutes saw them put frequent kicks to the corner, hoping that any BBC errors or indiscretions may be capitalised upon. As it would turn out, the strategy seemed a plain recognition of State High's almost non-existent offerings in attack.
Conversely, and somewhat as dictated by the weather, BBC played enterprising rugby from the outset, clearly coming out with an intent to play with urgency. They dominated the early clashes and in the sixth minute, scored a fantastic try down the right wing. 15. Josh Bowyer set off on a blistering run, linking up with 14. Noel McLean for the opening five pointer. 7-0.
Two penalties later, the score read 7-6 in the 16th when BBC put together some great passes for 14. McLean to get his second try in the corner. 12-6. Thereafter, the sides traded penalties, settling the score at 18-15 at the break.
BBC controlled proceedings in the opening half, but as with last week, struggled to put the finishing polish on much of this advantage. State High had kept touch through their industrious forwards without showing too much potential. The game appeared to be BBC's for the taking, if they could only make things click.
read more (including BGS v. TGS)…