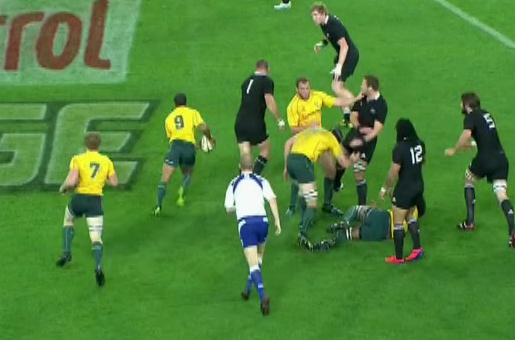 I recently asked my Twitter followers for some topics they'd like to see me analyse over the Christmas break. Dan Abrahamsen asked for my thoughts on how the Wallabies can attack the All Blacks' defensive structure. That's not an easy question. I'm sure there are coaches and analysts all over the world who've tried to come up with an answer, but I'll give it a shot.
The All Blacks use a variety of defensive structures depending on how the opposition are attacking. Their players are obviously very good at recognising which is the appropriate structure and that isn't something that comes without a lot of hard work in practice.
Most of the time they'll use a man-on-man structure and come up together in one line to create a black wall. Sometimes that will evolve into a drift structure if the ball is moved wide. Regardless of which structure they use, the key with the All Blacks is how hard they work off the ball to realign quickly and re-establish their structure if the opposition gains an advantage.
As with any team they do make mistakes, although they make fewer than most teams so opposition teams have to take advantage of every opportunity they get. Taking advantage of the opportunities doesn't necessarily require any spectacular play – if a team can recognise the opportunity early and execute basic skills they can make inroads into the All Blacks' defence. Far too often we see teams over-read the situation and try something risky when a simple play would take advantage of a mismatch. I've included some examples in the first video below.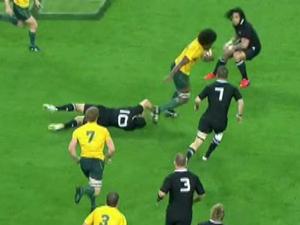 Finding weaknesses in the way the All Blacks defend is difficult but there are three areas where teams have had some success.
The first is on first phase from set pieces. I know some people believe a try should never be scored on first phase in matches between top international teams but the evidence says otherwise. No matter how well a team defends, a well designed first phase play (and that can be as simple as having decoy players running good lines) will often cause defenders to hesitate and that's often all you need. I've included some examples of first phase breaks made against the All Blacks in the videos below.
The second is in an area where I doubt most people would expect it to be. The 10/12 channel between Dan Carter and Ma'a Nonu yields more line breaks than any other area of the All Blacks' defensive line. Teams that run well designed and executed plays targeting that channel are likely to have some success.
The following video looks at those topics.
[youtube id="UIfffguNlSU" width="600″ height="350″]
The third area is using the wide channels, normally through a long pass, to get around the black wall. This is not just a matter of throwing the ball wide. It requires inside decoy runners to hold the All Black defence from drifting out early to shut down space in the wide channels. The number ten then has to have a good enough pass to hit the wider runner into the outside channel, either by passing in front of the decoys or by 'playing out the back'. A slow, deep or looping pass will not open up the space — those types of pass will just give the defenders time to drift across in cover.
Unfortunately, that's it. There are no really obvious weaknesses in the All Blacks' defensive structures — you really do have to look hard to find these opportunities. So, teams have to try and create opportunities by disrupting their structures more and that means testing them constantly – because even the All Blacks will make mistakes when pressure is unrelenting.
One way to disrupt defensive structures is to do the unexpected from time to time. The Wallabies have become very predictable in attack — they always take the shot at penalty goal, they seem to kick for territory the majority of the time and they run very few first phase moves. Taking the option for points is sensible but how would the All Blacks react if the Wallabies took a quick tap, rather than attempt a penalty goal? How would they react if the Wallabies run the ball in counter-attack when a kick seems the safer option? Whilst I'm an advocate for doing the unexpected from time to time, players have to be better with their decision making – why try a chip kick (which might be unexpected) when a three-against-two situation exists, which can produce positive results without the higher level of risk involved in regathering a chip kick? Similarly, early in a match when defences are fresher or late in a match when the score is tight, taking a quick tap rather than a penalty goal attempt is too risky.
Kicking has to be a part of the Wallabies' attacking strategy against the All Blacks as kicking helps turn the defence around. I don't think the Wallabies' level of kicking in general play is the problem many others do – the Wallabies kick no more than any other team. However, I do question the decision as to when to kick and the execution of many of the kicks is unacceptably poor. The first rule of kicking in general play for the Wallabies should be, once outside your own 22 only kick when the previous phase has got over the gain line – this way the kicking will become more of an attacking tool rather than a defensive play to try and get out of trouble.
For me, there are three keys to the Wallabies successfully attacking the All Blacks in defence:
Generate quick ball from rucks – this requires getting at least two players into each ruck quickly to clean out the opposition before they can disrupt the ball – it also requires the players not involved in that ruck moving quickly into position to offer themselves as ball carrying options for the next phase. There is no room for players walking around the field.
With players realigning quickly there will be multiple possible ball carriers that defenders have to think about and this places pressure on them. It may take multiple phases for gaps to start to appear in the defensive line but if questions are put to the defensive line on every phase, those gaps will start to appear.
With quick ball and multiple ball carrying options the number nine and ten need to be capable of picking which runner is in the best position to receive the ball and they need to have the ability to make that pass without the need to run across field (particularly when the opportunity is wide).
There's nothing revolutionary with those points and in fact, nothing that the Wallabies haven't done in previous matches against the All Blacks. You'll also notice some common themes to those espoused by Bob Dwyer on this site regularly.
If the Wallabies were to implement that sort of approach they'd have to adopt a more attacking mindset than was on display in 2012.
The following video looks at those issues in a little more detail.
[youtube id="NNNAJdgmqh0″ width="600″ height="350″]
I'll post an article over the weekend comparing the Wallabies' options at number ten to see which player best suits this type of attacking game plan.