Nick Bishop is an elite level video analyst and coach who has worked with the 2001 Lions, 2005 Welsh Grand Slam winners and England squads. In this series exclusive to Green and Gold Rugby, he gives a unique insight into how the Lions will view the Wallabies.
---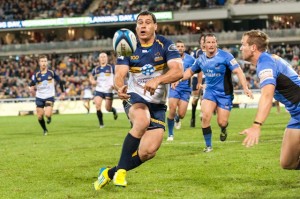 One of the most explosive mini-battles in the upcoming Lions series promises to be at the breakdown. Whereas in the 1980's there were approximately two set-pieces for every breakdown during a game, now the ratio is something like 1:4.
The two outstanding matches in the NH this season – England versus the All Blacks in December and Wales-England at the end of the Six Nations – were both won on the back of what Warren Gatland called 'controlled violence' at the breakdown.
The art of selection in the back five forwards has become a delicate juggling act between maintaining set-piece stability and boosting power at the all-important tackle area. With the depth in Australian rugby at the pivotal no.7 currently so good, there is a very strong argument to include two 7's in the starting line-up.
The Australian dream ticket
Even in the absence of David Pocock, I believe Robbie Deans had the opportunity to put together an outstanding back five forward unit for the Lions series, at least before George Smith got injured in the Reds-Brumbies match, and Scott Higginbotham followed with his dislocated shoulder.
That unit comprised a back-row of Smith at six, Higginbotham at no.8 and Michael Hooper at open-side, supported by a pairing of James Horwill and Rob Simmons at lock.
Smith's versatility
The effectiveness of that unit would depend greatly on Smith's versatility. He has played across all three back-row positions for the Wallabies, and I expect he would have been able to handle six as well as he adapted to n0.8 earlier in illustrious international career. Indeed the positioning of Smith at eight from defensive scrums in order to get him to the tackle as the second man rather than the first-up defender, was one of the small-but-significant keys to Australia beating the Lions in 2001.
Hooper & Smith as competitors at the tackle
Michael Hooper is not a heavy-duty 'jackal' at the breakdown in the mould of Pocock and Smith. His effectiveness is all about his quickness to the ball and dynamic initial impact at the early phase of the tackle in this video and again at 33:20 on the match clock below
http://youtu.be/BQ7z-DDsf20?t=16m15s
In the first three phases from a lineout in the autumn game against England, he is involved twice – on second phase as a tackler an third as a counter-rucker – while there is no English back-rower within 15 metres of the tackle area from 19:30-19:55 on the match clock  below
http://youtu.be/uWzZ5xU3-hI?t=38m53s
One thing Hooper is not is a 'sitter' who competes for the ball and can bounce off the cleanout [see England video at 13:45 and 14:00 on the match clock]. He is quite easy to shift if you can get a solid lick on him. Having both Smith and Hooper in the same back-row would have given Deans the best of both worlds – a pocket battleship over the tackle and the quicker, more dynamic link and instant turnover man.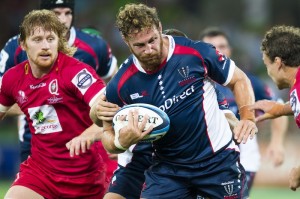 The Loss of Higgers
I believe a lot had been resting on Robbie Deans' assessment of Scott Higginbotham's development this June – at least before his injury. Over here Higginbotham has been regarded as a petulant, niggling player with a vast reservoir of physical talent, most of which remains untapped at Test level! Too often he has drifted in and out of games, and although I think the Reds' attacking pattern – dropping him back on to the nearside touchline and having him play from the 15m line outwards – was fine at Super rugby level, it formed some unfortunate habits that needed to be broken when he made the step up.
Installing Higginbotham as both the starting no.8 and captain was a psychological masterstroke by the Rebels coaching panel. Higginbotham had to
Play well to keep out another good player and a well-respected leader within the franchise in Gareth Delve.
Accept responsibility for both himself and his team-mates [and his/their behaviour] on the field as captain.
Involve himself far more in the decision-making and physicality of the play from no.8.
No.8 is a position where you cannot hide either physically or psychologically. You're one of the key first wave ball-carriers at the base of the scrum or from shortened lineouts, and you're usually in the backfield on kick returns. Physically you're at the pointy end of the game, and mentally you have to be pro-active in making choices of play. In my opinion the shift to 8 has helped Higginbotham's game immensely and the captaincy has matured him as a leader.
Now it looks like Deans will be forced back to Clif Palu, and a more orthodox back-row of Mowen, Palu and Hooper. I believe it would be a mistake to select Dave Dennis at 6. Dennis is an excellent lineout player but that is his only Test-worthy attribute. In particular he is a passive tackler who can be targeted from midfield scrums
http://youtu.be/BQ7z-DDsf20?t=59m11s
Replacing Nathan Sharpe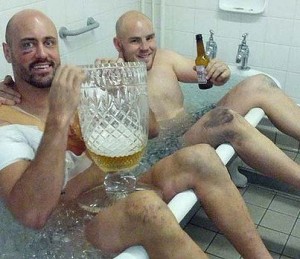 Sharpey was old but he was damn good! Even in his mid-thirties he was the Wallabies' lineout caller, their best tight forward defender and the designated 'sacker' of the driving maul from lineout. While the return of James Horwill is a huge filip, Deans needs to get a lot more out of the second locking position than he did in 2012. I believe the choice between the two main candidates, Rob Simmons and Kane Douglas [in the absence of Timani] will depend on who he selects at 6.
If Deans still wants to go down the two #7's route and pick Liam Gill with Mike Hooper, then Simmons has to play in order to give the Wallabies three genuine lineout targets. If he opts for Ben Mowen or Dave Dennis, he can afford Douglas, who is less of a genuine lineout option than Simmons.
Summary
The Lions look like they will be efficient at both the set-pieces and they have the potential to build a very large and imposing back-line in support of them. That makes the breakdown and back five forward selection even more crucial for the Wallabies. I think the absence of both Smith and Higginbotham will turn out to be a big blow to Deans' planning.
Smith could have handled 6 physically and added the bonus of two 7's over the tackle ball, along with his strong ball-carrying and superior reading of the game. Higginbotham was having a breakout year and his new-found sense of responsibility would have allowed him to blossom finally at Test level.
The selection of Smith at 6 would have also allowed Deans to build a greater contrast into his side by emphasising speed and high-quality skill-sets, particularly in the back-row/breakdown work and in the outside backs, and move further away from the Lions point of strength. Without him I think Deans will have to commit more to the arm-wrestle with an orthodox 6, and hope that the likes of Israel Folau and Beale receive just enough ball in broken-field situations to be able to do something with it.
My Wallaby team
Benn Robinson
Stephen Moore
Ben Alexander
James Horwill
Rob Simmons
Ben Mowen
Mike Hooper
Cliff Palu
Will Genia
James O'Connor
Digby Ioane/Nick Cummins
Christian Lealiifano
Adam Ashley-Cooper
Israel Folau
Kurtley Beale