Wednesday's rugby news has an explanation for all the away strips, the Wallaroos squad announcement, opinions on more World Cup teams and Joe Marler in peak media form.
Funky 'away' jerseys aid colourblind fans
The ABC reports on the reasoning behind "away" kits prevailing even when there is no clear colour clash. World Rugby says an estimated 300 million people live with some form of colour vision deficiency (CVD), which means they are unable to see or differentiate certain colour combinations — including World Rugby chairman Sir Bill Beaumont.
September 2021, World Rugby published its Colour Blindness in Rugby guidelines, which included thinking about kit clashes that might not be obvious to everyone who does not live with CVD. "World Rugby has worked closely with the participating unions and CBA to encourage certain kit combinations in an effort to avoid kit 'clashes' — where kit colours appear too similar to colour blind people due to a lack of sufficient colour contrast or designs," according to World Rugby.
In the case for the Portugal v Wales match, the Welsh alternative kit (black) would have clashed with Portugal's primary kit (dark red), which led to both teams agreeing to wear their alternative kit.
World Rugby tested all the kit combinations earlier this year to see how it would look on TV and in stadiums for both spectators and referees. G&GR remembers the 2007 Murrayfield 40-0 game between New Zealand (in black) and Scotland (in very dark blue) with the jersey clash making it virtually impossible to tell the teams apart. "In case you're wondering," said the commentator, "New Zealand are the ones with the ball".
Wallaroos announce squad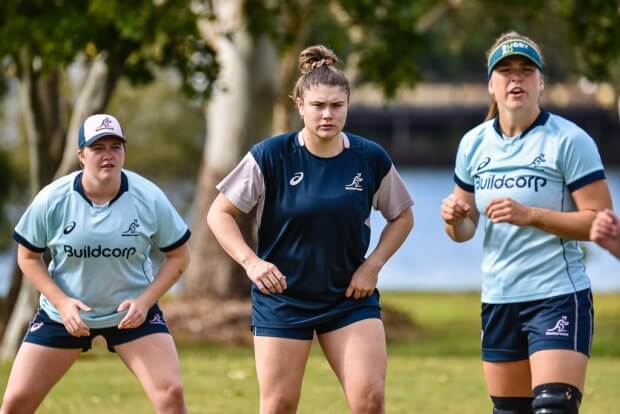 Nathan "I'm in France Hoss, how's Newcastle?" Williamson reports that Wallaroos coach Jay Tregonning has confirmed a 30-player squad for the O'Reilly Cup and the inaugural WXV.
[See link for full team list]
Tregonning has named four debutantes, with Reds back Mel Wilks called into the squad (after a strong club season for Bond University) along with Waratahs trio Brianna Hoy, Desiree Miller and Leilani Nathan. Wallaroos captain Piper Duck will remain on the sidelines after ankle surgery, with Michaela Leonard set to retain the captaincy.
"It was great to have the majority of the managed squad in camp during the first week of September at Ballymore, the new home for women's rugby," Tregonning said in a statement. "From this camp, the selectors have chosen a squad of 30 leading into the upcoming O'Reilly Cup and WXV tournament."
Waratah Atasi Lafai has been named, making her recovery after a heartbreaking injury suffered in last year's World Cup.
"The squad remains largely the same from the Pacific Four Series as we look to continue to build combinations and Test experience. New Zealand into England, France and Wales is an exciting way to finish up the 2023 season," Tregonning added.
The team will assemble at the Ballymore National Rugby Training Centre in Brisbane on 22 September, before travelling to Hamilton in New Zealand to face the Black Ferns in the O'Reilly Cup on 30 September. This will be followed by the WXV opener against England (October 20) before facing France (28 October) and Wales (3 November), all in New Zealand instead of somewhere nice.
WALLAROOS FIXTURES
Wallaroos v Black Ferns, Saturday 30 September, FMG Stadium, Waikato (Second O'Reilly Cup Match)
Wallaroos v England, Friday 20 October, at Sky Stadium, Wellington, 7:00pm NZDT (WXV1)
Wallaroos v France, Saturday 28 October, at Forsyth Barr Stadium, Dunedin, 7:00pm NZDT (WXV1)
Wallaroos v Wales, Friday 3 November, Go Media Mount Smart Stadium, Auckland, 7:00pm NZDT (WXV1)
A 24 team World Cup?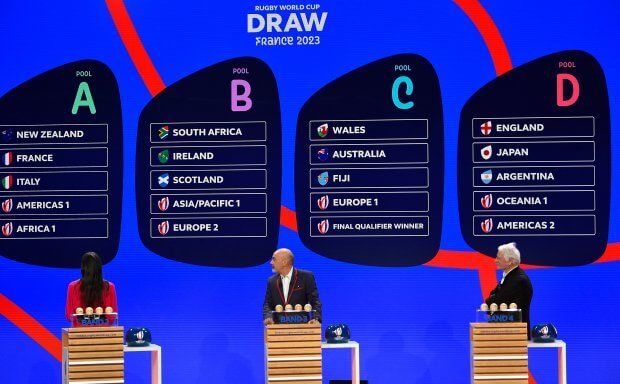 Stuff dot co dot unzid report the differing views on expanding the 20-team World Cup to 24 teams.
The Rugby World Cup began with 16 teams in 1987 and expanded to 20 teams in 1999. Only four nations – New Zealand, Australia, South Africa and England – have won the World Cup while Argentina, France, Scotland and Wales are the only other teams to make semifinals. The format has been a hot topic among rugby supporters because of the drawn-out nature of the World Cup, which currently takes seven (glorious) weeks to complete.
Wales coach Warren Gatland sees some merit in expanding the Rugby World Cup from 20 to 24 teams. "It is important that we continue, from a rugby perspective, to help develop these tier 2 nations. There might be a situation where we can increase the number of teams in the World Cup to 24, and that would continue to help grow the game."
English rugby writer Chris Hewett believes it would be better to give emerging nations their own World Cup division, and a promotion incentive. In a recent column, Hewett favoured "an elite 16 team showpiece played in primetime TV slots from Friday to Sunday, supported by a 10 team shadow competition screened on weeknights, perhaps bolstered by fourth-placed teams in the 'senior' pools."
This would "provide the ideal platform for your Romanians, Portugals and Spains, your Uruguayans, Chileans and North Americans, your Namibians and Kenyans. The prize? Automatic elite status next time round, after a cycle's worth of heavy investment, coaching support and proper fixtures."
Reclusive Joe Marler reluctantly engages with media
RugbyPass has published the transcript of a 'bizarre' unscheduled interview between England loosehead Joe Marler and a waiting media pack. Highlights are featured below:
Marler: You find a way to win in a World Cup. We'll keep trying and taking the lessons from each game. People like to say learnings but learnings isn't a word. He [Ben Earl who happens to walk by] says learnings all the time. It's not a word, is it? 'We'll take the learnings'. You're wrong. So we will take the lessons and we will keep trying to finesse. Ultimately it is about the win. We're not getting ahead of ourselves at all. You'll get the same boring cliched answer from me, we will take one game at a time. We'll rest up tonight, we'll play a paddle tournament tomorrow. Was I not meant to say that? Tough s***.  
Journalist: But there is always a team in a World Cup that builds that you don't maybe look at at the start, but then come through at the back end of the tournament. You can be that team… can't you?
Marler: Like I'd love to be that team, I'd love us to be that team where you build and build and build and then you're peaking. I'd love us to go on and win the World Cup. That's why we are here. We will have to just concentrate on taking the lesson, learning from them and trying and improve and keep building on that and taking one game at a time. That's so boring, isn't it, but literally what else could you do? If I stood here and went 'We're not thinking about Chile, we're not thinking about Samoa, we're trying to work out who we will be playing in the quarters', you lot would be like, 'Oh my god, this lot, they are not taking it seriously. Arrogant. These arrogant sods' and then we would live up to reputation and then it would just fuel more and all that but we're not. It's one game at a time and we'll see how we go.
Journalist: What do you make of Chile as an opposition?
Marler: It's a really patronising thing. They put up a hell of a performance, very passionate. I was looking at the map and I can't work it out. Am I not allowed to say this? I can't work out why is it so thin… does anyone have a history on that one?
Journalist: The Andes.
Marler: Yes, but it is so thin… Last one then.
Journalist: Can I ask how Steve goes about analysing a game? What is it, sort of four points he will give you? How has he sort of condensed not the learnings but the lessons?
Marler: Not the learnings because that is not the word.
Journalist: How does he give you the lessons? What is the format?
Marler: That's your last question?!
Another Journalist: Can we go back to South American geo-politics?
Marler: It's a combination of stats, player input, how we felt during the game, how we felt during previous games and we'll look at the opposition, look at the trends of what they were good or weak at and then later in the week we will narrow it down to focusing on ourselves and what can try to impose and that is the general format.