When Toulon owner Mourad Boudjellal was asked by the French rugby magazine Quinze Mondial to assess the change from Jonny Wilkinson to Quade Cooper at outside-half, he paused before replying
"It is difficult to go from foie gras to paté… Right now if I say that I'm not happy with our stars, it's only because we expect a lot. For now, Cooper is not what I was hoping for…"
Round six of the European Champions Cup is being played this weekend, and Toulon needed a bonus point win away to Bath on Saturday to ensure they finished top of their group – an ideal scenario for Cooper to prove his owner wrong, you would have thought, by producing the kind of virtuoso attacking performance of which we know he is capable.
In the event, by the middle of the second half the English commentator Austin Healey was moved to downgrade Cooper's performance from paté to spreadable cheese.
The main reasons for this were (probably):
Cooper's poor kicking game – of his four kicks only one found its target (one clearance went straight out on the full, another penalty failed to find touch, an exit sliced sideways into touch)
A 6/10 tackle count completion, with a couple of tackle breaks given up on two of the misses
Three passes to his Toulon team-mates which were either dropped or missed the target, plus one knock-on in a scoring position close to the Bath line.
Taking the ball to the line on only three occasions (13% of overall passes) to put the defence under pressure.
Scratch the surface however, and you find a club philosophy which is eminently unsuited to Cooper's style. Toulon are a forward-dominated team, as you might expect from a side with the likes of Duane Vermeulen, Juan Smith, Juan Martin Fernandez Lobbe and (up til last season) Bakkies Botha and Carl Hayman in their ranks. They have a kicking and breaking 9 and like to play off him, to get those huge forwards crashing over the gain-line.
In the Bath game, they compounded the issue by having Ma'a Nonu play at first receiver rather than Cooper on more than 40% of the backs phases and Nonu dictated the tactical kicking. As Cooper didn't take the goal-kicks either (James O'Connor did), it became more and more clear that Toulon don't know how to use Quade Cooper effectively. He looked listless and de-energised by proceedings and it was no wonder why. He was a marginal figure.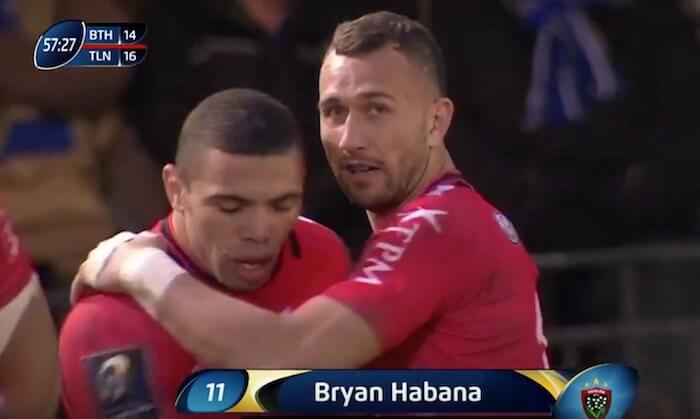 There was however one superb sequence in the 56th minute when Cooper came alive. From a midfield scrum, he received the ball at first receiver on 5 of the 8 phases in the sequence, took the ball to the line twice and finally delivered a perfect cross-kick which led to a try for Bryan Habana. This was Cooper at his best, pulling the strings of the attack and teasing the defence across the width of the field, pulling them this way and that over multiple phases with a full array of kicks, runs and passes.
So when Toulon's owner says he's disappointed with Cooper, he should take a look at himself and what he's created at Toulon first. The club has been the huge beast of European club rugby for the past 3-4 years, backed up by the greatest kicking 10 ever seen in the professional game. If he truly wants to see the beauty of Cooper 'flying across the pitch' as he says, it is the Toulon culture that needs to change to allow it.
For Cooper himself, well he probably needs to find another European club who are prepared to shape their game around his unique talent – or come back home before it's too late. If not, it will be a diet of spreadable cheese all the way.