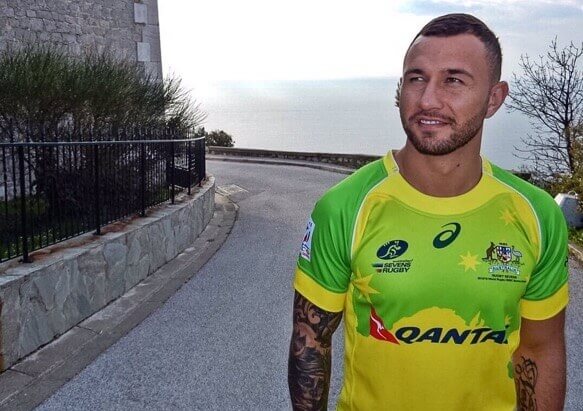 It's official: Quade Cooper has signed on to the national Sevens program. How excited should we be?
It's been a long time coming, with a few murmurs out of ARU HQ that Cooper couldn't get official clearance until he, err, was actually eligible to be an Australian Olympian. With the nationality qualifications for international rugby being (much) looser than those for the Olympics, the NZ-born Cooper didn't actually have all the documentation he needed to represent his adoptive country at Rio. Now he does, and rugby's worst kept secret is front page news.
Certainly, there was plenty of hoopla around Cooper's signing coming out of North Sydney this week. Administrators see Sevens as a potential big money earner to support the other rugby competitions; the stonking moolah brought in by the Big Bash League has not passed unnoticed.
Incoming Aussie 7s coach Andy Friend certainly hit all the right notes in responding to the signing:
We are delighted that Quade has agreed to join the national Sevens program. He brings with him an x-factor that I feel could add an extra dimension to our squad.
HOT STEPPER! Who wants to see @QuadeCooper​ strut his stuff at #Sydney7s?!? Tickets here: https://t.co/ZQUNLp8JJz https://t.co/YNabU4nkwG

— Sydney 7s (@Sydney7s) January 21, 2016
The issue with Quade isn't the X factor, of course; it's everything else.
His form with Toulon of late has been pretty poor, with Mourad Boudjellal describing the shift from Jonny Wilkinson to QC at 10 as "like going from foie gras to pate" (in French, a truly withering insult).
On attack, Toulon's reliance on a massive, slow-moving pack that contests heavily at the ruck and the set piece just isn't a good fit for Cooper's touch footy inclinations.
And on defence, let's just say that not much has changed with his idiosyncratic, ineffective one-on-one tackling style. It's hard to see how with only 7 guys on the pitch, rather than 15, that liability can be hidden in the long-term. Time will tell.
Either way, in all likelihood Boudjellal was as keen to offload part of Quade's contract as Quade was to get back to some rugby that he actually wanted to play.
World Sevens Schedule
The Sevens World Series arrives in Wellington and Sydney over the next few weeks, with seats at the SFS already all but sold out. Who would have thought dressing up like a superhero and boozing on in the sun was popular with the harbour city's upper crust? It'll be just like Randwick but in February: messy, expensive, and super fun. The Paddington pub owners must be licking their lips in anticipation.
Over the next five months, perhaps as many as 22 players will get a chance to play in the different tournaments and prove their worth for Olympic selection. Quade fancies his chances of making the cut and best of luck to him.