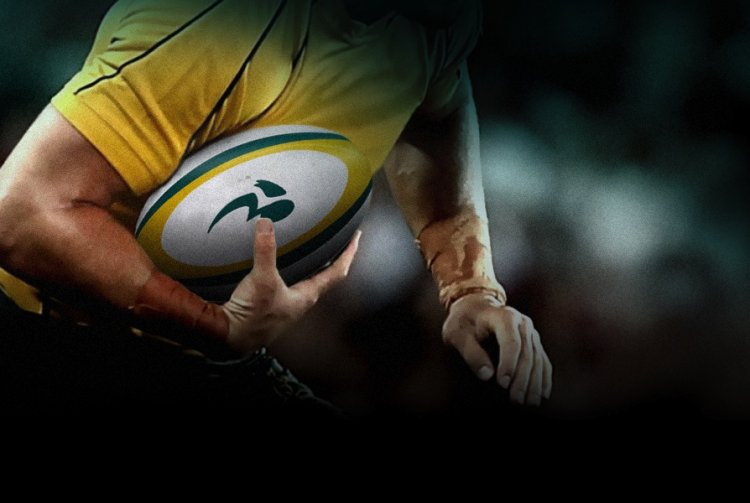 Wow. Only five players have worn the Number 7 Wallaby jersey in the last 123 tests.  That's quite a record.  It is the same sort of record as scrum half and in both scenarios the position is dominated by a test centurion.
The list of Open Side Flankers for the decade, and their starts, are:
George Smith (70 starts), Phil Waugh (39), David Wilson (7), David Pocock (6), David Croft (1).
What a high quality list.  The fact that David Croft only started in one test throughout this period is a fair indication as to the quality that was in front of him. Croft, more because of his lone start, was an obvious player to miss out on our top 3.  The other player was more difficult to cut. So let's go to the G&GR's selections.
George Smith
Smith's record is exceptional. He was a lay down misere for this top three list, which isn't shocking anyone. But he came very close to making the list for Number 8s and he is certainly in contention for the Blind Side Flanker short list.
His recognition this year by the readers of Green & Gold Rugby, as the Wallaby Player of the Year is the perfect example of why he is a stand out player. He, along with Stirling Mortlock, is the longest standing current Wallaby, having debuted in 2000.  Whilst Mortlock remains injury prone and is weighing up his options overseas.  Smith is firing on all cylinders. Perhaps it is because he has a player of the calibre of David Pocock on his tail. Or perhaps it's just a sign of his utmost commitment and professionalism.
Smith's test debut, against France at the end of the 2000 year, was purely a sign of things to come.   World Champion David Wilson had just retired and Smith was a teenage selected after only a handful of performances for the Brumbies. He would go on to be named Man of the Match, whilst also being yellow carded.  It was a typical action packed, yet eye opening, performance by the dreadlocked back rower.
Smith manages to mix the poaching skills of your typical open side flanker, with the strength and running ability of your typical number 8, plus the sleight of hand of your typical centre.  Add to this a sometimes frustrating, sometimes amazing kicking game and we have a truly once in a generation player.
Phil Waugh
Without discounting the career Waugh has had, you get the impression if it was for a few "if only's" it could have been something very special.  If only he wasn't born at the same time as George Smith.  If only we didn't have greater forwards strength, in other positions, that would have allowed us to play both Smith and Waugh together more often and more effectively.
It is my belief that if Waugh had been able to cement a spot in the Wallaby starting team than not only would he have been one of our greatest Wallaby forwards, but perhaps one of our greatest all time captains.  To me he seems the ideal captain for the Wallabies over the last five to six years.
Passionate. Uncompromising. Inspirational. Dedicated. Motivated. Resilient. All qualities that perhaps lacked in the Wallaby set up after the retirement of John Eales. Waugh had (has) them all as a player and it would have been some watching as he brought them to the Wallabies.
By no means as skilful as Smith, Waugh had the nous that made him a natural open side. He knew the angles to run, the tricks to pull and the plays to make.  A massively built man, Waugh wasn't the type to run in length of the field plays. Throw 20 metre cut outs or opt for a chip n chase.  But he was the one at the bottom of the ruck, or around the bootlaces, showing his team mates what he expected of them.

David Wilson
Now this was a tough decision.  For a lot of these 'cusp' players we had to make sure we were judging them on their contribution in the 'noughties' rather than relying on their form in the 99 RWC and previous.  For David Wilson, with the emergence of David Pocock, this was of particular relevance.
But David Wilson won through. Because David Wilson won Bledisloes. David Wilson beat the Springboks in the Republic.  Wilson didn't have the size of Pocock or Waugh, or the freaky skills of Smith, or even the raw-boned aggression of David Croft.  But it had guts, determination and a massive heart.
To see Wilson throwing his wiring body at the feet of opposition players as he fought for the ball, was undeniably inspiring.  To see Wilson pick himself up off the floor after yet another ruck had moved on was to see Wilson at his best.  To fight his way to his feet, in those days of rucking, and then race off to the next maul or ruck was to truly appreciate the player that Wilson was.
And then to see, on those rare occasions, Wilson actually get to run with the ball in space, utilising is much undervalued linking skills, was to share in this sense of thrill for Wilson himself as he was someway rewarded for all the hard work he does, with a bit of fun every now and again.
Wilson, along with Jason Little and Richard Harry, retired at the end of the 2000 Tri-Nations a winner, having retained both the Bledisloe and the Tri-Nations.  It was an appropriate end to a selfless player who got little of the recognition his higher profile team mates did.
*****
So what do you think? Did we get this one right? Should Pocock have got the call up? Man of the Match in two tests on the Spring Tour is some achievement.  Is Smith the certainty for the Team of the Decade I have suggested he is? Or does Wilson deserve more credit? Or Waugh even? Let us know by voting below and then leave a comment here or at the Blog to make your argument.
[poll id="53″]