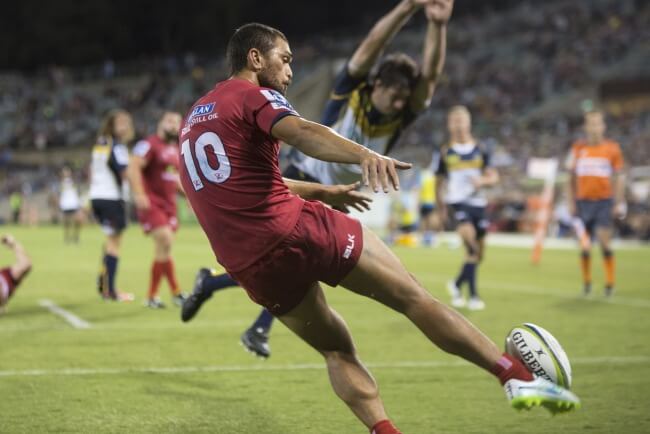 Having put the Crusaders to bed in pre-season, the Reds must have been pretty confident heading into Round One of the 2015 Super XV. Sadly for them they ended up on the end of a 47 point demolition and while it was a really good performance by the Brumbies, and a lot of credit must go to their coaching team, the Reds really made things hard for themselves with shockingly bad attacking play.
So with this video analysis I thought it'd be worth looking at two examples from the game last weekend to focus on how they corner themselves in.
As we know, a team doesn't need to dominate possession stats to win, they just need to be efficient with the possession they do have. But efficiency requires attention to detail, which means a low error count and as we'll see in the video that's one thing the Reds just don't have.
Error counts are generally focused on spilled ball or missed tackles, but in reality it means a lot more than those things.
One of the biggest issues is how deep the Reds are trying to play the game, without ever earning the right to do so, and throughout the video we'll see players:
sitting deep.
standing still when distributing or running laterally.
frequently failing to get to the gain line,
failing to break the tackle line.
forwards unable to get around the corner to carry hard again, meaning they essentially ruck backwards.
Now, new boy Karmichael Hunt understandably comes up in the video a lot, and it's easy to place a lot of the blame on him. We all know his background and, fairly or not, he comes with a huge reputation. Add the responsibility of playing 10 in his first Super rugby game means this was always going to be a difficult game for him.
But good half back pairings require two good Halfbacks and the Reds coaches will almost certainly be concerned about how little leadership Hunt is shown by way of Genia. Let's be clear here, Genia has 58 caps for the Wallabies and 98 super rugby caps – he is a veteran. In a new halfback partnership he did little to help Hunt settle in.
In fact my major concern as a coach would be how happy senior players seemed to be shipping responsibility on. Even in pressure/scramble situations all bar James Slipper were M.I.A and that is a big issue for any team with championship aspirations.
I'm a firm believer that a relatively average side can be competitive as long as they have cohesiveness and are all on the same page and sadly I just don't see that in the Reds at the moment. As a fan I'd be concerned about how little noise has come from the Reds camp concerning the quality of the performance.
The good news is the season is pretty lengthy and they have a lot of opportunities to turn it around, but with the Rebels and Force both getting big scalps the pressure is already on them to improve drastically.
We have a new video format with voice over, if you can get past my eloquent English drawl please let us know if it works better. For those who can't there are CC's you can just switch on in the Youtube control panel. :)