Welcome to week two of the G&GR Social Pages.

The week on twitter

What's my name again?
Understanding Players Part 2: Twitter (point #3). Nic: you make a valid point. One which would have had more credibility had YOU learned Robbie's name too.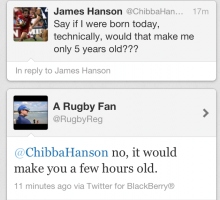 A leap of maths
February 29 only comes around once every four years. It can be a very confusing time. Very. Just ask James "Chibba" Hanson.
Feminist Quade
Quade Cooper, an established SNAG and noted gender-equality crusader, last Friday did his bit to redress the enormous gap in gender representation in sport and the media. In anticipation of International Women's Day on March 8th, he has taken a stand against a media that has for too long represented his female athlete counterparts as essentially sexualised objects, posed seductively in skimpy clothing alongside other scantily clad athletes, and he's decided to use his 90K followers to make a statement.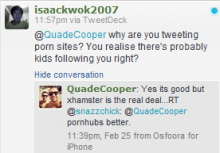 Well, we at GAGR salute you Mr Cooper, for showing us that wearing budgie smugglers in the presence of 5 other hair-free dudes (with no chicks) in a hot-tub is ok; for showing us that it's not weird to be so body-confident in such teenie-tiny swimwear; and for showing us what a REAL man's body looks like when the weather turns a little chilly.

We salute you Quade, and present you with this magnificent trophy * #

QC also answered questions about this illustrative challenge to hegemonic masculinity (google it) that exists in media representations of women today, establishing that although his photos are undeniably homoerotic, he's also a proudly heterosexual man. You know, 'cos he's single and he likes porn and sh*t..
Pulitzer Nominations
Post match celebrations aren't what they used to be Beau Robinson posted this beauty from the dressing sheds after the Reds defeated the Tahs. It's a far cry from sinking XXXX in the sheds at Ballymore.
World of Warcraft released on iPhone
The Rebels forward pack went out to dinner on Monday night to bond and work on their communication skills. In related news, all lineout calls for 2012 are less than 140 characters.
Blame it on the horse
This little-known newsmaker of the week came from the official Brumbies twitter feed. I didn't disagree with the assessment, but Digby Ioane tells me SANZAR takes a dim view of referee criticism from players and officials in social media. [May not have been his exact words…]



Interview Bingo
We could not have chosen a better debutant for Interview Bingo than last week's player, James "Kev" Horwill. A long-time friend of the site, we set him the challenge of saying every single square in his interview. Exhibiting the drive for excellence that saw him captain his state to a Super 15 title and his country to a Tri Nations win in 2011, he managed a feat none of us thought possible: he scored 0 from 16.


A clean sheet, and a truly remarkable performance befitting a man of his stature and intellect. We knew, watching it with our bingo cards at the ready, that we were witnessing history. It seemed only fair that we mark this magnificent accomplishment with a certificate (UN-laminated, Moses). Well played James.
Following in the footsteps of such a performance is never going to be easy, but we believe this week's guest, Gareth Delve, has what it takes to score 16 from 16. Up for grabs for the successful player: the satisfaction of a bunch of tweeters all tweeting "BINGO" at exactly the same time, and the eternal gratitude of us GAGR tragics.
Bring it home Gareth!