Hey Cobbers,
Welcome back all and sundry as the Green rejoins the Gold and the Noodles reconstitute as the Chew once again. I'll let others tell the tales of where we've been, whence and why we came and how we've all arrived back where we all started. It's been an adventure, but, however it's come to pass, here we are.
Comments on the Phoney War:
I made the point a few weeks ago that the roughly eight months between when Germany invaded Poland in September 1939 and when the Blitzkrieg smashed into France and the Low Countries in about May 1940 was a period in-which folk generally stood around, postured, sharpened bayonets, wrote nasty telegrams, but didn't really do anything of consequence. As such it became known as the Phoney War. In Aussie parlance, for folk of a certain age, I guess you would otherwise call it the Clayton's War as it was the war he had when we didn't really have a war.
And that's how I've viewed the quasi tests/friendlies/training sessions of the last few weeks as folk girded their respective loins for the Rugby World Cup commencing on 9 September.
Sure, shots have been fired, defences have been probed, different attacks have been trialled, some critical players have been absented, and plenty of nasty emails and column-inches have been written, especially regarding the likes of a certain English No10. But really, has it meant much? Has it accomplished much? Are we truly any wiser?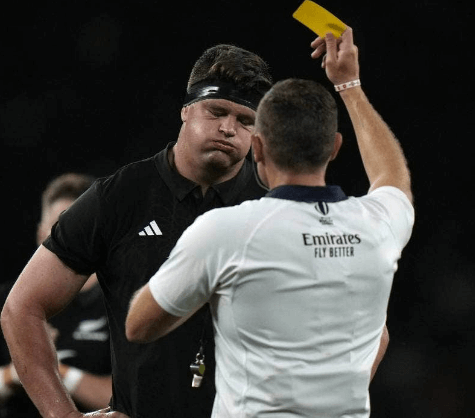 I mean, for instance, are the All Blacks to be written off after their 5-try shellacking by the Saffas? Do you really think so? Are the French as universally all-conquering as they seem? Are the Irish impervious to injury and the Samoans that good? Really?
Don't get me wrong, I'm not trying to minimise any ugliness or achievement. England are a mess. But we knew that already well before Fiji heaped further humiliation on their pile. And Fiji deserve all the kava they can drink. As for us, well we were already 0-4 under The Saviour Eddie Jones and so does the French defeat to be 0-5 tell us any more than was otherwise known? I don't think so.
Does this mean these matches are not useful? No. They are good tests for squads themselves, their cohesion, combinations, refining callouses, trying stuff and deepening the connections between players so necessary to being able to perform when the real pressure comes on. And surely these matches have commercial value as 85,000 Punters at Twickers for the Saffas versus the ABs proves.
But are such games good for really benchmarking between teams before the Big Dance starts? I'm not so sure. I'm not saying they are a joke – the tackles are still for real – but if folk think they are seeing all the cards in the pack, well…
So enjoy them surely, but don't read too much into them I fear.
Opportunity knocks… again…
Penrith Emus have been kicked out of the Canberra competition. As confirmed by the Canberra Times back in early August, the two year Penrith experiment in the John I Dent Cup is kaput. After not winning a single 1st grade game over that period, in having a number of absolute cricket scores registered against them, and after having their 2nd grade punted from the competition some months ago after repeated forfeits, the obvious outcome has come to pass.
So what happens now? I heard in the ever-reliable FaceBook world that an approach had been made to Sydney Subbies for Penrith to be given direct entry into Division 1 Subbies and that had been rejected outright. But that furphy was directly contradicted by Subbies themselves as John Morrison, Chairman NSW Suburban Rugby and Director NSW Rugby Union directly confirmed to Yours Truly that no such approach had been made to Subbies. In fact, it appears the opposite be true in that Subbies has reached out to Penrith on a number of occasions, and discussions were had, but no application to join Subbies has been forthcoming from Emus.
So what else could Emus do? Join with Campbelltown Harlequins and go to Illawarra? Fold?
I would say, yet again, this fiasco in western Sydney presents a golden opportunity for Rugby Australia to plant a flag for grassroots development and investment in the most fertile of grounds.
Given Penrith are on their knees, yet still have a recognisable brand, presence and physical footprint particularly in the Juniors, then I would argue it is incumbent of RA to act with NSWRU/SRU as stewards of the game, to take over the Penrith brand in some sort of a debt/equity arrangement. I urge they examine all avenues to establish some governance controls via an arm's length management team, put in place a five year road map for reestablishing independence, and then leverage the presence in western Sydney to finally begin a proper pathway to unlock the rugby potential of western Sydney. In both players and population, we all know western Sydney is a goldmine that is yet to be exploited by rugby.
So seriously, how many more Israel Folaus, Kurtley Beales, Will Skeltons, Tatafu Polota-Naus, Dave Dennises Mark Nawaqanitawases etcetera are lying there in-wait among the +700 schools and roughly +2million people between Parramatta, Richmond and Campbelltown for the right pathway to bring them through? Don't look a gift horse too hard or too long in the mouth lads.
Word around the campfires…
Finals season continues around the nation, and so big ups to the following:
Firstly, congratulations to the Galloping Green of Randwick for breaking their 20yr Shute Shield drought in posting a 17-15 win over North Sydney at Leichhardt Oval on Saturday.
Likewise, congratulations to Brothers who are the 2023 Hospital Cup Champions following their 26-24 win over Wests at Ballymore. And guess who was MOTM and is not in France…?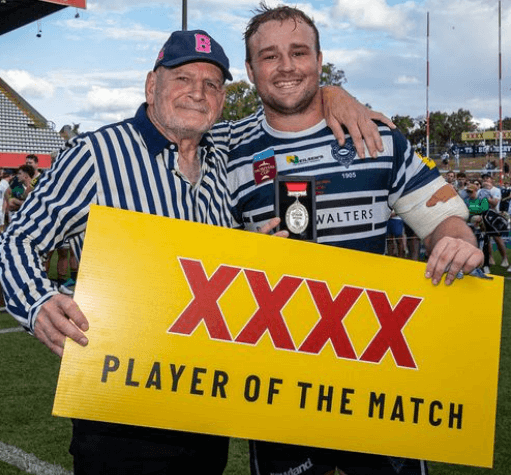 Down in the Victorian competition, congratulations to the 2023 Dewar Shield Premiers Harlequins for securing their 6th premiership since 2013 by defeating Endeavour Hills 39-26. In the Ressies it was Footscray defeating Quins 33-28 whilst in the Women's it was Endeavour Hills 29 who took the choccies over Melbourne Uni 26. Thirsty Thirds saw Moorabbin short-out the Power House by 24-21.
Digging deeper into my version of grass-roots and looking around more regional and country footy…
Congratulations to Coffs Harbour Snappers of the Mid North Coast competition, who made the GF in First and Reserve Grades and hosted the day. Word was that over 5,000 people came through the gates to see Coffs win 2nds over Bowraville Goannas, but go down in Firsts to the Port Macquarie Pirates by 24-17. And in the Women's game, Pirates defeated Grafton 26-15. Beers and Cheers to all involved.
Over in the NSW Country Central West zone, Bathurst Bulldogs became 1st grade back-to-back Premiers defeating Orange Emu's 57-27 in a grand final extravaganza that included 5 yellow cards (My God there would be some stories in that?!?). And for the record, the Bully Boys also took out 2nd grade by 36-12 and 3rd grade by 24-12, both over Orange City. Whilst in the Women's, Dubbo Roolettes inflicted Bathursts only defeat of the day in taking out the Women's Premiership 15-10 in extra time. And in Colts, Dubbo Roos made it a Double-For-Dubbo-Day and capped an undefeated season with their second successive Premiership, downing the Forbes Platypi 29-5.
A bit to the north and east, in the Hunter Suburban zone, the Nelson Bay Gropers capped off their season on Saturday night as undefeated Premiers in their 15-10 win over a gallant Singleton Rugby. And earlier on Saturday, in Hunter Rugby Premier 1, Maitland Rugby downed Merewether by 32-26 in the Big Show to grab their first premiership since 1999, while Wanderers pipped Merewether 17-11 in Prem 2 and the Women's went to Wanders 10-5 over Hamilton Hawks.
And on Sunday morning, amidst a host of other junior and age-group finals all around Sydney, out at Windsor, the mighty Blue Mountain 'Blue Tongue' U12's lost their GF to Coogee Juniors. Them be the breaks at times lads (and lasses) and congratulations to the Coogee gang, but know you did yourselves and your community proud.
And as for me, well my gallant 3rd grade mob bowed out 15-14 in our Preliminary final played at Concord Stadium. There was much drama in our match, as ever there is in finals, including an absolutely gobsmacking bit of foul play that went unseen and unpunished. But that's for history and another days tale-telling. Many thanks to GeorgiaSatellite and KARL for coming out to watch an old man charge about and make a fool of himself yet again. Either way, that's my boots packed away for another season. I reckon I've got maybe one more year of charging into folk left in me. But we'll see.

And to that end, if you find yourself at a loose end in Sydney next Saturday 2nd September, the revamped Concord Stadium is the place to be for the Sydney Suburban 1st Division grand finals. First grade in-particular will be a special match when at 3.15pm, the long-suffering Blue Mountains take the field in their very first first division first grade (Kentwell Cup) grand final against Hunters Hill. So go the Blue Goats! And go the Dirty Reds in 2nd grade (Burke Cup).
Well that's enough from me I reckon. Run straight, tackle brave and play hard Cobbers.
Leave your thoughts below…