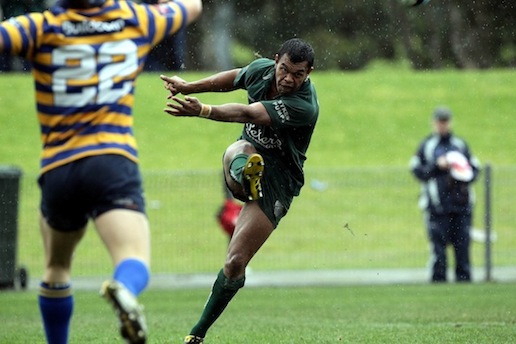 The Shute Shield will this weekend showcase the return to action of an Australian rugby superstar, as Qantas Wallaby Kurtley Beale pulls on the green shirt of his senior club side Randwick.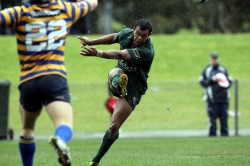 Following discussions with the Australian Rugby Union and the Melbourne Rebels it was decided that Beale would make his return to action via club rugby.  As such, the Melbourne Rebels playmaker will run on at fullback for Randwick in this Saturday's away fixture against Sydney University.  It is almost three years since Beale last played for the Galloping Greens in the 2010 Shute Shield Grand Final, also against the Students.
Playing down Beale's return, Randwick Head Coach Wade Kelly said, "The boys will be excited but it's not all about him. Each player does their own thing and Kurtley will slot in nicely at the back. He will enjoy it while he's here but our game plan is not going to change."
As well as providing a boost for Randwick, Kelly says that Beale's return is a positive reminder to players involved in the Shute Shield that the competition continues to serve as a breeding ground for Super Rugby talent.
"Representative footy is the next level for these boys and if they can play well then, like Kurtley, they will be picked up. The opportunities in this sport are vast and constantly growing, not only here but overseas as well."
Lining up alongside Beale will be winger Rennie Lautolo.  "It's great to see him back in the myrtle green," said Lautolo.  "Back to where it all started for him and I can't wait to play alongside him."
In other news, sports webcasting site Club Rugby TV and Business Plaza have today confirmed that plans to stream one game of every round of the Shute Shield live each week on www.clubrugbytv.com.au. The first game covered under the historic new agreement will be this Sunday's Round 9 fixture that sees Northern Suburbs take on West Harbour at Bluetongue Stadium.
ARU Chief Executive Officer Bill Pulver welcomed the additional coverage. "Club rugby helps to nurture and provide for our national teams so it is fantastic that Club Rugby TV will provide additional exposure for the game and our next generation of stars."
With the Shute Shield taking a break over the June long weekend, Round 9 of the competition has been split over two weekends. The first wave of matchups will take place this weekend, with Norths taking rugby to the Central Coast on Sunday, and four matches kicking off at 3pm on Saturday June 1; Warringah takes on Eastwood at Pittwater Rugby Park, Penrith host Parramatta at Nepean Rugby Park and Souths face up to Manly at Forshaw in the ABC TV televised game.
Round 9's second weekend – which has been purposely delayed to ensure that rugby fans across NSW can enjoy their weekly ABC TV match free of interruption over the holiday weekend – will feature Eastern Suburbs away to Gordon on June 8.
As always, the 2013 competition will be broadcast live on ABC1 throughout NSW and the ACT on Saturdays from 3pm. Interstate viewers can watch a full replay of each week's Shute Shield game at 3.30am on Tuesday mornings on ABC1 nationally and rugby fans everywhere can catch all the action online at anytime on ABC iView.
Alternatively, rugby fans across NSW can tune in to ABC Local Radio's new rugby show, Settling the Score with Niav Owens between 2pm and 5pm every Saturday, for all of your country rugby and Shute Shield news. You can TEXT the program with score updates from whichever game you're at on 0467 920 222 every Saturday afternoon.  Make sure your team gets a mention each week and keep Niav up to date with the latest scores from your competition.
Words by By Nicki Drinkwater, Photos by http://www.seiserphotography.com/
---
Shute Shield Round 9A Matches
Saturday June 1 (3pm)
Sydney University v Randwick @ Sydney University Oval 1
Sydney University: 1 Jeremy Tilse, 2 James Willan, 3 Sam Talakai, 4 Byron Hodge, 5 Liam Winton, 6 Tom Boidin, 7 David Hickey, 8 Tim Davidson (C), 9 Jake Gordon, 10 Stuart Dunbar, 11 Greg Jeloudev, 12 Tom Carter, 13 Michael Hodge, 14 James Dargaville, 15 Alex Rokobaro.
Randwick: 1 Faitotoa Asa, 2 Nio Halangahu, 3 Richard Aho, 4 Geoff Ingram, 5 Lai Vatadroka, 6 Seilala Lam (C), 7 Jack Johnson, 8 William Munro, 9 Harrison Boileau, 10 Cayden Matehaere, 11 Ethan Ford, 12 David Horwitz, 13 Terrence Hepetema, 14 Rennie Lautolo, 15 Kurtley Beale/Toby Brown.
Referee: Simon Moore
Warringah v Eastwood @ Pittwater Rugby Park
Warringah: 1 Ben Ryan, 2 Rob Kelly, 3 Richard Southan, 4 Ben Adams, 5 Vincent Wright, 6 Pierce Howell, 7 James Casey, 8 James King 9 Joshua Holmes, 10 Scott Bradley, 11 Brad Dixon, 12 Edmond Doyle, 13 Michael Adams, 14 Conrad Gillingham, 15 David Feltscheer (C).
Eastwood: 1 Jed Gillespie, 2 Tod Pearce, 3 Marty Plokstys, 4 Jared Barry, 5 Mitch Lees, 6 Gareth Palamo, 7 Hugh Perrett (C), 8 Sione Tau, 9 Shanin Proctor, 10 Jimmy Hilgendorf, 11 Nick Batger, 12 Michael McDougall, 13 Tom Hill, 14 Nick Reilly, 15 Ben Batger.
Referee: Michael Hogan
Penrith v Parramatta @ Nepean Rugby Park.
Penrith: 1 Peter Niumata , 2 Kerren Straker, 3 Nigel Vaifale, 4 Williw Tooala, 5Sione Pusi Fifita, 6 Vai Sosaite 7 Pita Tupou, 8 Leo Burgess, 9 Siaa Taveuvu (C), 10 Fokolulu Taumalolo , 11 Henry Lilomaiava, 12 James Umu, 13 Wilson Silipa, 14 Keori Okati, 15 Solomona Silipa.
Parramatta: 1 Nick Blacklock, 2 Myles Hunkin, 3 Luke Troy, 4 Ian Parkinson, 5 Adam Coleman, 6 Josh Kaifa, 7 Rodney Ma'a, 8 William Tuitupou, 9 Troy Lobendahn, 10 Sam Yakopo, 11 Sosene Anesi (C), 12 Tukia Muli, 13 Damien Fakafanua, 14 Moses Tavola, 15 Dan Rawaqa
Referee: Nathan Pearce
Southern Districts v Manly @ Forshaw Rugby Park. (ABC TV Game)
Southern Districts: 1 Michael Alaalatoa, 2 Duncan Chubb 3 Tim Metcher, 4 Andrew Leota, 5 Jake Douglas, 6 Luke Smart, 7 Jono Hayes (C), 8 Lopeti Timani, 9 Grayson Hart, 10 Rohan Saifoloi, 11 Alex Gibbon, 12 Rayhan Laulala, 13 Faleula Finau, 14 Ollie Ngungutau, 15 Ben Volavola.
Manly: 1 Andrew Collins, 2 Dave Porecki, 3 Tim Fairbrother ©, 4 Ryan Melrose, 5 Dylan Sigg, 6 Harry Bergelin, 7 Kotoni Ale, 8 Daniel Alley, 9 Adam Crerar, 10 Marshall Milroy, 11 Damien Reti, 12 Brian Sefanaia, 13 Jacob Woodhouse, 14 Richard Hooper, 15 Tom Chesters.
Referee: Matt O'Brien
Sunday June 2 (3.10pm)
Northern Suburbs v West Harbour @ Bluetongue Stadium
Northern Suburbs: 1 Cruz Ah Nau, 2 Scott Podmore, 3 Nick Lah, 4 Michael O'Hea 5 Chris Thompson, 6 Hugh Sinclair, 7 Sam Figg, 8 AJ Gilbert (C),  9 Michael Dowsett, 10 Scott Deruda 11 Jack Grant, 12 Michael Freeman 13 Bill Meakes, 14 Peter Schuster, 15 Liam Windon.
West Harbour: 1 David Lolohea, 2 Reg De Jager, 3 Vaughan Lomax, 4 Alfred Pinomi, 5 Chris Simons, 6 Tom Games (C) 7 Cohen Masson, 8 Matt Coles 9 David Osofua, 10 Jack Debreczeni, 11 Tito Mua, 12 Winston Wilson, 13 Henry Seavula, 14 Alofa Alofa, 15 Shaun Treweek.
Referee: James Arden
Shute Shield Round 9B match – Saturday June 8 (3pm)
Eastern Suburbs v Gordon @ Woollahra Oval
The teams for this match will be announced next week.