I'm sure all Wallaby supporters looked up at the scoreboard throughout most of the weekend's semi-final with Argentina and wondered how with the tries we were scoring the Pumas seemed to stay in touch. One element of that were the scrum penalties awarded to Argentina, which accounted for 6 points and plenty of pressure released. We'd become used to seeing that work for the Wallabies, rather than against them.
Against the Scots it was Sio who was largely wrongly accused, in this match Slipper took the fall. So let's go run the cheat-o-scope over the scrums with the starting Wallaby front row involved for some scrum analysis to see what really happened.
Scrum 1 – 3 minutes
Argentinian feed. The Wallabies are always keen to win the engagement as it lays the platform for forward motion, which will more often than not carry the day.

It's possible the Wallabies have overcooked it with their shove in this one, but what's clear in the scrum above is that Herrera (the Puma tighthead at the top of the screen)  either can't, or won't handle the pressure coming onto him from Slipper. Note how he shortens his bind and then reefs it inward as he moves backwards and then hinges, dropping the scrum. This short bind will become a feature of the rest of the day's scrums between the two.
Regardless, Barnes awards the early engagement against the Wallabies
Scrum 2 – 8 Minutes
It's Wallaby ball. The scrum is low, and stays steady. There's some action on the Slipper/Herrera side that Barnes is inspecting, but we get no footage.
The ball is out quickly and a bullet pass from Foley later, AAC is over in the corner. Try Australia.
Scrum 3 – 24 Minutes
This scrum had been re-set twice and Wayne Barnes needed a culprit.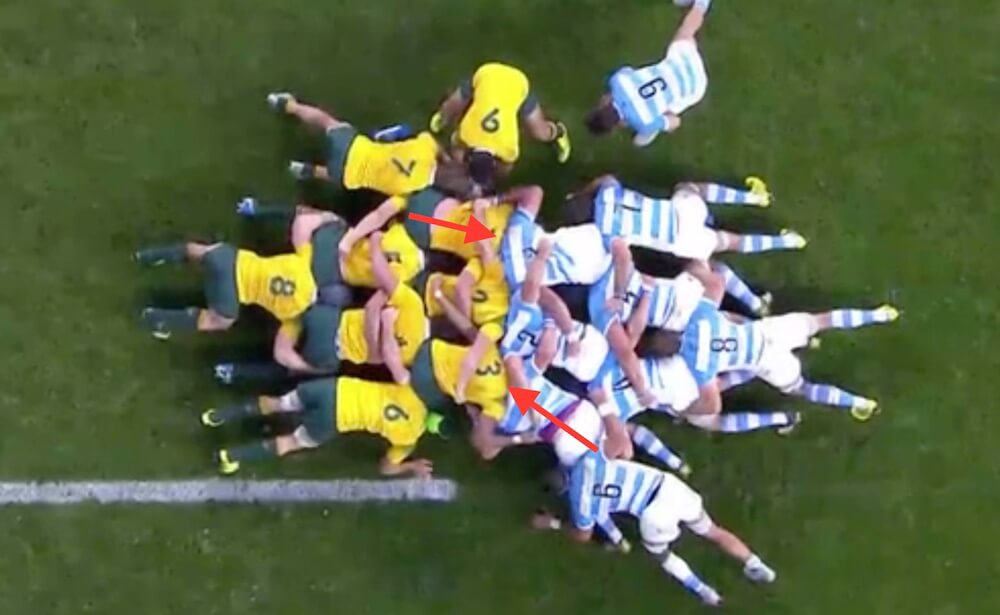 From set up you can see the shenanigans both sides were prepared for. Slipper is angling in slightly – note the telltale half bind from Hooper behind him to accomodate the angle.  But they have nothing on Ayerza the loose-head on the other side of the scrum, who is almost at 45 degrees.
Also note the short bind reappearance  from the Argentinian number 3 Herrera, which is on Slipper's shoulder. Compare it with Kepu's in this shot – a long bind. As 'Who' pointed out in a comment on Brian Smith's article, the removal of the hit and call of 'bind' was supposed to ensure all binds were long, but Barnes and the assistants aren't checking for this.
(FYI – Kepu also shortens his bind soon after the feed, he's no mug either).

Watching the scrum replay from Barnes' viewpoint, I was shocked at his decision. As is clear, Slipper is angling up and under Herrera while moving forward. This is something Herrera isn't willing to tolerate and he pulls his ejector seat rip-cord – otherwise known as Slipper's arm – to the ground.
They seem to move in tandem, but two things give away that Herrera is the culprit.
The first is the fact he's in the weaker position – note that when they hit the ground, Herrera has hinged and folded, while Slipper is straight-backed. Contrary to Barnes' ruling, Slipper hasn't lost his shape – quite the opposite (this might have been clearer had Slipper chased with his feet a fraction earlier). And why would a prop going forward over his own ball on his 5m line drop a scrum?
Second, you can clearly see Herrera ripping Slipper's shoulder down, with enough force that Slipper actually loses his bind half way through. If it was Slipper pulling Herrera in, he would need to keep hold of the Argentinian to make this happen.
Barnes and the commentators get this one wrong, but it's what forms opinion on Slipper's overall performance and gives Herrera a tactic he'll use all night.
Scrum 4 – 28th Minute
Once more we see very little from the camera angle but again the Argentinians are awarded a full penalty on their own feed for early engagement from the Wallabies. Barnes says to Moore:
"Stephen, when your loose-head is constantly moving his feet when it's stationary, it's a clear signal to me that you're not holding."
By that he means Slipper is driving early. Moore asks if the Argentinians are taking the hit and Barnes says "without doubt". You have to wonder if Slipper's movement hasn't got more to do with Herrera's tactics.
Scrum 5 – 30th Minute
Down a man, and having substituted their injured Captain and hooker Creevy, the Argentinians go full mental on the Wallabies feed.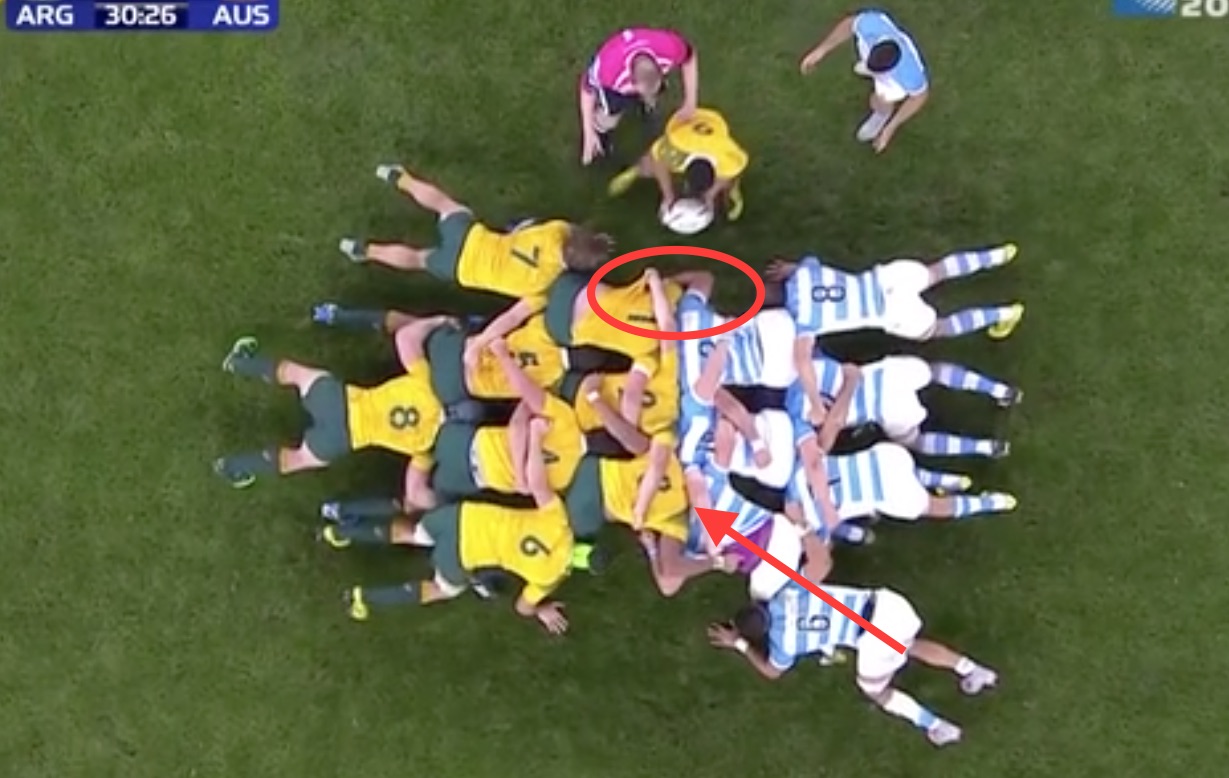 It's hard to know what Barnes is looking at, because Herrera is once again binding directly on Slipper's arm (circled) right in front of him. Herrera must be bound on either Slipper's back or side.
Ayerza launches himself diagonally at Kepu who is struggling to bind on the Puma's body armour.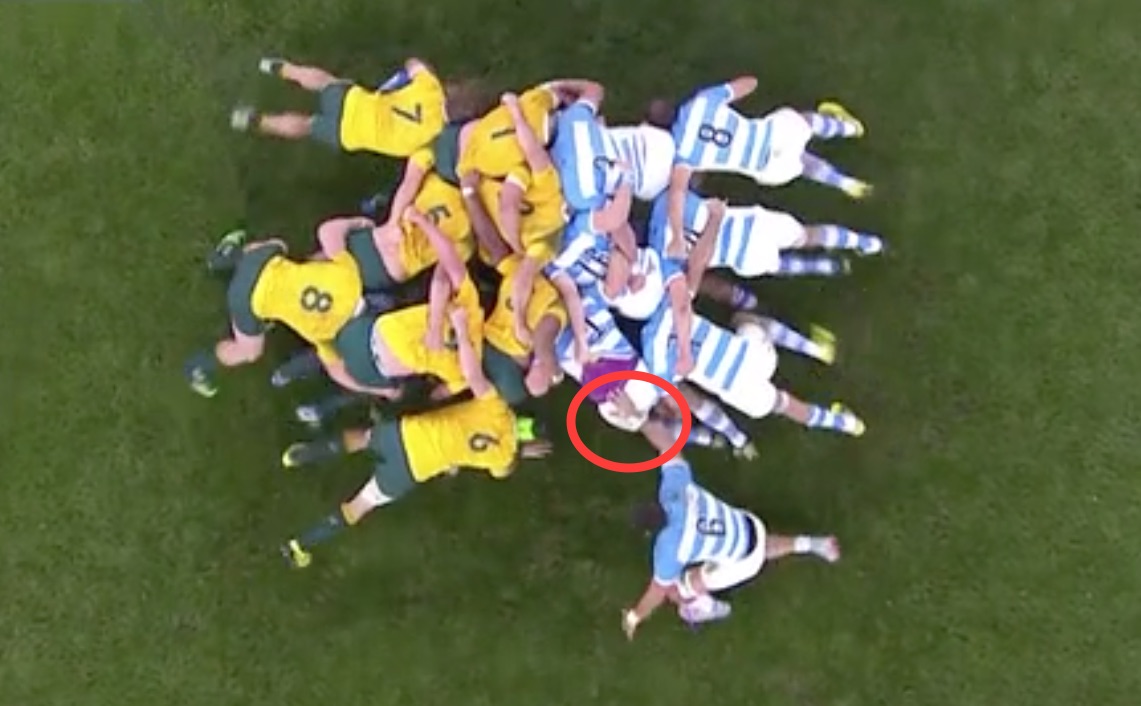 Wind on a few moments and we can see that Ayerza's bold/mental move has paid off. Kepu is neutralised and the scrum is driving though Moore onto a compromised Slipper.
Meanwhile the Puma six Matera is barely holding a pretence at binding anyone, indeed he'll be fully detached before Pocock has picked up the ball.
The Wallabies just manage to get the ball away from the crabbing scrum. Nine phases later, AAC has his second try of the night.
Scrum 6 – 39th Minute
The final scrum of the half  is a Wallaby feed five metres out from their try line and ends up incredibly low before collapsing.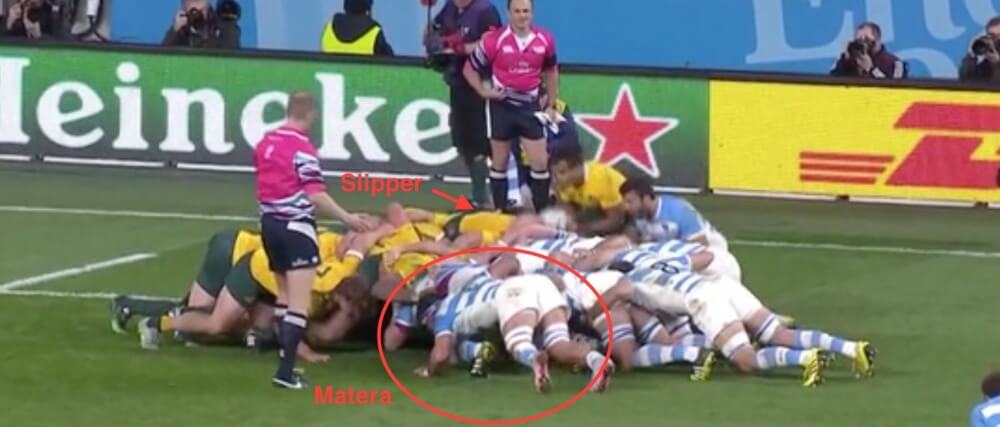 Of the six props, Slipper's back remains the highest and the collapse comes from that side of the scrum. Without vision though it's impossible to know what happened – Peyper certainly has a good view.
Yet again Ayerza is clearly angling in on Kepu as you can see Matera is  solely binding on his prop's backside rather than his lock's back. Law 20.3 (f) says
"All players in a scrum, other than front-row players, must bind on a lock's body with at least one arm prior to the scrum engagement."
The Pumas, and the other teams we've analysed facing the Wallabies in this World Cup have packed most scrums this way, and to me this seems an easy way for refs to spot if a team is setting up to angle in prior to engagement. Yet I can't remember seeing a penalty for it, ever.
Scrum 7 – 44th Minute

By now Herrara knows he can bind on the arm and turn in Slipper with impunity.

In this scrum he does it again, but combines it with a good drive from Argentina. By now an easy penalty to the Pumas and three points.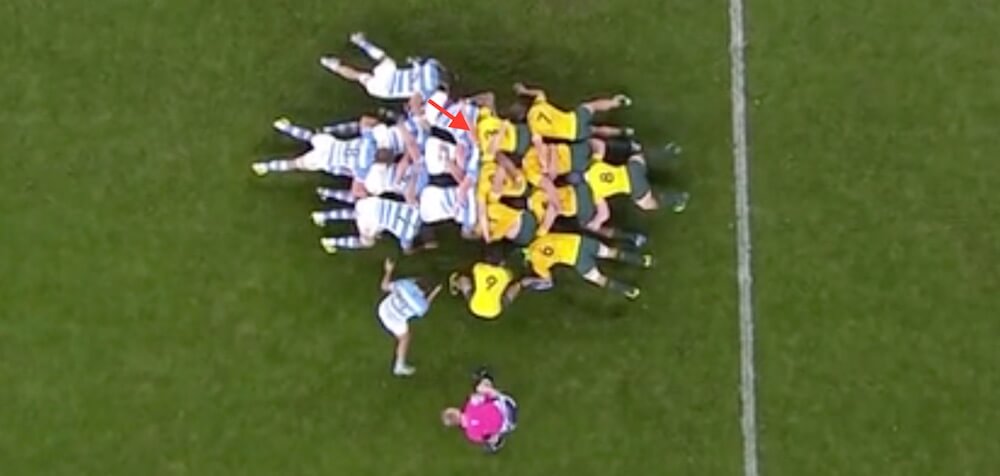 Just in case you were wondering about what Ayerza and Matera were up to on the other side of the scrum…..
The effect of Herrera's bind on Slipper's arm at the bottom of the front row is also clear from this shot.
This was the last scrum with the original Wallaby front row and both props are substituted before the next one.
Upshot
It's tempting to look at the number of clear infringements the refereeing team missed here and use them to explain away the Wallaby scrum performance, but we shouldn't. Sure, they contributed, but it's a lot less likely that Herrera would have been able to work his tricks if Slipper had been in a more powerful position both through his own body shape angling up under the Puma, and better timing of the Wallaby drive. Without these two things the Wallabies were left open to a strong and wily Argentinian pack determined to not let the Wallabies get the better of them.
While I don't expect the All Blacks to be as wild west as Argentina was, they have form particularly at loose head for creative geometry. The Wallabies will want to put on their best show yet to ensure they get an advantage in this crucial area of the game.