In 2015, and during this Rugby World Cup particularly, we've become used to the Wallaby scrum being an attacking weapon and points generator. Against the Scots on Monday morning it was the opposite – generating three penalties from which Scotland took 9 points; vital in what became a 1 point ball game.
So how did it happen? Let's go through those scrums up to and around the penalties that impacted this match so much. As you'll see, Scotland mixed power with guile to gain a crucial advantage in the match.
Scrum 1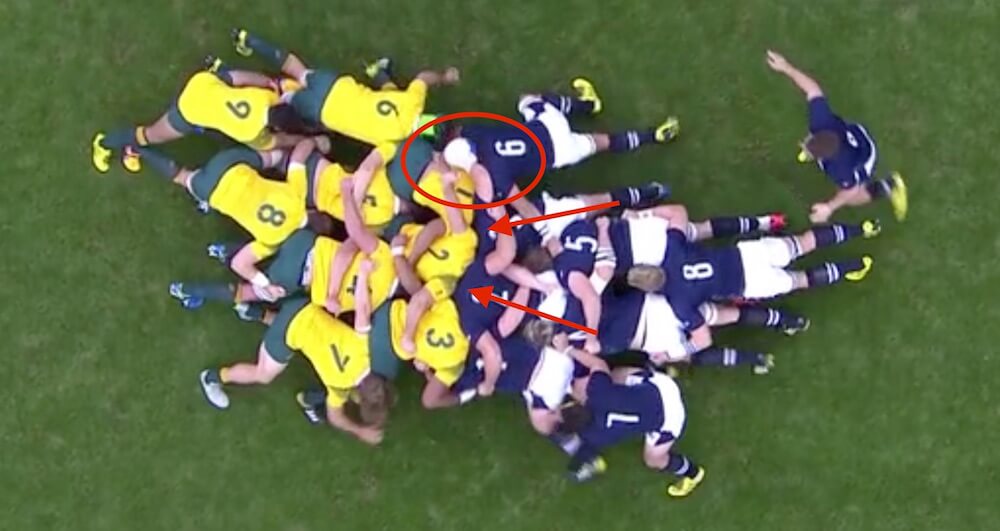 First scrum of the match. It's the Wallabies feed in the Scottish half and they get the ball away fairly quickly, but not before the Scottish tight-head (Nel) and Hooker (Ford) pincer in on Moore leaving Sio isolated. For good measure the Scottish 6 rides up and and into Sio in an effort to make him collapse.
The Scots targets have become clear.
Scrum 2
Five metres out from the Scottish line. The Wallabies appear to get a slight shove on before it collapses and Scots clear it. Poor camera angles make it difficult to tell much.
Scrum 3 – First Penalty
This is a good scrum from Scotland. They start by getting a shove on which is key.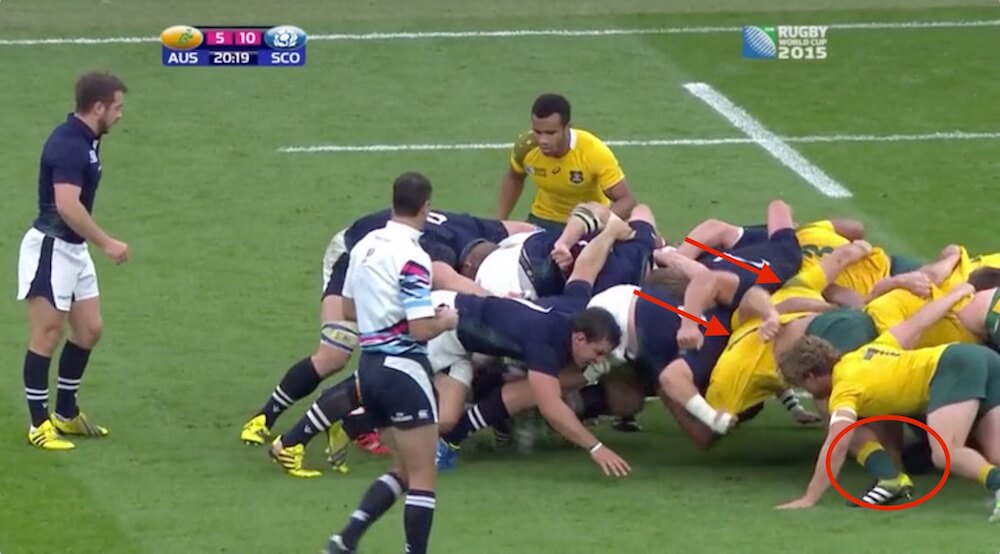 It is an angled drive which comes across onto Moore and Sio.
Moving backwards and across, Moore goes down onto one knee (circled), destabilising Sio who then folds and collapses.
This is an important scrum win for the Scots – from it the referee team see dominance in a shove and a collapse on Sio's side which they rule on. This is their first data point. Laidlaw takes the three.
Scrum 4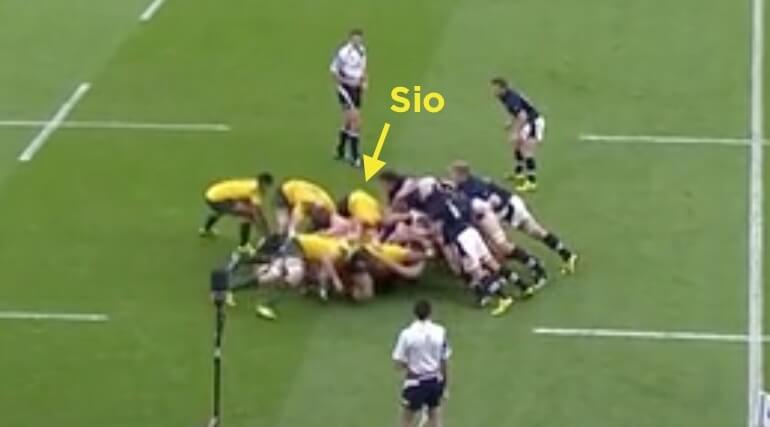 On Wallabies ball, the scrum finds stability and then suddenly starts to lurch sideways towards Kepu before collapsing with a wheel in on Sio. The camera pans back far too far, but it appears the scrum collapses in the area of the hookers.
As you can see above, Sio's backside is sticking up and out almost at right angles to the scrum. This is consistent with Nel and Ford driving in and down onto Moore, spinning Sio out.
Scrum 5 – Penalty 2
Scottish feed just outside of the Wallabies 22.
From this angle it's not easy to see who out of Nel and Sio goes in first, but note Nel's bind; it's very short and is pulling Sio's jersey. This is because Nel is driving through his left shoulder in on Moore, exposing the underside of his chest which Sio is forced to drive onto.
At the same time the rest of Scottish pack is also attempting to wheel around onto their left shoulders through their loose head Dickenson. In doing so Nel's lock Jonny Gray loses connection with the tight-head's hip. The combination of Nel's angle in with no power behind behind him and Sio driving on what he's been given results in the popping of Nel's arse (and feet) into the air before he then twists and collapses in.
The overhead shows the alignment better. Note the alignment of Dickenson and his bind on Kepu's shorts as he looks to pull Kepu's hips out while driving in. Nel is angled and driving in on Moore.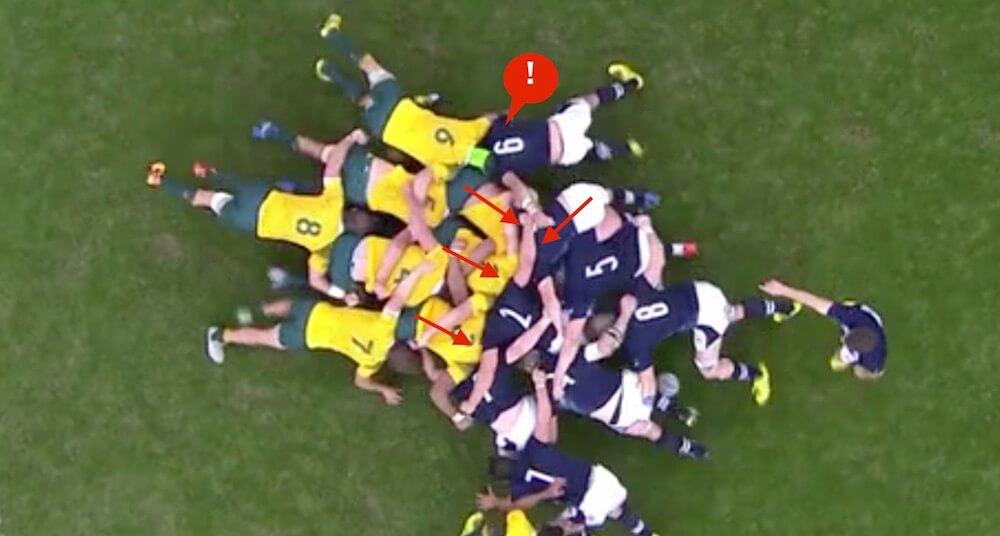 Just before collapse we can see how the scrum has evolved. Nel's lost contact with his lock and has popped out. Sio is actually relatively straight next to Moore and Kepu with power coming on. Cowan (!) has yet again decided to slide up and bind onto the other half the scrum, in this case to try and protect Nel.
Overall: in slo-mo overhead freeze frame you can see that this scrum was a Scottish ploy that backfired. From the assistant referee's perspective it looks like Sio has pushed Nel in and that's what gets called. This is now two data points  – 1 real and one perceived – in Scotland's favour. It's also three points on the scoreboard to Scotland.
Scrum 6 – Penalty 3
This time the Scottish left wheel works.
Unfortunately we get no overhead shots.

But what we do see from side on is that as the Scottish power comes through the left side, Kepu and Moore's knees hit the ground.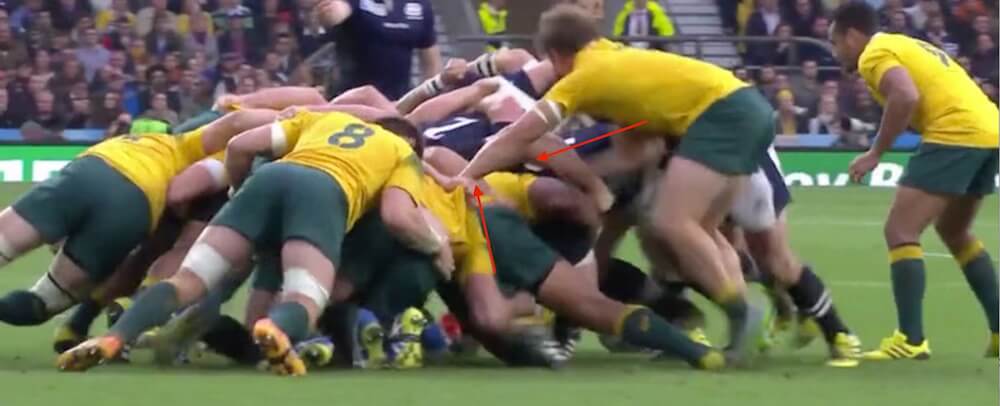 As the scrum collapses we get a glimpse of the angles. Dickenson's is looking more acute and you can see how the Wallaby scrum has been crunched in from that side. While we can't be sure from these pictures, the most logical (and from the last scrum, historical) answer is that Dickenson has bored in on Kepu as part of the Scots left wheel which they've at least partly won through the power they applied and the Wallabies didn't deal with.
However, the referees already have two data points they've awarded against the Wallabies and this will make a third.
The tally is now nine scoreboard scrum points to Scotland.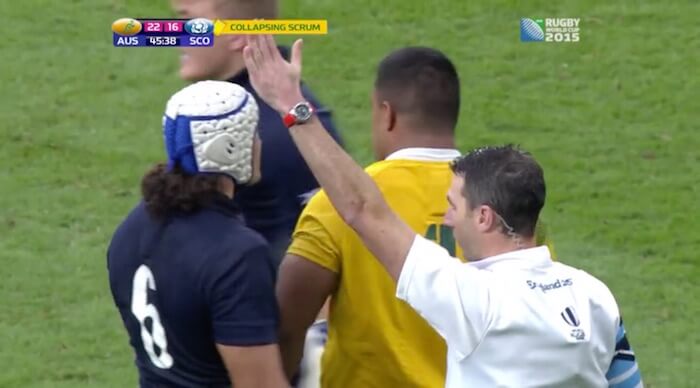 Note though it was Kepu's side that went down, not Sio's even though the cameraman decided that was the case (above). JP Nel  – lauded as Sio's nemesis in this match – is also replaced after this scrum. Sio is injured in the next scrum and so we also have new Australian front row combination as well.
In summary  – like they did in so many other facets of this game, the Scots played the hand they had to perfection, using a manipulation of subtle angles combined with coordinated power through the Gray brother locks to generate an impression of dominance over the Wallaby scrum. What the Wallabies were missing in this match was the drive that had neutralised such shenanigans from England and Wales. Was the back five complacent?
Regardless, if the Wallabies thought this was a test, wait until they see Argentina……