Congratulations to a severely depleted and traumatised Reds grinding out an 18-6 win over a disappointing Western Force in Brisbane.
The wrap-ups by Coach Michael Foley – "We were outmuscled at the breakdown and murdered at the set piece" and Captain Sam Wykes – "No excuses – weren't up to it tonight" – says it all.
This was a very difficult game to watch in replay to collect the ruck statistics.
Remember:
Early means 1st or 2nd AFTER the ball carrier has been tackled and brought to ground.
Impact means active engagement: strong physical contact, changed shape of ruck, clean-out, protecting ball etc. (more than hand on someone's bum or arriving after the hard work has been done).  Yes it's subjective – but as I collect all data at least it's consistent.
Impact DOES NOT equate to Effectiveness. I've concluded that coming up with an effectiveness measure is just too hard.
Reds vs Western Force – What do the Ruck Statistics tell us?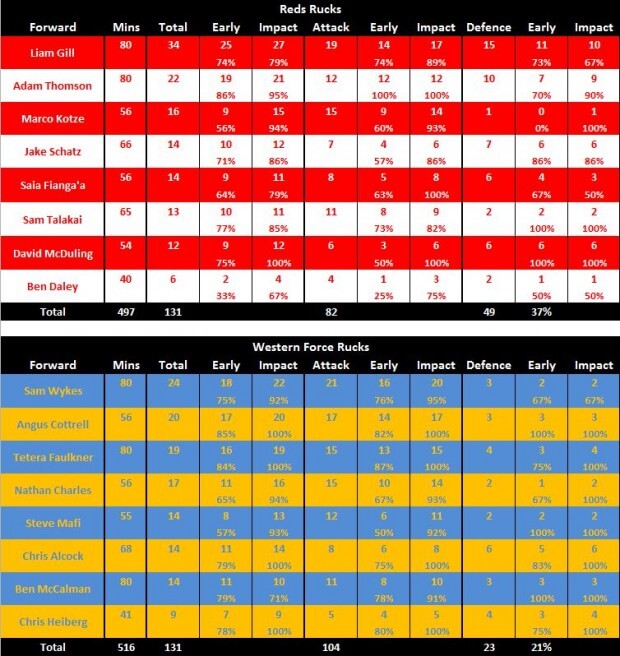 Comments:
Ruck involvement by the Western Force forwards showed the same trend which appeared in the game plan by the Wallabies in the latter stage of the 2014 Rugby Championship and continued through the November Tests: standing off defensive rucks and only engaging when there was a clear advantage and opportunity to gain a turn-over. As in the game against the Waratahs, Force forward rucks in attack outnumbered rucks in defence 4:1.  The Force backrow gained three turn-overs (Chris Alcock 2, Brynard Stander 1).
Ruck involvement by the Reds forwards, particularly by Liam Gill and Adam Thomson, showed a more traditional game plan with a higher level of involvement in defensive rucks. Reds forward rucks outnumbered rucks in defence about 2:1.  The Reds backrow gained 6 turnovers (Liam Gill 4; Adam Thomson 2).
Liam Gill was the standout forward/backrower and clearly outpointed his opposite No 7 Chris Alcock. Liam Gill earned 4 turn-overs, had 2.5 more ruck involvements, but also had 13 tackles (at 87% effectiveness) and 4 carries for 15m gain.  Chris Alcock generally showed a faster arrival and more impact.
Adam Thomson clearly outpointed his opposite No6 Angus Cottrell. Thomson showed a more sustained effort, similar speed to and impact at the ruck, had a strong lineout performance, 2 turn-overs, made 14 tackles (at 93%) and 4 carries for 16m gain.
Gill and Thomson worked extremely well together with effective individual and joint ruck involvement.
Angus Cottrell's effort was a good follow-up to his game against the Waratahs with sustained early arrival and impact
Ben McCalman clearly outpointed his opposite No 8 Jake Schatz with faster arrival time and more impact, similar tackle count (10 at 100%) and strong ball carries (8 carries for 51m).
Sam Wykes was the best performing lock with ruck engagements and tackle count nearly equal to Kotze and McDuling. Both Kotze and McDuling generally have higher impact upon rucks.  Steve Mafi showed an improved ruck performance over his game against the Waratahs.
Honours fairly even for ruck involvement by Nathan Charles and Saia Fianga'a.
Tetera Faulkner also showed a markedly improved ruck performance compared to last week, and gains the ruck honours for props for his 80 minute effort. Special mention to James Slipper who had 14 ruck engagements (71%/100%) in his 28 minutes.
Chris Heiberg's ruck effort was marred by his Yellow Card for transgressions at the breakdown.
Ruck involvement was clearly not a strong point for Ben Daley with slowest arrival and minimal impact.
The following tables show ruck involvement for each 10-minutes of the match.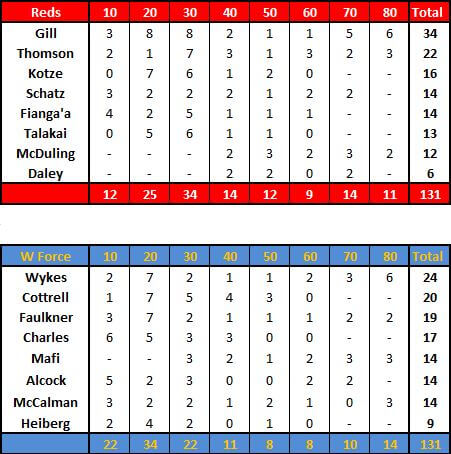 Comments:
Commendable 80 minute efforts by Gill, Thomson, Wykes, Faulkner and McCalman.
Number of rucks 40-60 mins impacted by focus on scrums.
Other significant ruck efforts:
Reds     
Kuridrani – 15 rucks (73%/67%)
Slipper (28 min) – 14 rucks (71%/100%)
Force    
Hoskins (24 min) – 15 rucks (67%/80%)
Rasolea – 13 rucks (85%/100%)