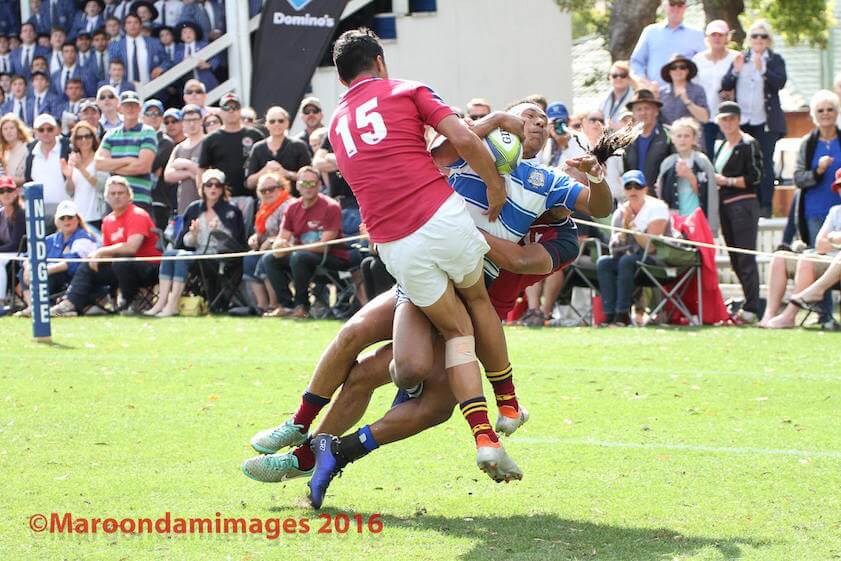 Green and Gold Rugby is pleased to present another round of coverage for Queensland GPS First XV Rugby.
Across the grounds, Brisbane State High have hit an unassailable lead in the Premiership race following a terse one-point win over Nudgee College in Green and Gold Rugby's Match of the Round.
While they cannot be overtaken, State High will need to beat The Southport School at Fursden Road if they hope to stave off a dreaded shared premiership.
That may prove not so easy a task as they might have hoped – Southport are fresh off a 52-14 spanking of defending champions Churchie, who are themselves suffering a down year. Unpaid Intern covers that match below.
For Nudgee and Terrace, next week's annual grudge match has been given an extra splash of hot sauce. If Southport can beat State High, the winner of the 'Battle of the Colours' will join a three-way tie for the Premiership. If State prove too strong, this match will decide who earns the silver medal and avoids a potential three-way tie for third.
Terrace enter the match having clawed back a win over Brisbane Boys' College, 38-27. ChekMate covers that match below also.
Brisbane Grammar School have won their first match of the year, 46-35, over Ipswich Grammar School, putting a question mark on the seemingly assured mid-table finish for their south-western neighbours.
Up the range, Toowoomba Grammar have won the only match of Rugby that actually matters in 2016, the annual O'Callaghan Cup fixture against Downlands College, 33-29.
Special thanks to the wonderful cast of photographers and videographers who assist Green and Gold Rugby; HJ Nelson Photography, Holly Hope Photography, Maroon Dam Images, DoubleTake Live and Hugh Bray.
With those results, the table currently stands:
Game of the Round: BSHS 29 defeated NC 28
Nic Darveniza
Brisbane State High School have broken a five year premiership drought with a 29-28 victory over St. Joseph's Nudgee College at Ross Oval.
State High outscored Nudgee five tries to three, but an 18-pt performance from Nudgee College flyhalf Augustus Rangihuna kept his side within reach from start to finish.
A long range try to x-factor Willie Malala appeared to have secured the win for Nudgee with two minutes to play.
Instead, State High showed tremendous courage to win back possession and score a Premiership winning try in final play through Australian Barbarians winger Jordan Petaia.
Rangihuna got his side on the board with a fifth minute penalty goal on Nudgee's first raid into territory.
Those points would prove especially valuable as the first half descended into an arm wrestle.
State High manoeuvred into position to reply through a tackle-busting run from Queensland Schoolboys centre Quinton Mahina, but a teammate dropped it over the line.
Though Nudgee dominated the set piece and structured play, State High found rhythm and often looked to press their advantage in the open field.
With five to play, State High's forwards put the team on their back and pounded the ball onto Nudgee's tryline.
Consecutive penalties earned Nudgee a yellow card warning before blindside flanker Josh Fenner stretched through the line to score.
Fenner's brownie points were quickly washed away as the towering flanker spilled a simple pass inside his 22m.
Nudgee centre TJ Meni received a perfect bounce to dive over the line untouched to score a lightning fast retort.
Rangihuna's conversion was successful and with a little under a minute to play in the first half, Nudgee had found an added spring to their step.
Attacking with urgency, Nudgee worked to the State High 40m line as time expired.
A deliberate knock-down rewarded Nudgee with a tough penalty attempt which proved no issue for Rangihuna, sending Nudgee into the sheds ahead 13-5.
Discipline continued to sting Nudgee as a raft of penalties carried State High upfield early in the second half.
Prop Lloyd Gorman took a quick tap five metres out and slammed into the defensive line for a well-taken try.
Fullback Murray Taulagi missed the conversion, leaving Nudgee ahead by a single point.
Winger Ryan Shepherd went close to striking back almost from next phase but couldn't capitalise.
Returning for penalty advantage, Nudgee kicked ahead with a third penalty goal to flyhalf Rangihuna in the 42nd minute.
Josh Fenner continued to make amends by single-handedly winning a turnover from kickoff before charging onto a weighted pass to split the defence, stepping the cover defender to score.
Isaac Crone stepped to the plate and kicked a perfect conversion, putting his side ahead 19-16 with 25 minutes to play.
It got worse for Nudgee as star centre Semisi Tupou was dealt a yellow card for an ugly challenge contesting the kick-off.
Five minutes later, another penalty against Nudgee opened room for winger Jordan Petaia to dance through the line, pushing State High out to a foreboding 26-16 lead
Consecutive breakdown penalties against State High forced openside flanker Bryce Luff off the field with a yellow card, opening room for Nudgee to hit back.
Nudgee built pressure for several phases before captain Rangihuna slipped out of a tackle, extending for the line and finding it in the 57th minute.
Semisi Tupou was ushered back onto the field as Rangihuna nailed his sideline conversion.
Trailing 23-24 with 12 minutes remaining, the game and resulting premiership hung waiting in the balance for Nudgee in front of a boisterous Ross Oval crowd.
Another flash of brilliance from Rangihuna sent the flyhalf racing through the line, linking with fullback Malala on a long cutout bounce pass.
Malala showed incredible hands to reel in the pass before turning on the jets to score in the corner.
Rangihuna couldn't convert his toughest kick yet, leaving Nudgee ahead 28-26 with just five and a half minutes to defend it.
State High won back their kickoff for the third time and drove to the line, but were penalised for hands in the ruck with two minutes to play.
An overthrown lineout gave State High one last sniff at victory, 30 metres out.
State High punched through the middle before swinging it wide to Murray Taulagi.
Recognising front rowers from the lineout were the only defenders left on the wing, Taulagi drew the final man and kicked outside for Jordan Petaia to jog in an untouched try, stealing back the 2016 Premiership with a buzzer-beater.
State High will be crowned champions for 2016, but will have to defeat The Southport School at Fursden Road in Round Nine in order to go solo.
If Southport can pull through away from home, Nudgee will have one last chance to share in the Premiership with a Round Nine grudge match against Gregory Terrace, at Tennyson.
Brisbane State High School 29
Tries: Josh Fenner (2), Lloyd Gorman, Jordan Petaia (2)
Conversions:   Isaac Crone (2/4), Murray Taulagi (0/1)
St Joseph's Nudgee College 28
Tries: TJ Meni, Augustus Rangihuna, Willie Malala
Conversions:   Augustus Rangihuna (2/3)
Penalty kicks:  Augustus Rangihuna (3/3)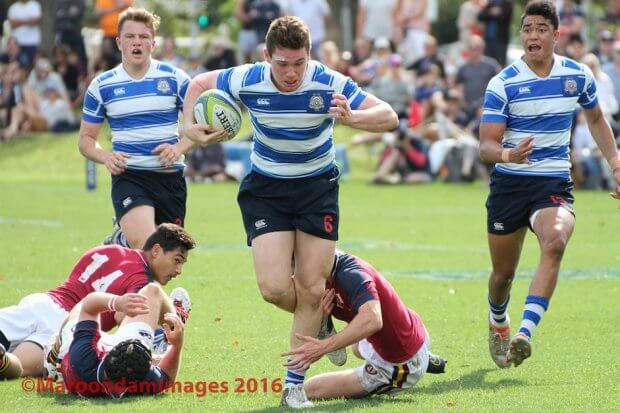 Gregory Terrace 38 defeated Brisbane Boys' College 27
ChekMate
Once again, picture perfect conditions for this must win match between Brisbane Boys Collage and St Joseph's College Gregory Terrace. The thirty kilometer per hour winds coming from Miskin Street ensured that any overnight rain was quickly diminished before the game time of 2.15pm. But as the Bureau forecasted these breezy conditions, BBC did not account for, and Terrace did.
Terrace kicked off and were running against the breeze to Miskin Street in the first half. BBC once again were playing expansive running rugby and kept shooting the ball out wide and quickly to attack on the flanks. Immediately this gets results as the ball is brilliantly exchanged between BBC 8 Cullen Ngamanu, BBC right winger Finn Mounsey and the BBC fullback in Solomon Stone, back to Mounsey, all in a 10m channel, for Mounsey to go over and score in 45 seconds. Conversion missed and BBC finds itself in front 5 nil in under 2 minutes of the match.
As soon as everyone regained their breath, it's Terrace now camped on the BBC line for the next 5 minutes thanks to some ingenious and skilled kicking from their 10 in Isaac Lucas. Phase after phase Terrace launch towards the BBC line and BBC's scrambling defence is holding. It's the 8th minute and the breakthrough comes after a Terrace scrum win. Two phases of play ensued with the ball shot out to Terrace left winger Oyelodi to score. Conversion missed and score is 5 all.
Already you know that this game is going to be played at a cracking pace with expansive rugby being the attacking pattern for both teams.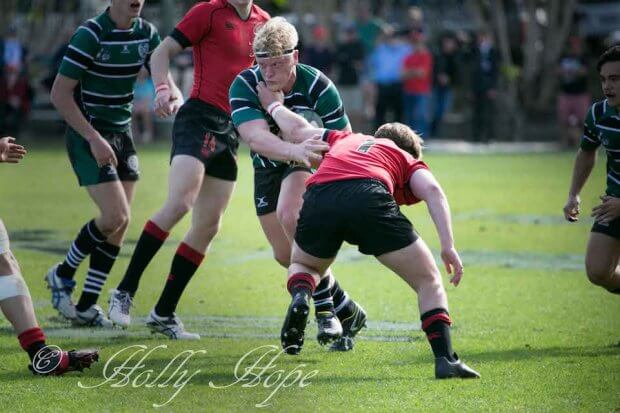 It's the 11th minute and a scrum is set on the BBC 40m line. Terrace win the scrum and the ball gets to the Terrace 10 in Lucas, who shows the ball, stands the defence, runs around his opposite to setup up Terrace right winger in Will Eadie for Eadie to score. This was brilliant. Simple but brilliant, and a passage that set the tone for the rest of the match and one to which I will elude to at the summary later. Conversion missed again and Terrace are now in front 10-5
BBC seemed to slip back a cog in the intensity and become inconsistent around the ruck contest again. Time and time again Terrace 6 Seamus Tweedy and 8 Harry Webster would cause havoc at the BBC ruck area.
It's the 16th minute and BBC are once again, choosing to run the ball out from their red zone rather than kick and chase. This time however it works as BBC 14 in Mounsey gets outside his opposite on the right flank, creates big inroads into Terrace territory. Ball is shot left to BBC 4 in Xavier Vela Tupuhi who is put through a defensive hole and runs 20m to score. Conversion missed also. Game is locked up at 10 all and once again, patches of brilliance from BBC arise which releases any opposition pressure.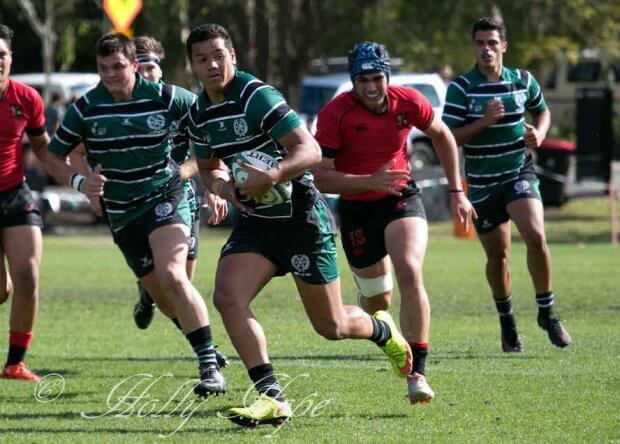 This game is getting quicker now as the ball is passed from side to side by both teams and it is now at a stage where the slightest error could be costly, and it does for BBC. It'sthe 21st minute, Terrace win a scrum on the BBC 50m line, shoot the ball to the right and run a beautiful backline play where the left winger Oyelodi is brought into the play as an extra man, draws and commits the BBC defence, ball passed to Eadie to score. Conversion good and the score now shows Terrace in front 17-10.
The breeze is increasingly becoming a factor as in the 26th minute, Terrace win their lineout but the clearance kick is not effective. The ball is caught by BBC right winger in Mounsey who runs through some very disjointed Terrace defence to score. Conversion from BBC is good. Scoreline again is locked up at 17 all. 
With halftime approaching, BBC secure a penalty kick to lead 20-17 but pundits are looking at each other wondering if a three-point lead is enough with this strong breeze not showing any signs of diminishing and behind Terrace for the 2nd half.
It's the second half and again BBC have started like a house on fire. It's the 3rd minute and BBC 10 Isaak Henry scores from a passage of play that started with a scrum win on the BBC 40m line. Conversion good as well from Henry and BBC skip out to 27-17.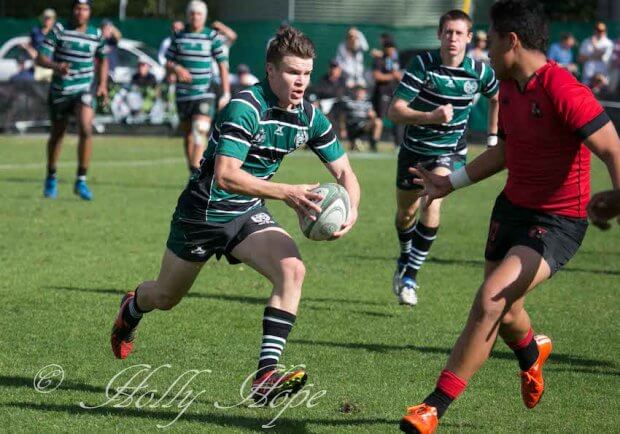 BBC are starting to push hard with some expansive play but constantly succumbing to either turnover ball or a penalty due to poor ruck security. Time and time again BBC continue to push hard but now the Terrace defence pattern has changed and becomes nigh impossible for BBC to get through, and BBC attacking play gets a little too fancy and a little too lateral.
This is further compounded as in the 20th minute, after gaining some quality field position, the big Terrace tight head prop in Joshua Nasser, bursts through the BBC defence to score. Conversion good and Terrace creep closer with the scoreline showing 27-24 to BBC.
Its now the 25th minute and Lucas is really coming into his own kicking the ball with precision and ensuring that the game is played in BBC territory. From a Terrace scrum win on the BBC 30m line, the ball is shot left along the Terrace backline and in a replay of Terraces first try, the right winger in Will Eadie runs an extra man line under the Terrace 12, through the BBC center defence and goes over to score. Well executed again, conversion good and now Terrace hit the lead at 31-27 with 10 minutes in the game remaining and wind gusts increasing in Terrace's favour.
BBC's issues are increasingly compounding as defensive lapses and missed tackles are creeping into their game. Terrace again have superior field position thanks to quality kicking from Lucas and Terrace drive over to score in the 32nd minute. Conversion good from Kirk and the game finishes with Terrace winning 38-27.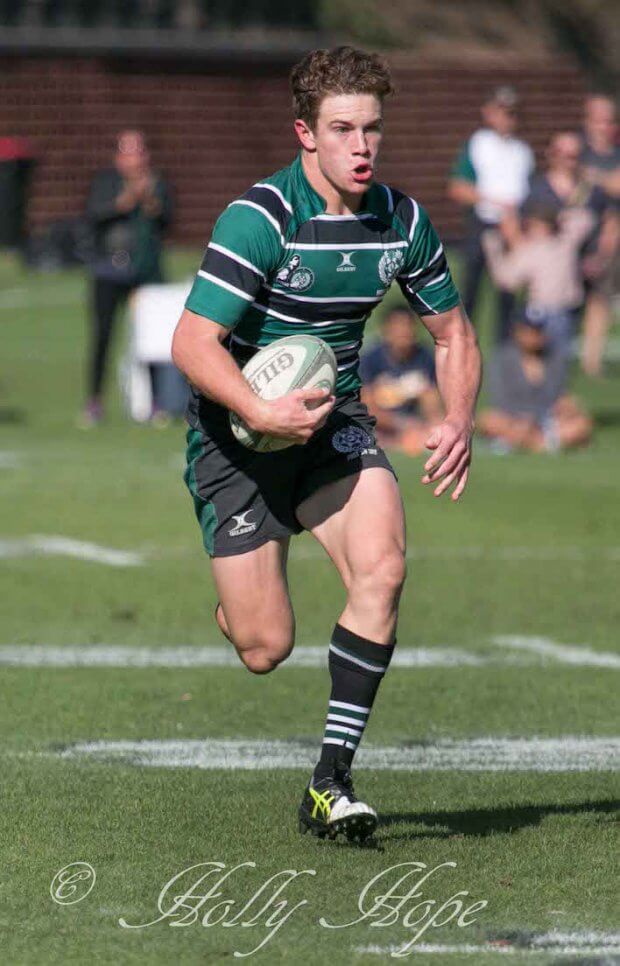 St Joseph's College Gregory Terrace 38
Tries: Eadie (3), Nasser (2), Oyelodi
Conversions:   Kirk   4/6
Brisbane Boys College 27
Tries: Mounsey (2), Vela Tuphui, Henry
Conversions:   Henry  2/4
Penalty kicks:  Henry  1/1
Summary:
BBC played their cards with an expansive running game that worked, but against a strong breeze, a strong ruck opponent; an opponent that stepped up its defence in the second half; BBC finally ran out of options and its seasons hopes came to an end. Strong performances all round from BBC when allowed, with BBC 14 Finn Mounsey once again making inroads into the Terrace defence.
Strong performances all over the park from Terrace as their domination at the ruck allowed them to express themselves for the majority of the game. The Terrace backline in particular appreciated the quality attacking platform given to them from their forward pack, and their kicking game courtesy of their 10 in Isaac Lucas.
Much has been said of Eadie's game and others post-match and quite rightly, but for me, the man of the match was clearly the Terrace 10 in Isaac Lucas. It is one thing to individually look spectacular and stand out in a game, it is another to make others look good and spectacular and that is exactly what Lucas did. He was outstanding today for Terrace. Matched perfectly with a quality 9 and 12 that matches and compliments his style of play, Lucas went about his game with a maturity and skill level that I have rarely seen at this level.
Kudos to all players, particularly both coaching teams, for the respect and spirit in which the game was played.
The Southport School 52 defeated Churchie 14
Unpaid Intern
Churchie and TSS headed into the penultimate GPS round with different goals. Churchie playing for pride and to add to their solitary win for 2016, and TSS to keep alive their hopes of a shared premiership going into the final round.
1st Half
Perhaps TSS were guilty of having one eye on next weeks game, as Churchie were the first to score with Jack Slack (#6) going over from a ruck close to the the TSS line after some sustained pressure. The visitors should then have gone out to a 10-0 lead, but their kicker missed a relatively easy penalty at the 10 minute mark. To be fair it was a very strong breeze blowing on an otherwise perfect day.
This was enough to force TSS to focus on the game at hand, and after receiving successive penalties they were held up over the try-line, and from the resulting 5m scrum, Tipene Mavoa (#8) crashed over for a try. Parata (#10) converted and scores were level at 7-all.
5 minutes later Lolesio (#12) and Dowd (#15) combined to put hooker Meyer in for another TSS try, this was followed shortly after with a try to Dowd, and the score was TSS 21 – Churchie 7.
Churchie worked their way in to attacking positions several times, but a couple of loose passes, and long clearance kicks from Parata, kept the score at 21-7 at half-time.
2nd Half
TSS were on attack straight from the kick-off when Lolesio and Dowd combined again, resulting in Kapea (#13) possibly scoring himself, but instead passing to Stuart (#9) who was held up over the line. Front-rower JP Tominiko (#3) covering 30 or so metres to make the tackle. TSS were unable to control the ball from the resulting scrum, and after good runs from Sharp (#4), Hughes (#7) and Hume (#10) the Churchie #8, Henry Mitchell, was able to burrow over for a well-worked try. Munro (#14) converted to cut the lead to 7 points (21-14).
Churchie were attacking again, until a ruck turnover and and a another good run from Lolesio resulted in Parata scoring after stepping past a couple of defenders. A penalty to TSS for a high tackle shortly after had Parata adding 3 points for a 31-14 lead.
From there the flood gates opened, and despite a huge tackle from Tristan Stanghorn (#13) stopping a runaway Mavoa short of the line, the TSS No. 8 was able to recover and place the ball for a try. This was followed by 2 quick tries be replacement front rower Sam Dobb (#17)  after good work from fellow replacement Max Marshall. Both tries were converted by John Nucifora for a full-time score of 52-14.
TSS 52 (Tries: Mavoa x2, Meyer, Dowd, Parata, Dobbs x2; Conv: Parata 5, Nucifora 2; Pen: Parata) defeated Churchie 14 (Tries: Slack, Mitchell; Conv:  Munro 2)
Turning point
10 minutes into 2nd half, Churchie had just scored, moving to within 7 points, and were building momentum in TSS half. Tipene Mavoa won a penalty for Churchie holding-on and it was all one-way traffic from there, with TSS scoring 31 unanswered points.
The Players
For Churchie, Jack Slack (#6) and Tristan Stanghorn (#13) were strong in both attack and defence, Half-back Isaac Tarabay gave good service, but my best was JP Tominiko who made a try-saving tackle after covering 30 metres, and also won a critical turnover.
For TSS, Fly-half Campbell Parata scored a try and kicked 5 conversions and a penalty (6/6). Max Dowd (#15) combined well with Noah Lolesio (#12). Substitutes Marshall and Dobb had an impact, but #8 Tipene Mavoa was outstanding, scoring 2 tries and having a huge work-rate.
Players to Watch
Fred Fewtrell (Churchie starting lock playing in #23) and Tom Van der Schyff (TSS #5) both Year 10 students who have come through the Gold Coast junior representative ranks as team-mates. Both should feature prominently in their respective schools 1st XV for the next few years.