Green and Gold Rugby is proud to present our fully comprehensive wrap of the weekend's four games of Queensland GPS First XV Rugby.
It was a week for road-trips as Nudgee College and The Southport travelled to Toowoomba and Ipswich Grammar respectively, both returning home with tight wins.
Nic Darveniza covered GAGR's Game of the Round, Southport's 36-34 win over Ipswich, below.
Forum users Bahog and Thommo79 posted their takes on the Nudgee v TGS slugfest below.
Back in Brisbane, BBC kicked off their 2016 campaign with a physical 41-6 win over strugglers, Brisbane Grammar. ChekMate covers the match below.
Gregory Terrace were the only team to defend their house in Round 2, taking defending champions Churchie to 0-2. Nic Darveniza reviews that match below also.
GAGR gives special thanks to our Photographers, HJ Nelson, Holly Hope, and MaroonDam Images, as well as to DoubleTake LIVE for uploading their matches to Youtube.
Game of the Round: IGS 34 def by TSS 36
Nic Darveniza
A courageous defensive performance from Ipswich Grammar School was not enough to hold out The Southport School in Round Two of GPS rugby, the visitors scraping home 36-34 at Ipswich.
Ipswich Grammar raced out to a 17-7 lead early in the first half but were left agonisingly short of victory as the Southport Rugby Machine thwarted the budding upset.
The comeback win is becoming a familiar sight for Southport fans, having been forced to pull back from a similar deficit last week against Toowoomba.
TSS outside centre Tautau Kapea was a deserving candidate for Man of the Match with two key tries, though his centre partner Campbell Parata also impressed.
Ipswich Grammar captain Josh Sheridan was indomitable at the openside flanker position on the losing team.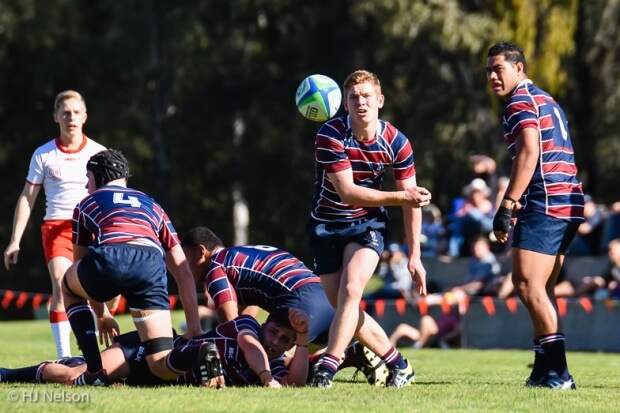 A long day at the ball-game threatened for IGS from the very first phase of the match.
Southport were cool and calculated in finding space on the right wing, breaking the line and setting the stage for halfback Ted Stuart to dart through non-existent ruck defence.
TSS continued to dominate possession and territory stats but were foiled on multiple occasions by back-rowers Job Timi and Sheridan, the latter of whom would go on to pinch four turnovers in the first half.
Though TSS threatened, IGS landed the next punch as fullback Callum Hicks slipped a tackle on the right wing, racing ahead to pop a pass for trailing flanker Noah Hughes to score.
Flyhalf Cooper Whiteside missed his first conversion attempt but Ipswich seized the lead anyway in the 11th minute as an overthrown lineout was pounced upon by front-rower Kolio Peterson-Timu.
A shell-shocked Southport were back behind the line again as Combined States winger Ratu Niumataiwalu crossed for his side's third try inside 15 minutes.
Trailing 17-7, frustration set in for Southport as costly errors and turnovers inside the Ipswich 22 let the home side off the hook time and time again.
TSS took proceedings back to basics with a set piece move, spreading wide to Tautau Kapea who skipped inside his defender to score.
Lock Angus Blyth stole back the lead for Southport with a try out wide, but quickly lost it as Ipswich's Cooper Whiteside slotted a penalty on halftime, taking IGS to the sheds ahead 20-19.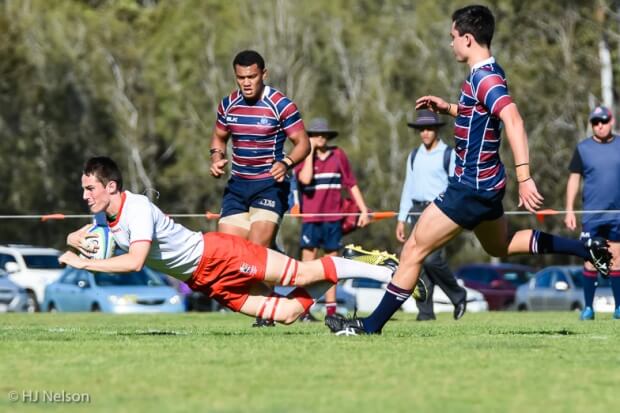 Ipswich added to the lead early in the second half when tighthead prop Jason Tani powered through three tacklers to score.
Southport threw everything they had at the Ipswich line for 15 minutes but made little headway as the home side repelled wave after wave of attack.
TSS were tireless in attack and Tautau Kapea eventually exposed a chink in the IGS armour, stepping hard off his left and powering over the line.
A long range set piece strike carried Southport into IGS territory again with five minutes to play, scoring through hooker Rory Meyer to build a 33-26 lead.
A high tackle on TSS No.8 Tipene Mavoa dead in front of the posts enabled Campbell Parata to kick TSS nine-points clear with full-time rapidly approaching.
Multiple errors from Ipswich in the dying seconds killed off any hope of stealing back the lead, but Ipswich were able to score a final try in consolation to Kolio Peterson-Timu.
Ipswich Grammar completed 90 tackles (86% success) to Southport's 41 (85%) throughout the match.
TSS 36 (Tries: Ted Stuart, Tautau Kapea (2), Angus Blake, Rory Meyer    Conversions: Campbell Parata (4)   Penalties: Campbell Parata) defeated IGS 34 (T: Noah Hughes, Kolio Peterson-Timu (2), Ratu Niumatawalu, Jason Tani tries C: Cooper Whiteside (3) P: Cooper Whiteside) at Ipswich.
Toowoomba Grammar School 33 def by Nudgee College 36
Thommo79 and Bahog, edited by Nic Darveniza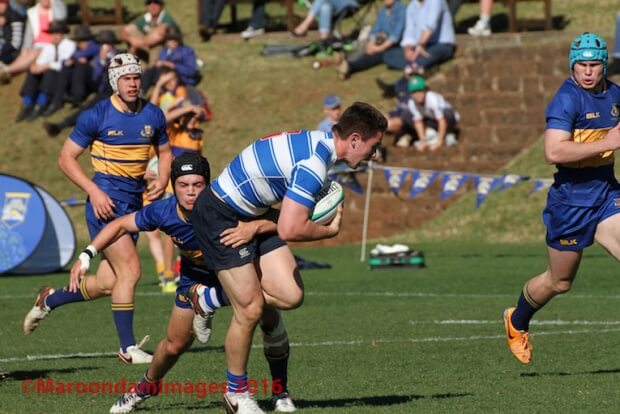 Nudgee College have returned to Brisbane with another two-points in the First XV GPS Rugby competition, defeating Toowoomba Grammar 26-33 up the range.
While the scoreline indicated a lack of defence, in reality the match was a battle of high-powered attack from both sides, interspersed with often brutal physicality.
Nudgee seemingly clinched the result with 10 minutes to go, flyhalf Augustus Rangihuna crossing to forge a 14-point buffer.
However, Toowoomba worked hard to earn the chance to draw in gale-force wind, eventually falling short when winger Ashton Watson was tackled into touch on full-time.
Nudgee College head coach Gerard Alexander spoke with Green and Gold Rugby after the match.
"It was a tough match, but a funny old game," Alexander remarked. "I suppose having to endure the wind, tough opposition and a few 50/50 calls that went against us, I was very happy with how we responded to those factors,"
"The turning point of the match would have had to have been when Augustus crossed to put us 14-pts clear, and from that point we just thought "Gee we'd have to be unlucky to lose it from here".
"That being said, the game was very much in the balance at full-time, because we had a kick charged down and they scored under the posts."
Alexander commended the efforts of Toowoomba Grammar, who clearly had turned up to play.
"Toowoomba were very well organised and fired up to play against us. They were well-drilled, well-coached and had a few representative players there who they used very effectively.
"Ashton Watson, a great strong winger who played at inside centre for them last year was a very robust runner and he was difficult to pin down.
Nudgee had a number of stars on their own: "[lock] Josh Dalle Cort and [hooker] Joe Cotton were very good in the forwards, and Augustus did a very good job, so those three got our awards this week," Alexander said.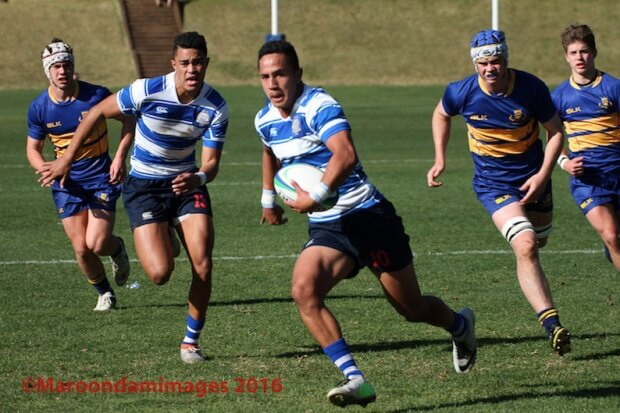 Both sides began gingerly in the first half, struggling to find their groove in a very strong breeze.
Nudgee scored the first try of the match when Queensland U16s State of Origin representative Ethan Bullemor finished a movement sparked by Rangihuna.
Toowoomba returned serve with a length of the field try down the left wing, scored by Australian Barbarians hooker Matt Faessler, one candidate for Man of the Match.
A powerful Nudgee scrum set up centre Semisi Tupou with a run to the line to score, but the game was about to open up.
Brilliant running rugby from both sides thrilled the crowd before Toowoomba worked upfield for a second try to Faessler to lock up scores at 14-14.
Toowoomba controversially lost winger Ashton Watson to the sin bin, opening up room for Nudgee to secure a 19-14 lead at the break.
Toowoomba opened the half hot on attack, forcing a yellow card of their own upon Nudgee's front row before scoring a great team try through the forwards.
Nudgee's scrum continued to create opportunities for the visiting side as Rangihuna and Bullemor both added their second tries for the match while still a man down.
Toowoomba fought valiantly to close the gap, charging down a Rangihuna clearance to score through centre Kye Oates.
Down by seven, Toowoomba's Ashton Watson got within a metre of the try line in final play only to be denied by scrambling Nudgee defence.
In the end, moments of poor handling cost Toowoomba dearly as Nudgee clinically put paid to their errors
Brisbane Grammar School 6 def by Brisbane Boys' College 41
ChekMate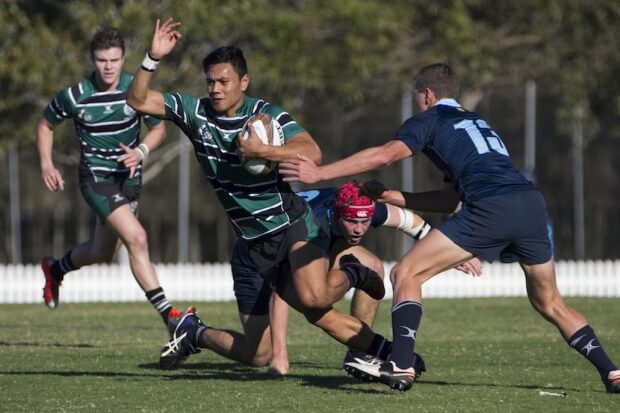 LETTER TO AUSTRALIAN SCHOOLBOYS SELECTORS:
Dear Sirs, 
Do not forget me, 
Signed Len Ikitau
In a game where a much improved Brisbane Grammar School tried to defensively out muscle the visiting and heavily favorited Brisbane Boys College team; one player sent an early message to the Australian Schools selectors to still keep him in mind this year with an awesome power game in both attack and defence. Ikatau made a statement that he was not to be missed or messed with.
Swirling and windy conditions greeted both teams as Grammar entered the arena fully believing that they could beat the new look BBC side devoid of its 2015 stars and playing their first game of the season after the first round bye.
Grammar were lethal at the ruck early with Australian Schoolboys openside flanker Fraser McReight dominating turnover possession. That coupled with the very impressive goal kicking from Zach Allen had Grammar in front and pressured BBC early. BBC looked rusty, and were mixing patches of great play with mistakes and errors.
Enter that man Mr. L. Ikitau as from a BBC scrum win, the ball got to Ikitau who turned back towards the goal posts and like a missile, projected himself towards the tryline with ferocious speed and power to score for BBC.
BBC seem to kick up a gear using smart and accurate kicking to obtain great field position. From a BBC lineout win on the Grammar 30m line, BBC rolled their maul towards the Grammar line with BBC & Australian Schoolboys hooker Sean Farrell darting off the back to score in the Grammar corner.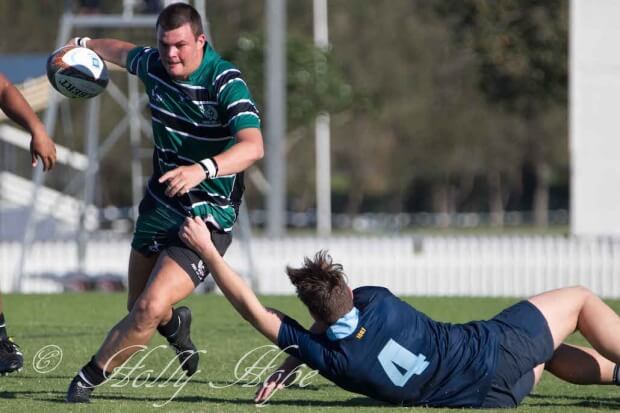 Quality field position and some constant passages of phase play saw BBC speedster Finn Mounsey score out wide leaving the half time score at 17-6 to BBC.
The second half saw Grammar camped on the BBC line early picking and driving but to no avail as with some resilient defence from BBC, Grammar failed to get over the line. An ensuring penalty to BBC saw a monster punt kick from Henry that had BBC throwing into a lineout 35m from the Grammar try line.
Enter that man Mr. L. Ikitau again as the ball sped out wide to him, and from literally nothing, Ikitau pushed, danced, weaved and flew past the Grammar defence to score. Ikitau was more than a class above his rivals. Much more. The defensive shot he placed on the Grammar outside back during a Grammar attack was jaw dropping.
BBC use of the conditions in the second half was much smarter and through a greater kicking game, gave BBC superior field position to attack from with further tries to Hosea, Yanopa (subbed on) and a second to Farrell.
To note in particular is the performance of Chris Yanopa. He was outstanding in his game in the seconds and carried that confidence and power game into the firsts, resulting in the match referee personally finding Chris post-match and congratulating him on "a fine front row forwards match"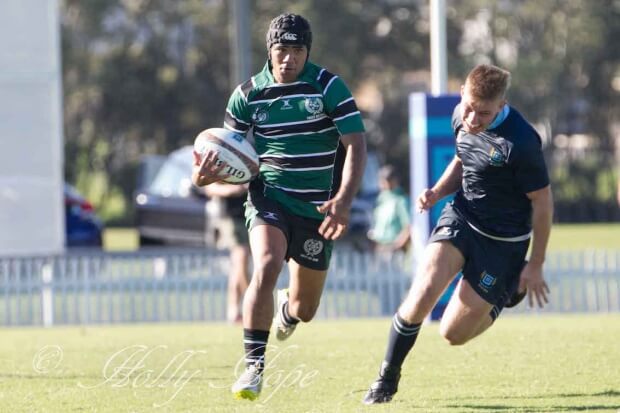 Final Score: 
Brisbane Boys College 41
(Tries: Farrell 2, Ikitau, Mounsey, Hosea, Yanopa    Conv: Henry  4/6   Penalty: 1/1)
Brisbane Grammar School   6
(Penalty:  Allen   2/3)
Summary:
Kudos to Grammars coaching staff, in particular their defensive coach Ivan Henjak as Grammars improvement and higher commitment is clearly evident in their game compared to past. However, with nil tries being the result for a day's toil, they still have a ways to go.
BBC looked rusty for some reason and switched off for periods in the first and second halves. However, one thing that BBC has this year is a high level of depth with all players in firsts and seconds looking fit, strong and playing hard for positions. Whilst the BBC game lacked the razzle dazzle from last year, one thing it did have was a workman like feel about it with patches of brilliance in getting the job done.
Players to note:
For BGS, No.8 Fraser McReight was outstanding and showing brilliant form as he heads towards his inevitable date with the kiwis. Flyhalf Zach Allen also tood out with a quality kicking game
BBC: In a word, Len Ikitau was outstanding. Lock Trevor Hosea's athletic ability for such a big man is exceptional. He was unstoppable at the lineout. His loose play and ability to link forward attack play with outside backs is unique. Sean Farrell had a high level of involvement particularly on ball. Quality running giving him 2 tries for the afternoon. Another schoolboy showing good form as he too heads towards his inevitable date with the kiwis
GT 48 defeated ACGS 10
Nic Darveniza
https://www.youtube.com/watch?v=qnumdSB6gSU
Gregory Terrace have washed away the memories of last week's defeat to State High with a comprehensive 48-10 victory over defending champions, Churchie.
Two yellow cards to the hosts dampened Terrace's first half, but the Red and Black came home strong to outscore Churchie six-tries to one in an electric display of running rugby.
Spearheaded by Australian representatives Harry Wilson and winger Will Eadie, Terrace's attack was fast, sharp and unyielding without sacrificing much in defence, either.
It was a far cry from last weeks performance, said head coach Ben McCormack.
"Churchie is a good side with good coaches and good structures, so I'm very happy we achieved that result," McCormack said. "Our shape and structure looked much better than last week, but obviously I wasn't expecting 48-10."
The scoreline was a resounding indication that the work put in this off-season by McCormack and his support staff on unstructured play, catching-and-passing and "trying to fill the boys with confidence that they can score points" might yet yield results after a disappointing Round One performance.
"The most pleasing thing about Saturday for me was that we replicated what we actually do at training," McCormack gushed. "We were really unhappy with our application last week against State High, but this week the change has been fairly dramatic,"
"We know we have a lot of work ahead of us and a lot of tough games, but I think they're up for the challenge and that the weekend's game has brought a little bit of confidence back – that if we apply ourselves and our gameplan, that will be the result," McCormack said.
Churchie opened the match with an unconverted try to winger Wilson Sprague before Terrace hit back, first with a penalty then a converted try to halfback Sam Kirk in the 22nd minute.
Winger Will Eadie got his hands dirty snuffing out a Churchie attack with a timely pilfer, before remembering his place on the field and scoring Terrace's second try on kick return five minutes later.
The second half had barely begun when Eadie broke free again, carrying Terrace 50m upfield on the run.
With momentum firmly on their side, Harry Wilson carried a flat pass through the defensive line, floating an offload inside to No.8 Harry Webster to score untouched between the posts.
Eadie's dominant form continued to cause Churchie headaches when an ill-advised offload was intercepted and returned to the try-line just five minutes later, pushing Terrace's lead out to 27-5.
An injury to Terrace openside Seamus Tweedy brought the game to a halt, allowing Churchie to re-compose themselves and again work upfield.
Churchie kept Terrace pinned inside their 22 for all of 10 minutes before a tip-tackle from captain Bailey Ralston was penalised.
ACGS took the scrum option and converted the opportunity to points when flyhalf Jake Mason, the younger brother of Australian U20s pivot Mack, fired an exceptional cutout pass from between the posts to the left wing for Wilson Sprague.
Sprague's double would be all she wrote for Churchie as Terrace continued to pile on the points.
Terrace scored perhaps the most impressive of their seven tries in the 53rd minute, turning over a Churchie scrum and slamming home a try between the posts to U16s centre Hoani Ford-Stevens.
Three minutes later, Wilson scored a pick and drive try to cap off his Man of the Match performance.
Ahead 41-10, another tighthead scrum win from Terrace sent Bailey Ralston off to the races, planting the final nail in the Churchie coffin for the match.
Terrace will look to carry their form on defensive powerhouse Ipswich Grammar, while Churchie will look to get their season back on track against Brisbane Grammar School.