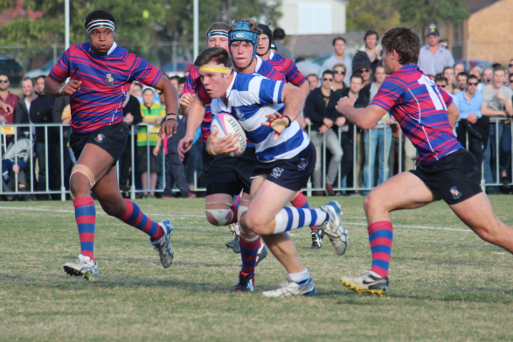 On a windy day in Sydney three thrashings were dished out in Round 7 of the GPS, and whereas two of them were expected, the third was not.
Riverview 45 — Joeys 20
These meetings are always a feature of the GPS season whatever the standings of the two sides. Some say they are religious wars between the Catholics – adherents of the Marist Brothers and the Jesuits – but in these secular times they are more contests between the GPS schools that have the greatest depth, year after year.
---
The scoring
It looked like it would be a long day for Joeys when 13. Henry Hutchison made a break and dished out to new View winger Sean Drennan who kicked through. The ball bounced erratically but View fullback Bill Freeman ran the right line and the ball hit him in the hands. He ran with it around under the posts and View led 7-0 after ten minutes.
Joeys kicked a penalty not long after, but got a scare when hooker Hosea Fotukva ran brilliantly along the touchline to be forced out by the corner post. After that reprieve View came back again when no.8 Ben Hunt had a "captain's run" through several Joeys' tacklers to set up play for the eventual try-scorer 4. Lincoln Whiteley. Riverview led 12-3 after 20 minutes and were using the breeze well.
The scoreline flattered Joeys but they had their best period of play in the next ten minutes and parked for a while in View territory. Their backs weren't making inroads and they settled on trying to gain ground through their forwards. They drove from a lineout and after taking a penalty with a tap kick 7. Nick Pennisi wriggled over the line.
Joeys were down 8-12 just five minutes before oranges, but against a strong wind that wasn't so bad, was it? But that was as close as Joeys would get the whole game because Riverview scored two converted tries before the break, in emphatic fashion.
The first happened when 5. Jack Bodwitch had the ball and interested tacklers he flicked it out, and with Joeys short of wide defenders, View winger Charlie McKay scored in the corner. Freeman converted brilliantly across a strong breeze.
For the second, View attacked immediately from the restart and Joeys were found short out wide again. View got close to the Joey's line through Drennan and Freeman, and they took the scrum option when they were awarded a penalty.  Impressive young flyhalf Jack McGregor was too good for defenders from the set-piece and he scored.
After Joeys had come so close five minutes earlier, Riverview led 26-8 at the break.
View struck early in the second half when hooker Hosea Fotukava took the ball up through traffic and eventually McGregor passed long for Drennan to score in a tackle. Freeman converted with another fine long kick across the breeze and Riverview increased their lead to 33-8.
Using the wind belatedly now Joeys got into the right real estate and after 13. Kurtis Bennett went on a good run it was Joey's turn to pick up a bouncing inside pass. Soon LHP Jono Hardy was over in the corner and View led 33-13 with 15 minutes to go.
With time running out 5. Linden Deans of Joeys scored underneath a pile of bodies and when 14. Patrick Vaughan converted the score was 33-20.
Surely Joeys couldn't score two tries in the last five minutes to win the game? No – it was Riverview who scored two – in three minutes.
First 13. Henry Hutchison weaved his way around tired defenders and scored virtually untouched. Next, Lincoln Whiteley picked up a loose ball and raced away from Joeys players in luke-warm pursuit to score his second try. Final score: Riverview 45 – Joeys 20.
---
The teams
Joeys were out-classed in most areas and if GPS teams are entitled to one shocker a season, this was it. They were frequently caught out wide, as they were against Scots, and when they reverted to their pick and go signature moves, they found the defence too aggressive, or they lost the ball. They also wasted their use of a following wind in the second half with poor passing and catching.
Credit to Riverview for imposing an ordinary performance by the hosts. They were always in control of the game and used the strong breeze better. Their ability to put the hammer down and score two tries at the end of both halves to snuff out any sniff Joeys might have had was a good indication of their dominance.
---
The Players
Joeys — 3. Matt Sandell, 2. Nick Pennisi, 1. Patrick O'Brien.
Sandell took the ball up numerous times to either exit Joeys from their 22 or to start an attack by attracting defenders. Flankers Pennisi and O'Brien were always on the ball but couldn't be everywhere.
Riverview – 3. Henry Hutchinson, 2. Ben Hunt, 1. Jack McGregor.
You can see why 16 y.o. Hutchison is in the Oz Schoolboys main team – there is a whiff of a young Tim Horan about him. He is elusive, which interests defenders, but he uses that to hold opponents, to the benefit of his supports. Year 10 flyhalf McGregor has a mature all-round game and is one to watch in the future.
Honourable mentions in the backs must go fullback Freeman for both his general play and goal-kicking on a windy day – and winger Drennan, who had a fine debut.
Skipper Hunt was the soul of the pack and made significant gains a couple of times, but unfortunately he had to be helped of the field with a serious looking injury to his right knee, late in the game.
Special mention to rampaging hooker Hosea Fotukava and big Jack Bodwitch, an ex-prop playing lock, who had a few good runs and off-loads.
---
Wrap-up
Riverview has a young team that played beyond their years and were it not for the arms race they would be strong contenders to win the 1st XV competition this year.
Joeys will have to regroup. It is unlikely now they will finish higher than fourth place but they will be more interested in getting back some rugby self-respect next week.
---
Scoring details
Riverview — 45
Tries:  Lincoln Whiteley (2), Bill Freeman, Charlie Mackay, Jack McGregor, Sean Drennan, Henry Hutchison.
Conversions: Freeman (5)
St. Joseph's — 20
Tries: Nick Pennesi, Jono Hardy, Linden Deans.
Conversion: Pat Vaughan
Penalty goal: Vaughan
Referee:  Mr. D. McCarthy
---
Other results
2nd XV — Joeys 17 – View 0
3rd XV — Joeys 60 – High (1st XV) 5
16As —   Joeys 19 – View 12
Photos of Joeys v Scots by Lee Grant
Click on arrow for Page 2 to see a match report on Scot's v. Kings by "Jasdec"
---