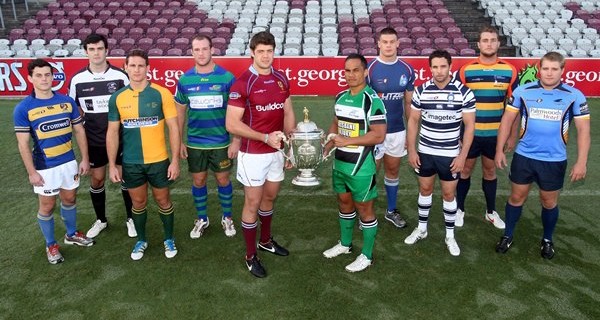 Believe it or not but the Queensland Premier Rugby club season is done and dusted for another year. Now we head into three weeks of finals fever!
After this weekend, we've seen some vast changes in the Top Four and it'll be interesting to see which teams come out on top in the semi finals next week.
In the biggest shock of the week, Brothers have finished their regular season in fourth place. Losing their last three games of the season has been very costly and they've gone from the top and seemed almost unbeatable but they've unfortunately been able to regain confidence after their big loss to GPS. The Brethren went down 36-15 to
Uni on the weekend and they will play each other again next week in the knock-out minor semi-final. Here's my report:
University vs Brothers
University have continued their winning ways and have ended their regular season on a high after winning the Templeton-McLean Cup and obtaining a convincing 36-15 victory over Brothers at Crosby Park.
Both teams were fighting for second place and a spot in next week's major semi-final but will instead have a rematch in next week's knock-out minor semi-final.
With both teams having a lot to play for, they put on an exciting opening display for Brothers' Heritage Round crowd with winger Harry Parker making a break against the run-of-play only to be stopped short of the line by Brothers fullback Damon Murphy.
Murphy was the standout performer for Brothers after later scoring a try by running half the length of the field and dodging the defence of the touch line.
Quick to respond to Brothers' early lead after a try to Lachlan Creighton, University's patience on their line was rewarded through a try to Australian Under20's captain Curtis Browning.
Despite their early lead, Brothers' luck began to unravel when Iosefo Tabalala was yellow-carded and University scored twice during this time.
Brothers coach Matt Kaye acknowledged the need for great improvement in time for next week "we'll be playing this team again next week so we need to know where we went wrong today and be more familiar with Uni's playing style so we can progress in the finals".
The need for improvement seemed to be the sentiment from both coaches after University coach Mick Heenan echoed Coach Kaye's comments "lots of positives came out of today. We won the Templeton-McLean Cup which is what we wanted but we need to improve on our work off the ball in time for next week".
Brothers conceded 17 points in the second half and scored none after trailing by just 19-15 at half time.
Although the Brethren managed to keep the ball in their territory, University's defence prevented Brothers from capitalising on their opportunities to score.
Wingers Tom Pincus and Harry Parker put a combined total of 20 points on the board for University, including a hat-trick from Pincus, while Jamie Taulagi scored a try off a 60-metre run to seal the deal for the visitors.
Other matches
Easts finished their season on a high and will storm into the major semi-final against GPS after their convincing 26-3 win over Wests at Sylvan Road. The return of some key Australian Under20's players has certainly boosted the overall performance of the team and it'll be interesting to see how they'll go against a top-performing GPS side next week.
After being narrowly knocked out of the finals last year, GPS have truly proved themselves to be the best team of the season. They've finished the season on 73 points and had a solid 44-22 win over Sunnybank which will give them plenty of confidence going into the finals.
So that's the Top Four.
The most ground-breaking win of the round went to Souths, who defeated the Gold Coast 110-5. This year has been a rebuilding year for the Magpies so they'll be back in full force next season and will be ones to watch. The Gold Coast are the youngest side in the competition and will be sure to come out stronger next season, too.
Norths also had a highly-convincing 73-17 win over the Sunshine Coast. The Sunshine Coast have had a rough trot this season but they'll hopefully improve in time for next year.
So now we head over to Ballymore for the finals. Stay turned for the 'Back to Ballymore' campaign which will be launched on Tuesday. Get over to Ballymore at some stage on the weekend. The Premier Grade finals start at 3:05 with Uni and Brothers followed by GPS and Easts at 5:30. Lower grade finals take place on Saturday, while Premier Colts, 1st and 2nd Grade will play on Sunday. Head to http://www.redsrugby.com.au/PremierRugby.aspx to see the full list of finalists.